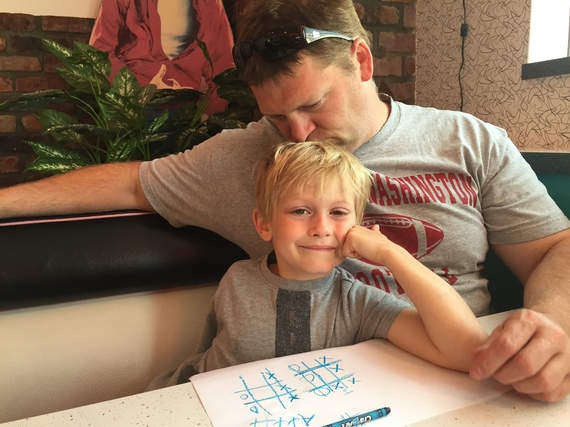 Thursday night was a buzz of energy in my house. In fact, the last week has been one non-stop continuous question. "When is it going to be Friday?" As soon as Cooper realized that it was the night before the BIG DAY, he became a little man on a big mission. Fast and furiously, he searched the house for the perfect books to bring to school. The decision proved too difficult for him. Those two books held a lot of significance, so he left it to dad. I handed Jon a stack of 15 books. Some were too long, others had words that he (Jon) couldn't pronounce! Finally, he settled on The Very Cranky Bear and Giggle, Giggle, Quack.
If you have ever seen Kindergarten Cop with Arnold Schwarzenegger, then you will have no problem visualizing what took place in Room 11. BIG man, little chair. 20+ Kindergartners surrounding his feet and hanging on his every word. Faces lit up with smiles, kids laughter, and a boy who knows he has the best dad in the world. You see, Jon showed up. He showed our son that dads matter.
Just like moms, dads need to show up. It matters to the kids -- sometimes more than the moms doing it. It didn't matter that Jon was so nervous, he sped through the first book in a matter of minutes. Who cares that he completely screwed up the first line of The Very Cranky Bear and had to be corrected by Cooper. What matters is that he showed up. In those 30 minutes he SHOWED Cooper that he cares.
Something magical took place in that classroom. Something that cannot be explained in words. The magic that happened for Cooper was equally felt by Jon. For a class full of Kindergartners and a dad who couldn't feel more proud, Friday's in Room 11 will never be the same!
I wasn't able to see the smile on Cooper's face or hear the laughter in the room. All I have is the stories that Cooper continues to share about his dad coming to class. I think what I will treasure the most from this very special day is the email I received from his teacher. Shortly after Jon left, a little girl leaned over and whispered something so very important to a proud and giddy 5 year old. "Cooper, your dad is amazing." I think I would have to agree!
Related