On the morning of March 6, 2014, Nadia Tolokonnikova and Masha Alyokhina were brutally beaten, and their eyes nearly burned with brilliant green dye by some attackers in Nizhny Novgorod. Apparently now it is the norm of life in Russia. Save us all!
Ouch, Putin. Ouch, punk! Putin is like a godfather of frostbitten lumpkins [Editor's note: An antagonist in the Powderpuff Girls cartoon series.] Putin, who feeds bikers -- bikers who disseminate false patriotic ideas. [Editor's note: Putin rides with the Night Wolves bikers whenever he can. Night Wolves are riding to the Ukraine to support pro-Russians.] Nadia and Masha traveled to Nizhny Novgorod to inspect one of the prisons.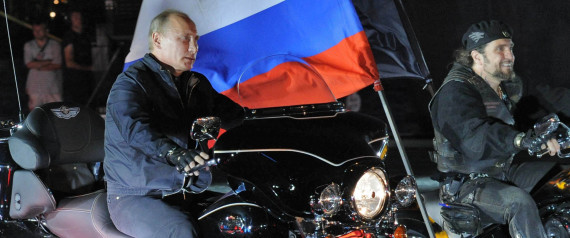 President Putin riding with the Night Wolves
New Batmans -- this is Nadia and Masha. The world needs new heroes, and even more new characters from exotic countries such as Russia -- Spider-man, Batman, Catwoman, Superman, Wonder Woman, who will challenge and preferably win against the forces of darkness in the face of Putin, the FSB (formerly KGB) centennial power, shake off sleep of the Russian people, wake their Passionarnost, their drive. [Editor's note: Passionarnost is a theory developed by Leo Gumilev of interaction between the ethnos and landscape which gives rise to fervid activity and self-sacrifice.]
In addition, the girls are so cute, so unlike standard heroes and politicians that they are perceived as "toy like," as cartoon characters who came into real life from Disney cartoons, a bit like Che Guevara in skirts. Everything is so cute and seems will stay here for a long time. But most importantly, Batman is needed in Russia.
This is not the story of Spartacus and ancient Rome. Vostok-Service Group is Russia's largest slaveholder -- 10,000 slaves, 90 cents a month is the salary that Nadia received in August, 2013. After that, she wrote her famous letter from prison.
Prisoners work in two shifts, from 3 a.m. to 12 a.m. and from 6 a.m. to 3 p.m. at night, without any weekends or days off. People fall asleep at the sewing machine and are woken up and beaten with rubber straps removed from their sewing machines.
Margin: How superprofits emerge
The company president of Vostok-Service, Vladimir Golovnev, without false modesty, states, "We are one of those who formed the clothes market. We randomly sold some padded jackets in 1992." Golovnev started to get a taste of it. It is known that a large part of Russian business works in the shadows. Vostok-Service, according to Forbes magazine is ranked 157th in size on the list of 200 largest privately owned companies.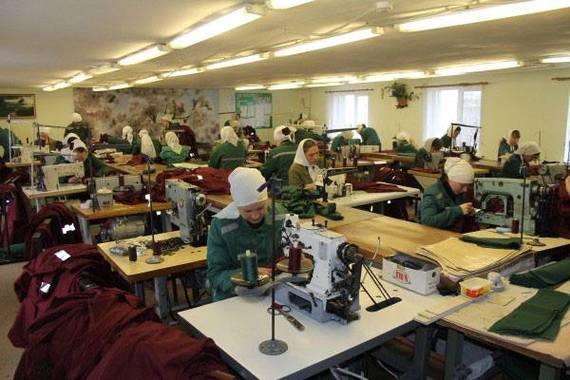 Prisoners making clothes at a Vostok-Service prison
Trucks of Vostok-Service go to prisons in Mordovia in an endless stream. They take raw material to the prisons and collect the finished products -- overalls, camouflage, gloves, etc. Golovnev, when placing an order with the labor prison, saves on income tax payments into the social security and pension fund. All these costs are borne by the FSIN, Russia's prison system. So the heads of the prisons save on wages of the convicted. How? They hardly pay them at all! We have not seen in the parking lot area of administration prison a single cheap car! Mordovia prison bosses live like rock stars.
Golovnev says, "People everywhere in the world enjoy overalls -- not only steelworkers and oil workers, but also tourists who wear rubber boots and housewives who wash dishes in rubber gloves. The world's clothes market is estimated at $20-$25 billion, and Russia's market reached nearly $1 billion, but we have big ambitions. We are not just a leading company in the market of overalls in Russia and the other neigboring countries. In the future we will be able to compete with the leading companies of the West."
Real estate is not included in the tax return
According to Alexei Navalny [editor's note: Navalny is a Russian lawyer, politician financial and political activist], "Vostok Service's president, Golovnev, did not declare his apartments in Florida in an election declaration in 2006, nor in the declaration of the election in 2010, nor in the anti-corruption declaration of 2010. In June 2003, Golovnev's wife, Yvette Golovneva, bought an apartment at 18911 Collins Ave, North Miami Beach, Florida for $518,900. In April 2004, Yvette Golovneva, with her husband, bought a second apartment in this building for $829,000. In December 2005, Golovneva sold the first apartment for $980,000.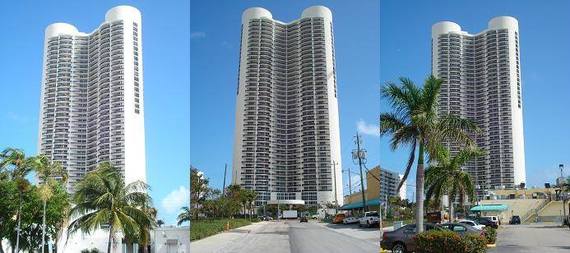 In January 2006, he acquired another apartment for $1.275 million dollars in a residential complex, the Ocean Four Condo at 17201 Collins Avenue, Sunny Isles Beach, Florida."
Navalny says, "Looks like Russian patriots and spouses, Vladimir and Yvette Golovnev, do not believe in the future of the Russian market. They keep investing their money in that 'pesky U.S. which is about to go bankrupt,' as Russian government funded TV Channel One loves to portray the U.S."
In 2010, the rising tide of state patriotism made ​​the spouses a little shy of its overseas real estate. If you think they sold it and bought a cottage in Mordovia or Siberia, you are deeply mistaken. The man who found workers to service his business for 90 cents a month is very resourceful. On December 27, 2010, the two apartments of the couple were given to a company, Step LLC, which is owned by Yvette Golovnev.
The backbone of the company is only 100 people, and the rest are prisoners, mostly women; there are about 10,000. Zara Murtazaliyeva, a former prisoner, says, "For 10 days the newcomer must learn to sew and issue at the rate of 200 units. This is what can be done in eight hours by a very good seamstress. This means that the chances of newly arrived prisoners meeting the quota are reduced to zero, and no team leader will give any newcomer 10 days of training. If the newcomer does not learn how to sew in two or three days, she will be very quickly 'taught' by other prisoners. It's very simple.
"After a few days, the team leader starts to scream at her, curse and use abusive words. If the newcomer does not understand, the team leader and another six people who are under her will 'explain it.' They'll take the new girl in a storage room. There she will be brutally beaten, 'lucidly explaining' to her how to sew. It is absolutely useless to complain to anyone."
Murtazaliyeva continues, "When there is an order you have to work 16 hours a day. The hands get swollen. Very often the women cut themselves -- trying to commit suicide. In the office of the prison administration, there are red boxing gloves used for beatings. When they beat you, they beat you no matter where on your body. If you fall, they will kick you in the stomach. One pregnant woman, after this kind of beating, had a miscarriage. This procedure is called 'preventive conversation.' Another method of punishment: The prison administrator asks you to put your hands on the wall, then gets out a wooden board from a cabinet and beats your hands, saying at the same time, 'If once again the foreman brings you to me, I'll beat you over the head.'"
Kira Sagaydarova, another former prisoners, says, "It is 12 degrees Celcius (52 degrees Fahrenheit) in the punishment cell, and the heating battery burns if you touch it with your hands. It is winter outside, but the doors are wide open. You move with bent legs, half-sitting. We run down the hallway back and forth. They use a baton to beat us! If I run and touch the stick, they beat me with all their strength on the back and on the head. I fell down many times and cried. In the punishment cell, they doused me with cold water from a bottle.
"One woman, hanged herself in prison using pantyhose. While she was hanging, still twitching, the prison administrators look and eat a snack. They stand and stare, saying that they do not have the right to enter the room where she hangs. They could have saved her; instead they asked, 'Who allowed her pantyhose? How do we prove that she hanged herself or that we did not hang her?'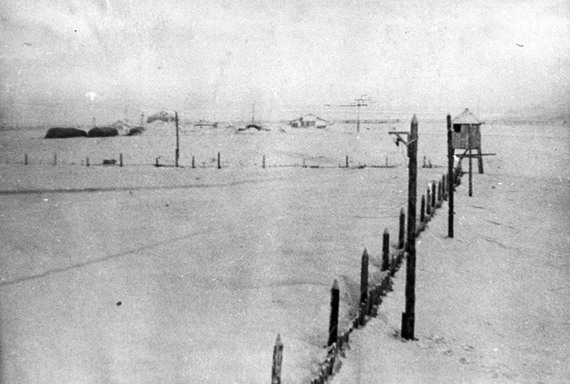 The gulag is back!
"We were told to carry the woman's corpse. We refused. We were put in solitary confinement for it. One of the prison administrators stepped over the corpse, as if over a log. A prison administrator took us to the parade ground in pantyhose to clean the snow during the winter and left us there through the night. He made us stand with our arms stretched out all night. In the morning again, he made us clear the snow. And it lasted like this a whole week."
Justice Zone, organized by Nadia and Masha is, on the one hand, an institution of protests in prisons. It helps those who are willing to fight for their rights and provide public scrutiny. On the other hand, it identifies human rights violations and detects the use of slave labor, which is illegal in Russia and around the world.
Nadia and Masha and other members being sprayed with dye, and their attackers, were captured here on video.
On March 6, 2014, Masha Alyokhina and Nadia Tolokonnikova and their colleagues from the nonprofit human rights organization Justice Zone were brutally beaten and nearly blinded when attackers sprayed dye in their face and eyes. Nadia and another member, Tasya Krougovykh, may become blind from dye burns in their eyes, and Masha has a bloody head concussion with two stitches. This post was translated from Russian by Natasha Fissiak, a producer of Pussy Riot - The Movie.
Visit here to read Nadia and Masha's reaction to the attack. To read more about the case, please visit Amnesty International's website here.
Calling all HuffPost superfans!
Sign up for membership to become a founding member and help shape HuffPost's next chapter