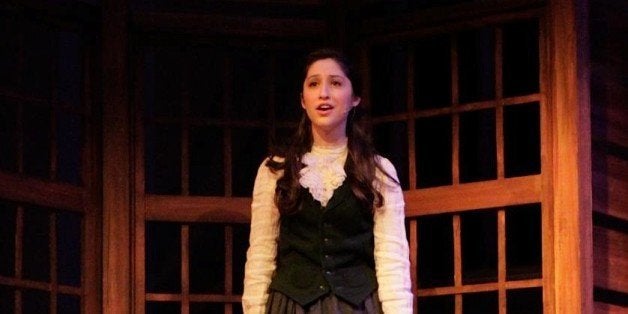 "And here I go. There's no turning back, my great adventure has begun."
In the back of the theater, my eyes well with tears. Cordelia as Jo March, my own literary heroine since fourth grade, is singing "Astonishing," Jo's Act One finish in the Laurel School production of "Little Women." And she is astonishing -- this from her mother, who has been a drama teacher for more than 30 years, who thinks critically about every actor's performance. Tonight, my daughter transports me. I cry, sneaking a glance at her father, busy at the sound board, and I see that he is teary, too.
Typically, I watch high school plays standing in the back of the theater, making mental notes. It's a habit impossible to break. I consider what I might do if I were directing. How might I guide a young performer to be more authentic, less stagey -- to take a gesture farther, articulate consonants, open the stage picture, believe in the world of the play?
But, on opening night of my daughter's final high school production, I am humbled. I have stayed away from the rehearsal process, trying to give Cordelia space in this, her last Laurel show, so I am not prepared for the heft of the role; of course I know the book, but in the musical, Jo is rarely offstage; she sings one number after the next, driving the action. Cordelia is magnificent and my heart sinks -- I did not really expect or want her to be so good. I remember standing backstage, adorned in green makeup for my cameo as the Wicked Witch, listening to Cordelia, age 10, pigtailed and attired in Dorothy's requisite blue and white gingham, belting "Somewhere Over The Rainbow" and thinking, Where did she get that voice, that confidence?

Acting is a devastating career. I'd hoped she would fall in love with science or law. Ironically, I, who fiercely encourage each girl at Laurel to follow her passion and to cultivate resilience, find myself seeking to shield my own daughter from the bumps she is certain to face if she chooses a life in the theater.
A wonderful thing about running the school your children attend is that you never need to miss them onstage. So here I am, watching this second daughter of mine pour her whole self into a role she had to win in spite of being mine rather than because of it. That's the way it works for the children of the Head of school.
Cordelia's trajectory through Laurel was not enhanced, she would tell you, by my presence. She wondered if her high grades were earned legitimately. When she qualified for extended time on standardized testing because of her learning disability, she heard murmurings about special treatment. When she had difficulty with a teacher, her calm father handled the conflict.
"All the other mothers advocate for their kids, but you don't," she fumed in middle school.
No, I thought, your mild-mannered father is a much better ally for you, but it may be decades before that makes sense.
Some Heads' children fly under the radar; they wear the mantle of First Child with ease. Being mine day in and day out frustrated Cordelia; truthfully, her insights about the school, often recounted as dramatic monologues late at night during high school, were hilarious and often piercing in their accuracy. But her quiet indictment of how I had handled a particular situation could be hard to hear.
Like Jo March, she spoke the truth, unafraid to forge her own path. Often, she was right. Sometimes, it was hard to listen to her truth. Her perspective challenged me, required me to assess, each day, how to lead and how to mother. She calls me out if she thinks school is getting too much of my attention; she has never not had a working mother, but only since fourth grade has she had to share me so obviously with 650 other girls. Moving from NYC to Cleveland, she was furious, unhappy, reluctant to adapt. And yet, like Jo, feisty and undaunted, she prevailed.
She will tell you she is happy to escape Laurel, relieved not to see the school banner hanging from the light pole outside her bedroom window. She will gladly walk a little further to get to classes in college and not be the person who is called on a weekend to come turn on the lighting board in the theater because she knows how and conveniently lives next door. She will not miss the texts from her friends urging her to tell me to call a Snow Day. She will be relieved to be herself on her college campus, unfettered by a close association with the Head.
Yes, she is ready for her great adventure, yet she also cares hugely about me, about my leadership of Laurel. When her class asked how they might thank me for helping them through the tragic death of a classmate, it was Cordelia who suggested they give me a school ring -- a significant tradition at Laurel. She knew how much I would treasure that gesture. Through my tears, I looked up at the Senior Class at our Last Chapel when the ring was presented to me and saw her grin.
"I fooled you," she reported later. "Once, I made you try on my ring. That was so we knew what size to get you." She is an excellent keeper of secrets.
Cordelia sings:

I'll shout and start a riot
Be anything but quiet
Christopher Columbus
I'll be Astonishing
Yes, you will, I think. You may well shout and cause a riot. I hope you will -- on stage and off. Don't we all hope our daughters will step up, stand out, find the courage to challenge the status quo, to be bossy, to be astonishing?
On my bookshelf in my office at Laurel is a small Madame Alexander doll of Jo March. My mother gave her to me when I was 9 and I stayed up all night reading Little Women because I could not stop. I have long identified with Jo -- sister, maverick, writer, schoolteacher. Jo's resilience, her refusal to be silenced as a writer, inspires me. But, truthfully, Cordelia is the one who has her fire, her audacity, her utterly unself-conscious authenticity. When Cordelia, as Jo, sings a duet with her dying stage sister, Beth, I weep again. She understands love and loss too well. As Marmee comforts her, Cordelia allows herself to share her private grief over her own friend's death with her audience. My own eyes blur... I have no notes to give her. She has soared. I know she, like Jo, must make her own way, but I will miss her. She is astonishing.