For the longest time my three-year-old daughter refused call herself smart. She'd say she was pretty, beautiful or adorable. She would never use the word smart to describe herself. When I asked her why she wasn't smart, she'd simply respond with "I can only be one thing" and so she chose beautiful.
I knew why she saw herself as beautiful, because she was. She has striking red hair, and almost everyone she comes into contact with says, "Your hair is beautiful!"
She has heard it over and over again since she was a baby. It wasn't her fault or even the strangers for noticing the obvious. But, it was undeniably the repeated descriptor. It was the story the world was telling her. So at the very impressionable age of three, she told herself and everyone else she was beautiful, but refused to call herself smart. To say it grated on this mama's nerves is an understatement.
I tried my best to speak to her other qualities and strengths. I told her she was brave for not crying when they poked her finger at the doctor's office. I told her she was smart when she designed a dress made out of play doh for her tyrannosaurus rex. Yet, still she would say "I'm not smart Mom, I'm beautiful." In her world she could only be one thing, and she held tight to the story others had told her since before she could walk. She was beautiful. In her mind, that's all she needed to be. But as a mother who works in higher education, I desperately needed my daughter to know and believe she was smart.
So we started reading stories about girls who were beautiful and smart. We watched women compete in sports. We talked about how mommy went to college and works at the university (go Vols!). We played engineer, entrepreneur and investigator. We talked about how we solve problems with our brains.
My daughter is now four. She still has striking red hair, but also an imagination as big as the sea. She now tells me she is brave, smart and beautiful. In fact, it's become somewhat of our family mantra. As she heads off to her first year of preschool I know the teachers will tell her she is smart. I know she will begin to hear that story over and over as we celebrate her small victories of learning to write letters, tell time, and color inside the lines. Words are powerful. Little minds are impressionable. So please remember, when you come into contact with a little person, your words are the stories that they repeat to themselves. Choose your words wisely. My daughter is beautiful and smart.
Emily is a wife and mother to a lively set of four-year-old boy/girl twins and a nine-month old daughter. When not managing her little crew, she is designing curriculum for higher education and professional training programs.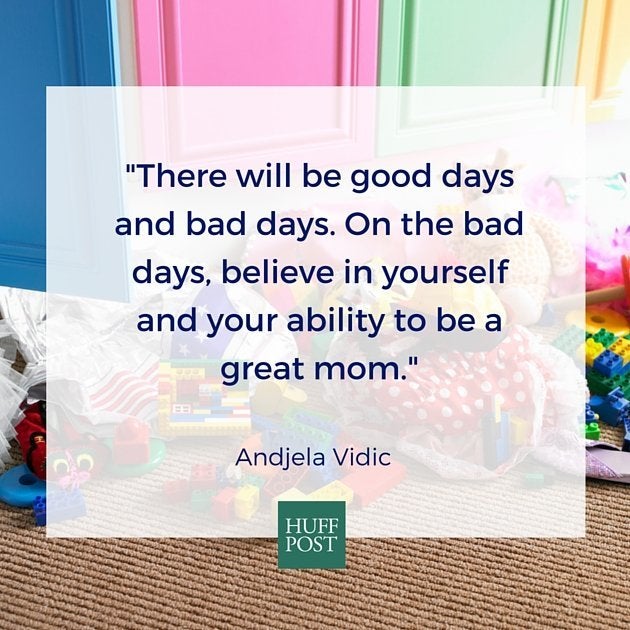 Moms Share Their Best Parenting Advice