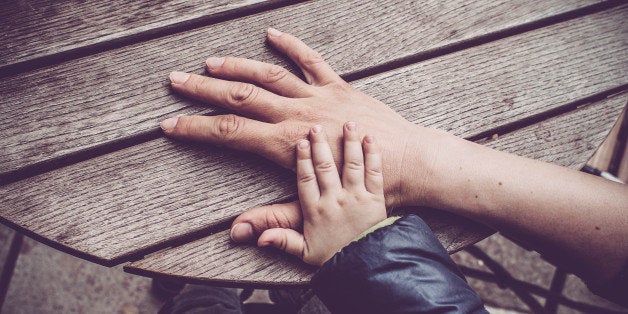 "Will you pick your grandkids up from gymnastics tonight? We're attending a workshop on becoming foster parents."

"What?" I turned and screeched at my daughter, "Are you crazy? What are you thinking?"

Hadn't she heard the stories about troubled youth damaging foster homes, parents, and siblings? Doesn't she know she will hurt when she has to give the child back to the biological parents? Doesn't she realize she and her husband are already on overload running their three kids hither and yon?

I knew she would give all of herself to this child. That is the kind of person she is. In mama bear mode to protect my daughter, all I could see was pain.

"Mom, have you ever heard of 'save a child, save the world'? These are neglected and abused kids. Why wouldn't I do this? Why can't you support me?"

As I flew home across the country, I knew I should have said: "I am proud of you; how can I help you."
Fourteen month-old Donna (not her real name) arrived at my daughter's home dirty, diaper rash from waist to knees, no clothes and duct tape residue on her body. Shortly after birth, she had been taken into her first foster home. Her mother got her back at ten months old. Four months later, police found Donna toddling among chemicals and a table saw.

When I met Donna, a stunningly beautiful, golden brown-skinned, curly-haired, big brown-eyed little girl with a giant smile, I discovered attachment disorder and how a frightened little girl copes by kicking and screaming.

Now 10 months later, Donna is bonded to my daughter and family, certain this is her family. She screams when the case worker takes her to visit her biological mother. Her face lights up when she arrives home. The kicking and yelling are almost gone. She can identify each letter of the alphabet. Her favorites are O and E, drawing out the letter proudly "OOOOO" and "EEEEEE."

But in a few weeks all of this will likely be undone. Donna is scheduled to return to her biological mother, who remains without a job and has completed only half of the anger management and parenting classes the judge ordered. But a D+ performance allows her to "pass" in this overloaded system where the law favors the return of children to their biological parents and the shortage of foster parents and social workers is critical.
Shouldn't the mother be allowed to have her own baby?

Ten months ago I would have said yes, unequivocally. Today, I say not so fast. We know that, of foster children returned to a parent, half will be back in foster care within a year. After foster children "age-out" at 18 years old, 20 percent will be homeless and 70 percent of the women will be pregnant by age 21. The cycle of neglect will begin again.

The judge knows this. He knows Donna will likely be back in foster care in a few months. She will feel abandoned, alone, scared, and unworthy again. The attachment disorder will return with a vengeance.

Public money will once again be spent on lawyers, one each to represent the mother, father (who is not part of the picture, but by policy must be appointed a lawyer), Donna, and the State, on case workers, and on the judge himself.

The overload is growing because public money is focused after the crisis rather than on preventing the problem. We know how to prevent neglect: subsides for childcare, nurse-family partnerships beginning at pregnancy, parental support programs, and addiction interventions.

I thank my daughter for the life lesson. I see the joy in her family as they give of themselves. I see the benefits to my grandchildren, as they understand the life of a neglected child. I marvel at the courage of my daughter, providing consistent love in the face of Donna's anger.
I have come to care deeply for Donna and by proxy all children in this system. Ten months ago, I did not know how to support my daughter as a foster mother. I rarely thought about foster care simply viewing it as dysfunctional and someone else's problem. Today, I know better. I know I can support the organizations in my town that supplement the state system. I know I can reach out to parents who are fostering a child -- buy them a crib, car seat or stroller. Offer to babysit or mow the yard. I am doing all of these things. Each of us can.
To be sure big system changes are needed. Judges need the leeway to set the bar higher for parents to be reunited with their child. More money is needed for social workers and prevention programs.
While we can each work for those changes politically, we can also contribute individually. That's a start toward raising the nation's consciousness, saving one child at a time, and thereby saving the world.