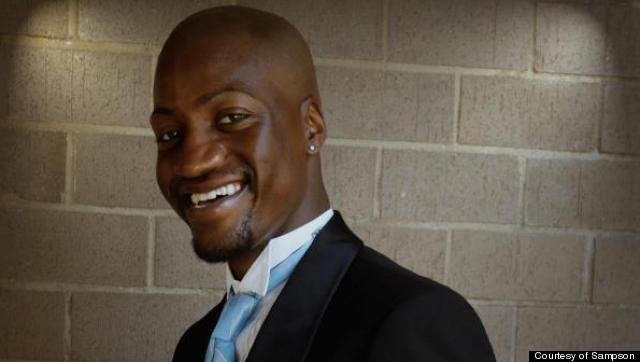 For this installment of The Huffington Post's "My D.C." Q&A series, we talked with up-and-coming stand-up comic Sampson.
D.C. stand-up Sampson has been performing since 2003. The openly gay comic, activist and author of the books "Taboo Village: A Perspective On Being Gay In Black America" and the new "Ebonic Faggotry" has won over crowds from the back of dive bars to large stages like the Kennedy Center and DAR Constitution Hall. Versatile in his appeal, the comic has shared bills with acts ranging from Patti LaBelle to RuPaul.
The Huffington Post: What do you do for a living?
Sampson: I work part-time as a barista, perform stand-up comedy, and sell a little weed and ass from time to time. Just kidding, but slinging lattes and telling jokes.
HuffPost: Where do you live?
Sampson: I currently live in Northwest, D.C.
HuffPost: What's your commute like?
Sampson: I'm in the middle of the city, so I can walk just about everywhere. The fun part about it, is that you can walk from one street onto another and there's a whole different vibe. One block will be like condos and boutiques and then the next block will be a 7-11, STD Clinic and an abandoned building that a crackhead is trying to rent you a room out of.
HuffPost: What's your favorite local spot to take out-of-town visitors?
Sampson: That's a tough one, depending on who it is, I'll take them to some mom-and-pop soul food place or some nice restaurant downtown, but Busboys and Poets is the spot for me.
HuffPost: What's your position on D.C. statehood?
Sampson: I kinda like things the way that they are, but on the other hand, we do deserve full rights, etc. Those are very important, it's a part of a fair and just democracy.
HuffPost: What's your favorite local neighborhood?
Sampson: I have several. I love the U Street corridor, 14th Street corridor, Dupont Circle and Columbia Heights.
HuffPost: What's your favorite local restaurant?
Sampson: Definitely Busboys and Poets. I think conservatives are allergic to their food.
HuffPost: Should D.C. lift its height restrictions on buildings?
Sampson: D.C. is weird. They're on their own on that one.
HuffPost: What do people in D.C. complain about too much?
Sampson: Coffee. It's just a cup of coffee, take that cup over there somewhere and sit down. You just walked into a coffee shop with 63 people standing in line, with two minutes before they have to be at work, and you order a triple grande, skim, three pump skinny vanilla, one pump sugarfree mocha, one splenda, stirred ninety degrees, three and a half nutmeg pebble, toasted chestnut, fluffy bunnytail latte at 143.5 degrees. What the hell? They take coffee a little bit too seriously.
HuffPost: What's one way to improve the D.C. comedy scene?
Sampson: To continue to keep it fresh and consistent. Too many places open and then close. That sucks. Get some things going and stick to them.