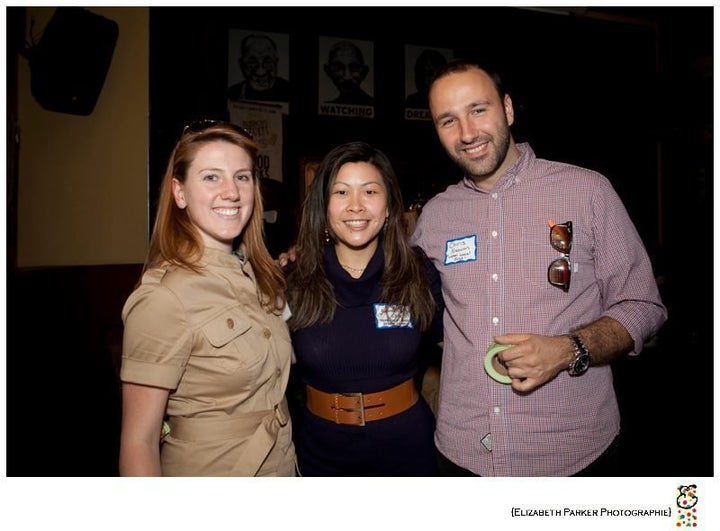 This is the fourth installment of our ongoing "My D.C." Q&A series, where we ask D.C.-area residents about the local things that make D.C. their home.
Anyone you'd like to see us interview? Email dc-tips@huffingtonpost.com.
Since then, the organization has been championing bands, artists and producers from the District of Columbia and nearby suburbs. Created for sound in the way Think Local First was started to support brick-and-mortar businesses, LLF does the same for not so concrete businesses.
Its monthly Local Music Day features eight new artists in multiple independent retailers, cafes and restaurans throughout D.C. This month the organization is featuring blues/rock solo artist Jason Ager, jazz trumpeteer Donvonte McCoy, Latin dub band Empresarios, indie rock band Fire and the Wheel, self described party act Party Bros, singer/songwriter Justin Jones, jazz bassist Kris Funn and Americana act Mynoni & Friends. On June 6 and many more days, businesses such as Tryst, SOVA, Busboys and Poets, Dangerously Delicious and more played music provided by Listen Local First.
In addition to getting local sounds into store soundtracks, LLF also produces a monthly showcase for local bands at the Kennedy Center. Dance for the Dying will be performing for free on Wednesday on the Millenium Stage.
The Huffington Post caught up with Naoum to find out more about his favorite aspects of living in Mount Pleasant, a perk of lack of statehood, tall buildings and more.
The Huffington Post: What do you do for a living?
Chris Naoum: I'm a policy wonk/lawyer. I'm also the co-founder of Listen Local First DC.
HuffPost: Where do you live?
HuffPost: What's your commute like?

Naoum: I work from everywhere. I use the Metro, or Bikeshare and generally work at coffee shops and restaurants that support local musicians.
HuffPost: What's your favorite local spot to take out-of-town visitors?
HuffPost: What's your position on D.C. statehood?
Naoum: I support it, but like the idea that if i were to raise a child in the District, they could get in-state tuition at any state university.
HuffPost: What's your favorite local neighborhood?
Naoum: Mount Pleasant, but LeDroit Park and Shaw/Bloomingdale are close behind.
HuffPost: What's your favorite local restaurant?
HuffPost: Should D.C. lift its height restrictions on buildings?
Naoum: No way, all of the tall buildings are going to overshadow the awesome townhouse feel that most D.C. neighborhoods still have.
HuffPost: What do people in D.C. complain about too much?
Naoum: The Metro. Yes it sucks but you know what you are getting into. Use buses or bike if you dont like it.
HuffPost: What local issue should D.C.-area residents pay more attention to?
Naoum: Paying attention to the background of our city's elected officials. Residents should also embrace and take advantage of all the excellent arts and culture events going on around them. Storytelling, live music, comedy, art exhibits....embrace the talent that is all around you.
Calling all HuffPost superfans!
Sign up for membership to become a founding member and help shape HuffPost's next chapter