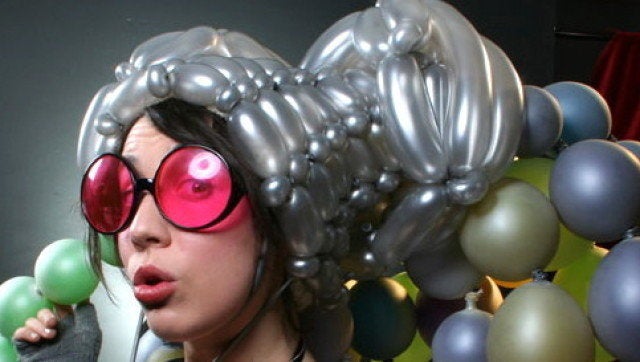 For this installment of The Huffington Post's "My D.C." Q&A series, we interviewed "America's favorite balloon girl," Katie Balloons.
Able to perform for children, stage not-very-family-friendly shows, construct large works of balloon art and more, Balloons is an in-demand performer and personality. Currently splitting her time between D.C. and New York City, her latex empire has been growing for the last five years.
The Huffington Post: What do you do for a living?
Katie Balloons: I'm a sculpture artist and entertainer. I work with balloons. Hint: I don't make silly balloon animals.
HuffPost: Where do you live?
Balloons: 60/40 split. Brooklyn/D.C.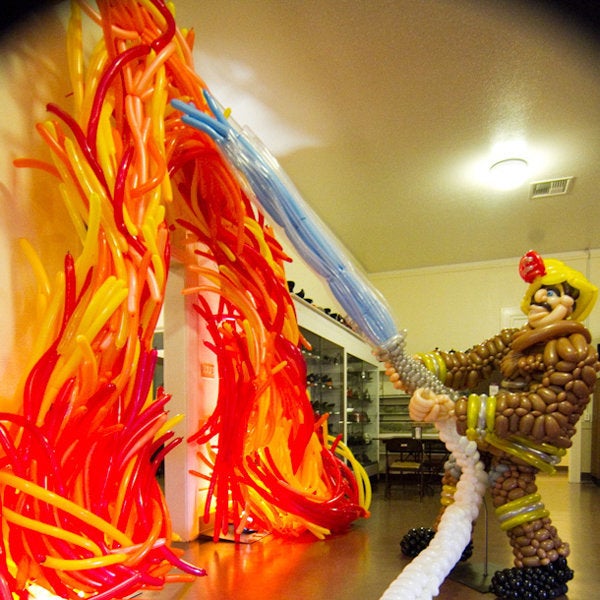 Katie Balloons
HuffPost: What's your favorite local spot to take out-of-town visitors?
HuffPost: Why did you start working with balloons?
Balloons: I started working with balloons because I thought it would be a good way to earn a living while staying in the arts. I continued working with balloons because I fell in love with them.
My balloon skill set developed quite rapidly and naturally; so much so, that sometimes it seems like I've been called to pursue a career in the latex arts. Totally weird, huh?
HuffPost: Is there a particular neighborhood that appreciates your balloon work?
Balloons: I've been referred to as, "America's favorite balloon girl." Is America a neighborhood?
HuffPost: What do you travel with for your show?
Balloons: Whether I'm doing a stage show or installing a large scale sculpture, I try to travel simply as possible for out of town gigs. Sometimes I can road trip it in my truck which is cool, because then I can bring all of my own equipment. If I fly, I may ship supplies a few days in advance to my hotel. Whenever it's possible, I ask my clients to book me in pet-friendly hotels, so Herman, my ferret, can come too.
HuffPost: Is there any danger in balloon work?
Balloons: Ummm..If someone's mouth inflates balloons for years and years they run the risk of developing a hernia (from the strain of blowing) or even cancer (from the particles of talcum powder continually ingested). Despite the risk, I'm a die-hard believer in mouth inflating.
I also do a show in which I climb inside of a balloon. It's like stuffing yourself into a giant inflated whoopie cushion. I suppose I could get stuck in the balloon during a show and die of asphyxiation. That would be a bizarre way to go.
HuffPost: Why did you decide to work in D.C.?
Balloons: There were a handful of good reasons for me to grow my balloon business in D.C. D.C. needs quality art and artists to balance out all of the political energy. At the time, I felt like there weren't any balloon artists in D.C. who had enough chutzpa to truly razzle-dazzle our nation's capital. I like to think that it's my mission to change the way the world sees balloons. They aren't just for kid's parties and car dealerships.
The economy in D.C. is very stable. The Virginia and Maryland suburbs are full to the brim with government employees with steady paychecks, so I knew that I'd always be able to tap into a relatively steady income for myself.
I had a handful of professional contacts in D.C. Six months into my love affair with balloons, I was invited on a two month tour in Shanghai with a circus group. Though they had hired entertainers from all over the world, the agency that organized the trip was based in the D.C. area. When I relocated to D.C., those contacts helped me get my business off the ground.
Now, five years later, I've opened a second office in New York. I've decided to maintain my D.C. business, while growing the New York clientele. It's a difficult balancing act; traveling constantly between the two cities. The theory behind the strategy is "Expand, don't climb."
HuffPost: What's your ideal balloon gig?
Balloons: I love massive contracts. The ones that are so massive that they take a month to plan, and I don't need to work for a month afterwards. I want to create amazing, unheard of concepts with balloons... and that takes the right type of clients. Ideally, I prefer indoor gigs that combine sculpture & entertainment, allow for ample set up time at the venue, and require me to hire a crew.

Support HuffPost
The Stakes Have Never Been Higher
Related
Popular in the Community