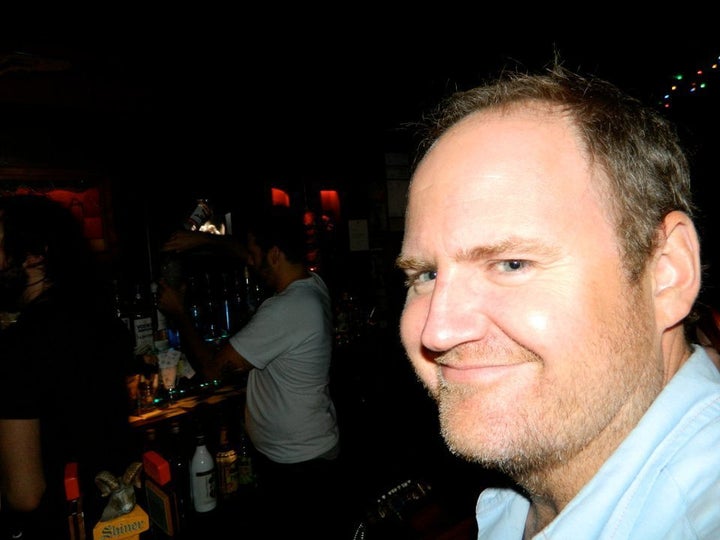 Who are you:
I am Pete Turner, Denver native. Littleton Lion, Class of '89. Guns N' Roses rules!
Years in Denver:
I have been in Denver/Colorado essentially the entirety of my life. Born in Denver and there until I went to college at CU Boulder, graduating in 1993. I opened Illegal Pete's in Boulder in 1995, and was in Boulder until we opened our first Illegal Pete's in Lower Downtown Denver in 2001. Been in Denver ever since.
Current Neighborhood:
Wash Park.
Current Gig:
President of Illegal Pete's.
What do you love most about Denver:
I love where Denver is in its life cycle. Growing up in South Denver in the '80s downtown Denver was a ghost town, fun to visit as a trouble-making teenager, but very desolate. What I have seen in the last twenty years as a proud Denver Native has been really great. The vision of local leadership has poised Denver for really great things in addition to our professional sports/winter sports and the incredible beauty we have been blessed with as a state. There are a lot of amazing people/things happening in Denver and I think the momentum will continue to build in the right direction if we have the right vision/priorities as a city.
I would like to see Denver realize its potential as the creative hub in the center of the country. It was known as the center of telecommunications for years and years -- let's communicate to the rest of the country everything else we have happening in the city. Maybe re-brand the 'cow-town' thing? Too much?
Favorite Colorado beer:
Is it okay to say Coors Banquet? Bandit didn't go to all that trouble for nothing.
When did you start Illegal Pete's and what got you interested in starting a burrito restaurant?
Some of my best friends at CU were from the Bay Area in Northern California, where Mission-Style Mexican has been around forever -- having originated in the Mission District in San Francisco. I would eat it almost every meal when I would visit friends during college and wished that there was something like that in Boulder, so I pursued it and started Illegal Pete's on The Hill in Boulder in 1995.
With the success of other burrito chains, have you ever been tempted to franchise it out all over the nation?
That's a funny question. We get a lot of franchise inquiries and have throughout the years. I've had to think really hard about what I want for my company. In talking to people and in studying the franchise I've found that when you get into franchising you no longer operate restaurants, which I really enjoy doing. The business changes to where you are now managing franchisees which is completely different than running a restaurant and everything that goes along with it. I really enjoy the human, employee/customer/community aspect of the restaurant business and although that still exists in franchising it exists in an entirely different way from what I understand; it exists in a way that would be unfulfilling to me. Part of our mission states that we 'try to have as much fun as possible' and I'm not sure a fundamental change in our business in that direction would fit that.
As far as traditional growth for Illegal Pete's goes: We have grown slowly and have worked hard over the years to improve ourselves and continue to look for ways to do that daily. This includes not only the product and service we put out but how we treat our employees, how we integrate and add value to our communities -- things like that. I have made a million mistakes over the years and we are fortunate to still be around and have the success that we have -- I don't take that lightly.
We are at a place where we are looking to grow again. We are blessed with so many great people in our organization and we would like to provide additional opportunity for them. We will be looking in Ft. Collins this year as well as maybe another Denver location. We do plan on looking out of state in the next few years for growth, looking at areas similar in sentiment to Denver/Boulder. We've done really well in college/urban markets so I think it makes sense to continue looking there. We do believe we are an amenity to each community in which we reside and we will have that sentiment inform how and where we grow. Can we continue to operate like that with higher growth? I don't know. If not, we should let that guide our pace.
What is the Starving Artists program at Illegal Pete's all about?
The Starving Artists program came together with the help of Virgil Dickerson and Andy Thomas. The gist of the program is that any nationally touring act travelling through Denver/Boulder can get in touch with us through the Starving Artists section of our website and we will give them a voucher feeding their band/crew for free when they are in town. We ask that they shout us out through social media in return.
It's really cool -- we give them a home and hospitality, we get some exposure to their fans and it even gives their fans a chance to catch them at the restaurants. We are all big music fans at Illegal Pete's so this is important to us. We had historically fed national bands touring through Denver/Boulder, but it was very informal -- kind of like "oh, hey aren't you guys so and so playing tonight at the..." and then we'd give them free food. Well, Virgil and Andy helped formalize this for Illegal Pete's and it has been a really good success. I think the bands dig it and it's really fun for all of us.
Tell us about Greater Than Collective?
The Greater Than Collective came about as an extension to what we had been working on with Starving Artists. It is about trying to pool experience and resources to help local bands find greater local success while ultimately trying to help get them exposure nationally. Denver has such amazing things going on musically that we thought if we could help develop the market for Denver music in any way we could than we would like to try and do that. Our first project was working with Snake Rattle Rattle Snake in manufacturing, distributing and promoting their amazing first full length album, Sineater. We are now working with Ian Cooke and his new record Fortitude. I encourage anyone reading this article to listen to these two incredible local acts to get a taste for the strength of talent that we are so fortunate to have in Denver. I am consistently amazed by the quality of talent we have here in Denver and am a little frustrated and confused as to why Denver's music scene doesn't get more attention nationally. [check out more about Ian Cooke here and Snake Rattle Rattle Snake here].
Greater Than is still evolving. Part of our vision this year is to see what other resources there are in Denver that would be willing and able to plug in to the Collective to continue to strengthen what we have with the idea of creating a solid platform that successfully showcases Denver/Colorado Music/arts/culture.
Black or pinto beans?
Mixed!
Favorite outdoorsy activity?
I grew up skiing bumps at Mary Jane. I've been on a snowboard basically since I opened Illegal Pete's and I am back on skis this year. I guess I am answering with: snow sports.
What is on your weekend must-do list?
It really depends on the season. The one constant is live music -- either at Illegal Pete's or elsewhere. If it's Broncos Sunday it's green chile with the wife and dog at home for the game.
What's next?
For Illegal Pete's: Fort Collins. Seeing how we can better help Denver music/arts/culture. Continuing to work hard to improve our product for all parties involved -- employees, customers, community.
In a word, Denver is...
Tebow. That's the right answer, yeah? Integrity.
Support HuffPost
The Stakes Have Never Been Higher
Related
Popular in the Community