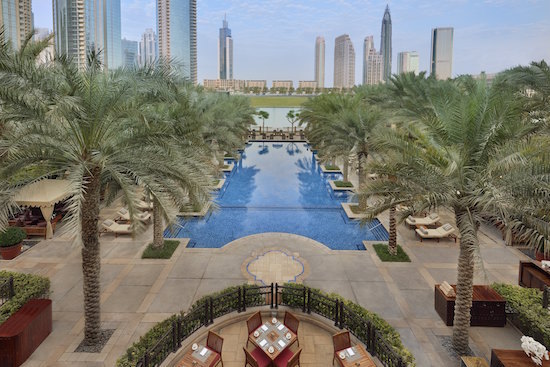 I'm convinced that just as one single body of water separates us, called by different names in different parts of the world, also one, sole, unique desert is shared by all, around the world.
While our earth may at this point in time be divided into different continents, it wasn't always like that, and the vast arid expansions of the Sahara in Africa, the Mojave in the US and the Empty Quarter of the Arabian Peninsula have all grown out of the same grains of sands.
So, I decided I needed to find a way to truly experience this iconic granule from the dunes, to help me reconnect with my humanity -- at a time when it's not so easy to see that we are all brothers and sisters. I wanted to go back to the carefree days of the sandbox, to the times when warm sand caressed my thoughts while I lay on a beach somewhere.
I wanted to reconnect with my inner Bedouin.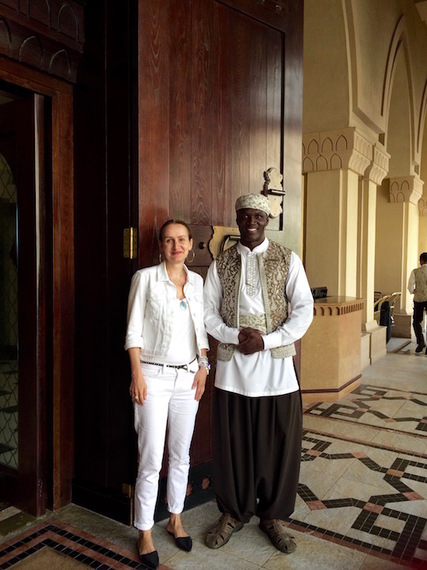 The place where I usually do this kind of heavy thinking, where I once again find the beauty in my fellow human beings, has long been for me the global, mega, and multicultural Dubai. Why Dubai, you may wonder? Well, because there is no other place in the world where two people who don't speak the same language can understand each other with just a single look, where two women dressed as differently as night and day can easily connect over a child's laughter and even a trip inside a taxi turns into a special adventure, sharing life stories with someone who comes from the other side of the world. Dubai is magical that way.
To naysayers who don't see the world ever being at peace I say, visit the Emirates. You may just find the model for global harmony here.
But being who I am, too much talk of diplomacy and geography can only take me so far before I bore myself to death. So, in my search for the perfect way to connect to the sands of the Arabian deserts, I discovered something so luscious, so special and so very luxurious that at the end of the day, I actually felt like a princess. And, this is no coincident I think, I found this bliss inside a place called The Palace Downtown.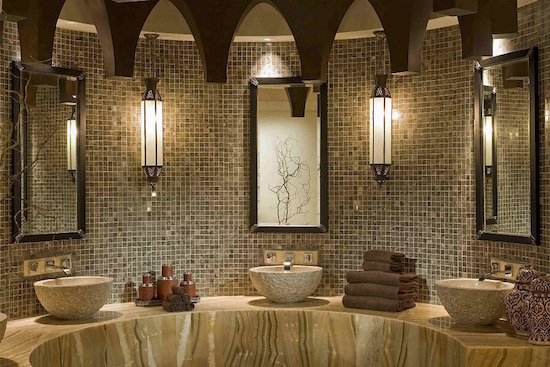 Walking through the lobby of this enchanted Middle Eastern themed property, on my way to their spa, the first thing I noticed was the special perfume, filling its ample halls. A powerful flowery creation, made especially for the hotel, it commanded me to stop, sit and let the scent waft over me. If only there was an app for that, one that allowed us to carry scents with us -- I thought! So much of what I feel, how I remember something has to do with the way a place, a person, a moment in time smelled. Scent is an essential part of our lives and as Coco Chanel once famously proclaimed, "a woman who doesn't wear perfume has no future!" So anyone, and any place without a special scent will get lost within my countless memories, never to be found again.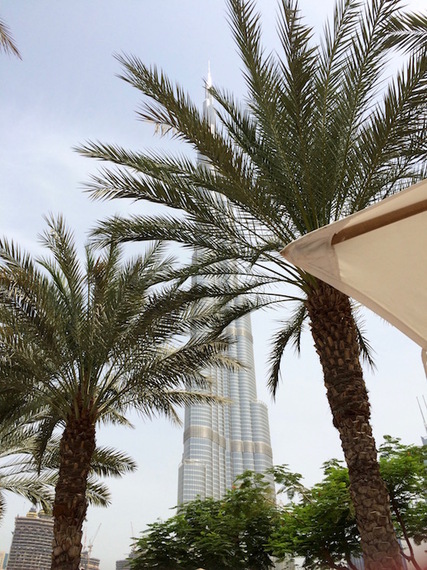 Once inside the spa, I made my way to the pool which is flanked by all the iconic Downtown Dubai buildings, such as the city's tallest tower Burj Khalifa (and that always reminds me of Tom Cruise). Lined with palm trees, and Arabic cabanas, the blue tiled pool was perfectly chilled and with the Mission Impossible theme now stuck in my head, I swam a few laps. But I wanted to conserve my energy for what came next, for exploring an exotic world of scent and sensations that awaited me inside The Palace Spa.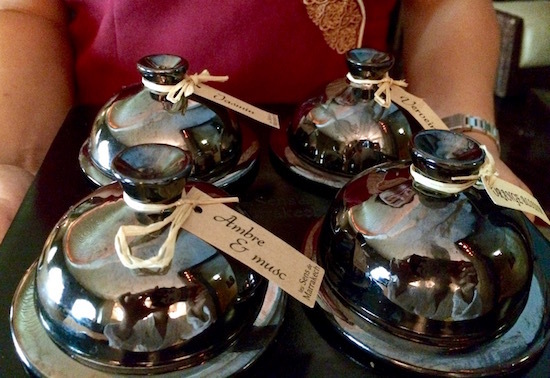 "One Desert Journey" -- as was described by assistant Spa manager Bless (yup, that's her name, and it's fitting!) -- is a way to "travel through the desert without moving a muscle," all the while enveloped in the smell of jasmine, amber & musk, orange blossom or Moroccan verbena mixed with sand, salt and Argan oil. Travel, no exertion, flower oils, salt rubs and massages. I could get used to this, sign me up for this journey, I thought.
Once comfortably seated in the waiting area, having chosen orange blossoms as my scented oil, I tasted some dates, a few dried apricots and delicious bites of dried figs. The white apricot tea was also sublime, didn't need any sweetener, and just as I was about to have my second cup, Kim, my therapist, came to usher me inside the treatment room.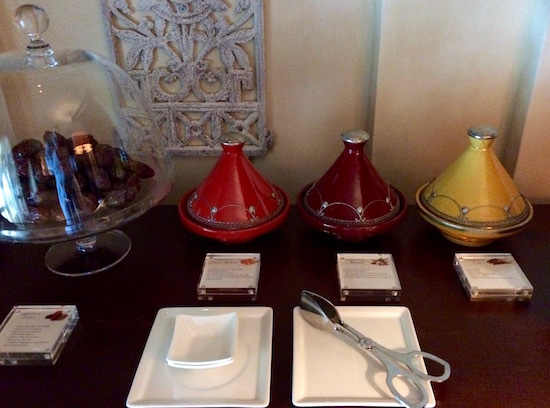 And that's where I encountered what I had come so far to discover -- the sands of the Sahara. Mixed with salt, Argan oil and orange blossom essential oil, the sand "kernels" provided the right amount of friction to ready my skin for the massage to come. I was rubbed, scrubbed, cleansed, massaged, twisted, smoothed and pampered by Miss Kim all the way to feeling like a princess. And this was, for just under two hours, my Palace. Oh, must not forget the warm pods filled with coriander seeds that ended the treatment, placed gently on my relaxed muscles by the therapist.
As I lay there after my massage, cocooned inside a large towel wearing a collar made of warm seeds wrapped inside a fabric pouch, I realized the power of wellbeing, of taking care of our own needs, so we can then face the world. I don't mean to sound spoiled, but just as Marie Antoinette exclaimed "Qu'ils mangent de la brioche" -- that famous "let them eat cake" sentence -- I think a massage once in a while is probably the best antidote to the chaos, stress and violence of this world. Apart from the proven benefits of a good rubdown, like increased circulation, better moods and a softer skin, the bliss of knowing you've just done something this wonderful for yourself, makes the world seem like a better place already. And makes us all kinder to it.
I know the sand, the salt from this earth, the Argan oil so carefully extracted by women in Morocco, all reminded me that there is indeed a god, even if all of us may call him by different names.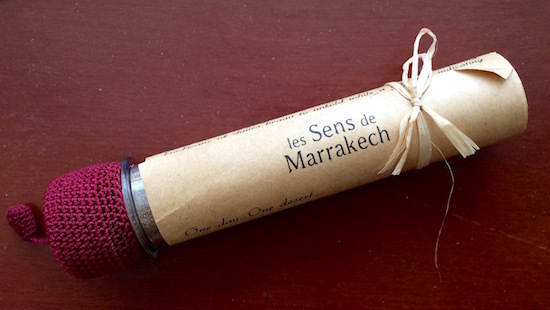 After all was said and done, I was gifted a vial of desert sand, topped with a lovely crocheted cap and wrapped in a written tale of desert adventure, penned in 2008 by an anonymous traveler who had experienced the Sahara.
And that is life, in a grain of sand.