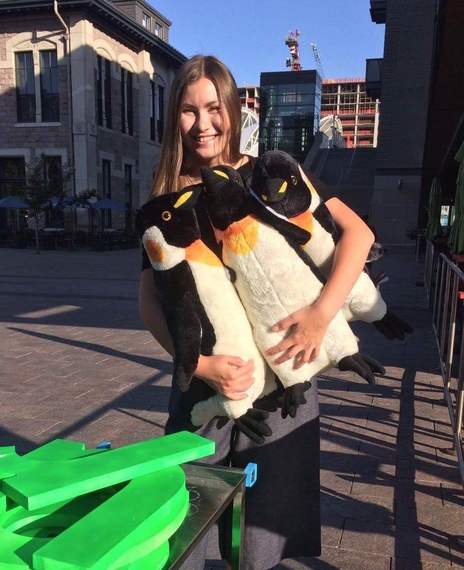 Anna Safronova pictured above at the Unreasonable Institute accelerator
One of the major advantages of global study and travel is that we get a perspective on opportunities we may observe more clearly in a foreign land. When Anna Safronova, a student from Russia, came to the United States she had this experience, which revealed her life's work.

What ignited the spark in you to start My Dream City international? How did the idea for it come about?

The idea of the project is rooted in my own personal experience. During my high school exchange year in the USA, I spent a significant amount of time volunteering as a teacher assistant at a local art museum. There I became friends with an orphaned elementary school student who lived in a foster home. He was 9 at that time but had already changed several families. It was obvious that he encountered more challenges in his childhood than other students. But his story inspired me to think about even less fortunate kids. Despite not having natural parents he led a completely normal life, went to a regular school, had extracurricular activities and felt included into the community. In many other countries that have institutional care for orphans those children experience a very traumatic separation from the society. For many children who enter these facilities, there is little realistic hope for a fulfilling life. The contrast between the foster kid's life and those led by orphans in many countries around the world seemed to be too striking and too unfair. Upon my return, I decided to do something about it starting in my hometown in Russia. At the age of 17, I visited a local orphanage for the first time. And that is how MDC International started. The MDC international is aimed at providing tutoring and mentorship opportunities for kids living in orphanages. The company's mission is to facilitate kids' transition from institutional care to adulthood, help them become self-sufficient and craft the future of their dreams. A large part of the curriculum is focused on empowering kids through building their self-esteem and self-worth as well as providing them with hard skills to develop their natural talent.
What would you say are the top three skills needed to be a successful entrepreneur?
• Might sound cliché but #1 is the ability to learn from your failures. There are very few people who succeed after the very first attempt. The most important thing is to learn from your mistakes and try again and again.
• Surround yourself by people who are smarter than you and treat them with respect so you all feel comfortable working as a team.
• Don't fall in love with your idea. Share it, prototype multiple times and use the feedback to make it better.
You have had a lot of experience in marketing and social media through your position at the British Council. Do you think that social media has a strong impact on social change?
I am a firm believer that when used wisely social media can spark big social changes. Just think about the Ice Bucket Challenge that helped to fund a breakthrough in ASL treatment. There is no way a campaign like that could be possible without Facebook and Twitter.
But I've also seen big social media failures when significant funds were invested in creating viral videos or hiring social media managers who were just chasing the number of posts but not their quality. You need to be smart not to alter the initial message. In the end of the day, social media is just a channel of communication. Arab Spring, for example, a renowned product of social media, has failed miserably. It demonstrated that it is also important to think about how to maintain the changes that social media helps to create. Personally, I'd like to see social media not as a tool that leads protesters to the streets and city squares but as a way of igniting systematic peaceful change. Primarily, it means highlighting good stories and making positive examples of problem solving go viral.

When and how did you get involved with Unreasonable Institute?
I met the Unreasonable team at Unreasonable drinks. It is a wonderful monthly event that brings together truly remarkable individuals, community leaders and friends of the Unreasonable. I was invited as one of the Watson University scholars. Watson University is a semester long accelerator in Boulder for student innovators, leaders and entrepreneurs that includes mentorship from the world's foremost leaders, entrepreneurs, and thinkers. At the event, I had the chance to pitch the MDC International idea in front of a very bright crowd.
Later on Teju Ravilochan, the founder of Unreasonable Institute, taught a workshop at Watson. It was one of the most useful and exciting classes I've ever had in my life. When I graduated from Watson I found out that they were looking for operations manager for the Early Childhood Development Accelerator. Since I had a relevant experience I didn't hesitate to apply. That's how I ended up joining the Unreasonable team.
Tell us how your work at MDC international influences your work at the Unreasonable Institute.
I think after working with children from low-income communities and children at risk I have a better understanding of their needs. When I learned about the ventures that joined the Early Childhood Accelerator and met with their founders and saw a clear connection between their solutions and children's needs. That gave me a sense of purpose and great motivation to exceed the expectations of the Unreasonable team. From a practical point of view the experience of running MDC International equipped me with some useful organizational skills. That was definitely helpful for fulfilling my role at the Unreasonable Institute.

What has been your most rewarding moment thus far?
To me the most rewarding is to help people connect in a meaningful way. With MDC International it is rewarding to see kids from orphanages spend quality time with their volunteers. And it is fantastic when they keep in touch and build friendships beyond the curriculum hours. It helps them to finally feel included into the society outside of the orphanage walls.
At Unreasonable Institute every single day was rewarding because of the unique corporate culture and peer-to-peer support. Unreasonable is a very unique organization in that way.

New models of universities like Watson, help graduates like Anna to make valuable connections to define, grow, fund and measure their business mission. The Unreasonable Institute for social entrepreneurs is a network to keep graduates like Anna connected with specific people and resources for quantum growth. Anna's mission to help students from foster families and orphanages is a wonderful model of addressing one of society's greatest needs, often invisible to many. With leadership from graduates like Anna, the world's toughest problems can be uncovered, addressed, healed and galvanized to create access and opportunity for all.
REAL LIFE. REAL NEWS. REAL VOICES.
Help us tell more of the stories that matter from voices that too often remain unheard.