"Without music, life would be a mistake."
-Friedrich Nietzsche
I always knew music would be part of my parenting philosophy. We play music all the time in our home, in our car, on vacation. Our children are growing up with a rich and varied musical exposure that includes jazz, rap, hip-hop, country, rock, alternative, bluegrass, classical, and more.
Now that they are 11, it's inspiring to see how they are taking more and more control of shaping their own musical tastes and preferences. It's incredible to witness how they see, feel, hear, and discover music.
M, who has special needs, listens to music in a different way than his twin sister, J. He has sensory processing issues and super-sensitive hearing (auditory processing disorder is the fancy term). I like to say he has Super-Hero Ears. He can hear things far and near and usually very sharply. He likes to play CDs in his room, wear headphones, control the volume and usually really sit and actively listen to the nuances of the music in the quiet of his bedroom. From James Taylor to Lucinda Williams to Edith Piaf to Simon and Garfunkel to Mozart and Pitbull, music moves him because there is freedom in music for M -- there are no rules, no restrictions for listening, no challenges. M controls how and what and what he hears.
Unfortunately, the B-side is the soundtrack of everyday life -- loud talking, clapping, birds chirping, babies crying, car alarms, kids playing, dogs barking -- the opposite of music for our son. Unexpected. Uncontrollable. There is dissonance, and suddenness, and the inability to filter and process noise, volume, and interpretation. To say that the hearing part of life is often very challenging to M is an understatement. It's common to see him covering his ears, putting his fingers in his ears, or wearing a hood (even in the summer heat).
He often misses events such as birthday parties, concerts, and family functions because there is no way to regulate sound and therefore his system.
But my brave boy and our entire family haven't let this stop us. We just try different strategies and do what we have to do in order to accommodate M's Magic Ears.
Which brings me to Mother's Day. I live for family adventures and for the four of us to make memories. When I found out we had an opportunity to get tickets to a big nighttime (loud) baseball game in Boston I knew I wanted this to be my Mother's Day celebration. But how? It felt like the universe was reaching out to me because that very same day a relative sent me an email about a pair of seemingly magical headphones called Studio Beats. After doing some research I realized that some autistic children have been wearing them and that they might help other special needs children because these headphone are cutting edge with the technology to control music but also can control sound -- essentially turn the noises of life on or off. This felt like a revelation and renewed my hope that my son could control his auditory engagement independently -- mute the unwanted, soften the sharp edge of sound, and erase his hearing fears.
And I was right -- because of the new noise-canceling technology this set of headphones revolutionized our son's and our family's life the instant he put these miraculous devices on his ears. Not to get technical but it is important to note for other special needs parents reading this that the headphones have Adaptive Noise Cancellation and for a special needs family so much of what we do is adaptive. In fact, the description says it best: "the ANC mode automatically increases the level of noise cancelling, to put the world on mute." WHAT? WOW!
So, did my dream come true? To borrow a phrase from America's Favorite pastime -- it was a grand slam. Instead of an ear-covering-terrorizing-let's-leave-in-a-panic experience, our family went to Red Sox vs. Yankee game and our son got to experience all the memory-making highlights a boy could possibly do in a single night. The headphones gave M the ability to control the amount of noise he heard, cancel some of it out, and feel comfortable, in control, competent, safe, and best of all to have fun.
M's muted magic list is really a list of my 10 Mother's Day "gifts:"
1. The priceless, unexpected, serendiptous, surprise (!) opportunity to cheer and celebrate alumni Mom's UConn NCAA 2014 Men's Basketball Champions.

2. Eating TONS of Ballpark Peanuts.
3. Eating TONS of cotton candy.
4. Singing ballpark faves -- loudly and with abandon -- including Sweet Caroline in the 8th inning and "Take Me Out To The Ball Game."
5. Cheering for our favorite player Big Papi (and Booing Red Sox traitor Jacoby Ellsbury).
6. Clapping loudly -- all four of us (we never clap!).
7. Taking and posing for family photos.

8. Smiling in the midst of screaming fans in the pouring RAIN with umbrellas and staying until the ninth inning, never wanting the night to end.
9. Almost catching two foul balls.
10. Kicking off spring and creating a we-will-never-forget-tonight memory.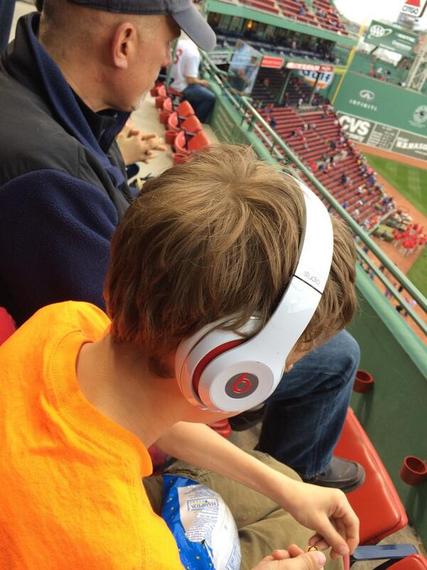 For this grateful mom, when M spontaneously remarked "This is the most fun we have ever had, Mom!" It was the most beautiful music to my ears.