The school year in the UK has begun. Mums and dads of first-time pupils know how exciting a moment it is for both parents and children. But what about the expats and their kids? This is our experience…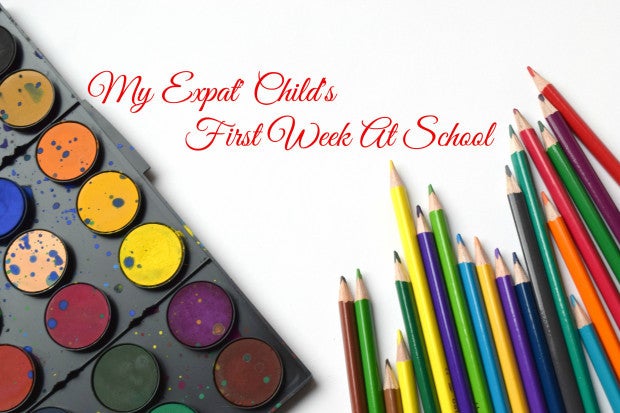 Last week my son started reception. His first week at school. Previously, he attended a UK nursery so I didn't expect him to be too anxious now. Still, I thought he would feel a little bit uncomfortable being entirely in an English-speaking environment again. I was even prepared for a tantrum on the first day. I was almost sure there would be one. After all, he had spent the whole summer with his mummy and he probably had forgotten what it felt like being away from her.
But no. He was happy. So indescribably happy and excited about being a pupil. He loved his school uniform. He grabbed both his book bag and P.E bag the moment I bought them and walked at a cheerful pace all the way back home. He was jumping and singing, "I am a pupil! I am a pupil" He was a big boy!
Well, we had our difficult period when he went to nursery for the first time, not knowing anyone, not understanding the language, being confused and scared. He was thrown into another education system, quite different than the one he was familiar with. He was my flustered little boy. The nursery staff even told me he might have a speech delay or something because he refused to speak or communicate with the others. I was shocked to hear that but then, I realized he didn't have any delay (he was speaking incessantly at home using his mother tongue). He was simply too stressed. He was an expat child and a deeply emotional one who needed some time to adjust.
And he did, I think. My brave little boy. The last days at nursery, they noticed a considerable progress. He had started talking to the other kids. During our summer holiday in Bulgaria, I was quite sure he wouldn't forget what he had already learnt at nursery. Yet, I was worried about September…
Obviously, I shouldn't have worried at all. The school is so lovely, his classroom is so colorful and bright, the teacher and all the staff are so friendly and charming. It is such a nice atmosphere, meant to be a happy place for kids. And they look happy. At least, this is what I have seen this last week. Every afternoon when I pick up my child, he runs to me smiling and jumping.
And this is a reason good enough to love the British education. I am an expat who came here not so long ago, and I am still learning how the system works. I know it's too early to reach any conclusions. Yet, so far I am fascinated.
I am not juxtaposing the Bulgarian and UK education systems. Certainly, they are very different. It seems to me, however, that kids in the UK are given more freedom to live their childhood, even though they start Year 1 at the age of 5 (it is 6 or 7 in Bulgaria). More games, more smiles… Learning through pleasant activities, and not a school desk from the very beginning; no heavy bags or the blackboard we all dreaded in my school years. I think the transition between nursery and real school years goes more smoothly. And I highly appreciate that.
But it's just one week at school. I will have so much more to learn together with my son. For the time being, he is a happy little pupil in the UK. An expat child who now speaks more English than his parents have actually known. An expat child who seems to enjoy being in the new country, his new home. Our new home…