Before I joined the company of Sweat in February of 2017, I hadn't heard of Sweat at all, I was in LA shooting Ryan Murphy's show FEUD. The first I knew of it was when the script arrived and I was asked to tape myself and send it to NY. I tried not to google too much about it, so as not to make myself nervous and allow the voices of doubt to creep in that I wasn't up to it. Knowing it was Lynn Nottage's play was nerve-wracking enough. We had met once seeing the same performance of "Motherfucker with the Hat" I'm sure she doesn't remember, I wouldn't expect her to.
Though I'm not the only actor making their Broadway debut, I am the only newbie in this production. I wasn't involved off-Broadway at The Public. I sort of stepped into a fully formed production for the Broadway transfer. Though I come from the Theater, I've been luckiest in TV and honestly didn't know if the day would ever come that I'd actually make it to Broadway. I'm beyond thankful that it has of course, but feel extra blessed that it's this particular play. What was exceptional about jumping in like this was I could sit in rehearsals and see all the other characters' relationships from day one, their positions in the pack and personalities within the group dynamic. Usually, these things take time to develop and make themselves known but this amazing group of actors had already performed together for months and were so tightly knit together. So I got to decide where I thought Jessie could fit into this mix. Who she might like best, who was the funniest to her, who she perhaps resented, anyone she was attracted to, who did she trust most? All the interesting things.
My character Jessie begins the play mostly drunk and in a great deal of pain that her husband of 20 years has recently remarried. She's drowning her feelings in booze, but is a fully functioning alcoholic and always shows up at the factory for her shift. "She stays out drinking until 2 every night, and has a 7am call, but always manages to punch in on time." There are so many different kinds of drunk, I play with those every night, belligerent, weepy, blacked-out, brassy, confused, happy drunk even and of course she can be all of those things within a scene. She's in a place of contemplation about her life and the reality is not looking too good. And that's before the main Drama of the play begins.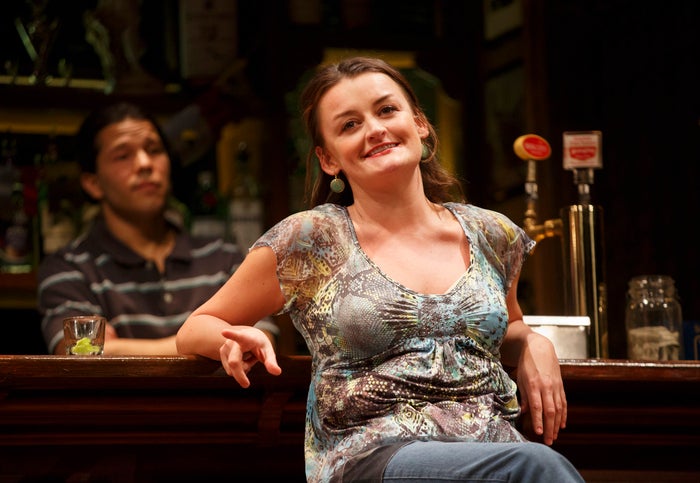 Sweat to me, is the story of hard-working Americans and their parents and grandparents who dedicated decades of their lives to American industries, factories and plants that were the backbone of towns and cities. Industries that were not supposed to go anywhere. Yet they do, businesses are outsourced for cheaper labor without any concern for the carnage they leave behind.
Sweat resonates with me because I grew up in and around blue collar towns and cities. I remember the effects of the coal mines closing in the 1980's and how it decimated villages and towns and entire communities. Everyone was on the bread line all of a sudden. The film Billy Elliot captures it perfectly. Generations of families paid into the industries they thought would be around forever. If you make a story specific enough it can be recognized universally.
Sweat, by two-time Pulitzer Prize winner Lynn Nottage, directed by Kate Whoriskey is playing a critically acclaimed run at Broadway's Studio 54 (254 West 54th Street).
With warm humor and tremendous heart, Lynn Nottage's Sweat tells the story of a group of friends who have spent their lives sharing drinks, secrets and laughs while working together on the line of a factory floor. But when layoffs and picket lines begin to chip away at their trust, the friends find themselves pitted against each other in the hard fight to stay afloat.
Sweat has also been nominated for three Tony Awards including Best Play, two nominations for Best Featured Actress in a Play (Johanna Day and Michelle Wilson); three Drama League Awards: Distinguished Production of a Play and Distinguished Performance (Johanna Day and Michelle Wilson); three Outer Critics Circle Awards: Outstanding Broadway Play, Outstanding Director of a Play (Kate Whoriskey), and Outstanding Featured Actress in a Play (Johanna Day); and two Drama Desk Awards including Outstanding Play.
ALISON WRIGHT (Jessie) is best known for her critically acclaimed role as FBI secretary Martha Hanson on four seasons of the Emmy Nominated FX series The Americans. She will once again join forces with FX, as a series regular in the network's highly anticipated anthology series FEUD: Bette and Joan from Ryan Murphy premiering March 5th. In addition to Feud, Wright currently recurs opposite Bryan Cranston and Giovanni Ribisi in Amazon's new series Sneaky Pete. Recent film credits include HBO's Confirmation as well as the Gavin O'Connor-Ben Affleck film The Accountant. On stage, Wright is best known for her roles in the Off-Broadway production of The New Group's Marie & Bruce (opposite Marisa Tomei) and Rafta Rafta.
Follow Alison Wright on Twitter: https://twitter.com/alison__wright
Calling all HuffPost superfans!
Sign up for membership to become a founding member and help shape HuffPost's next chapter