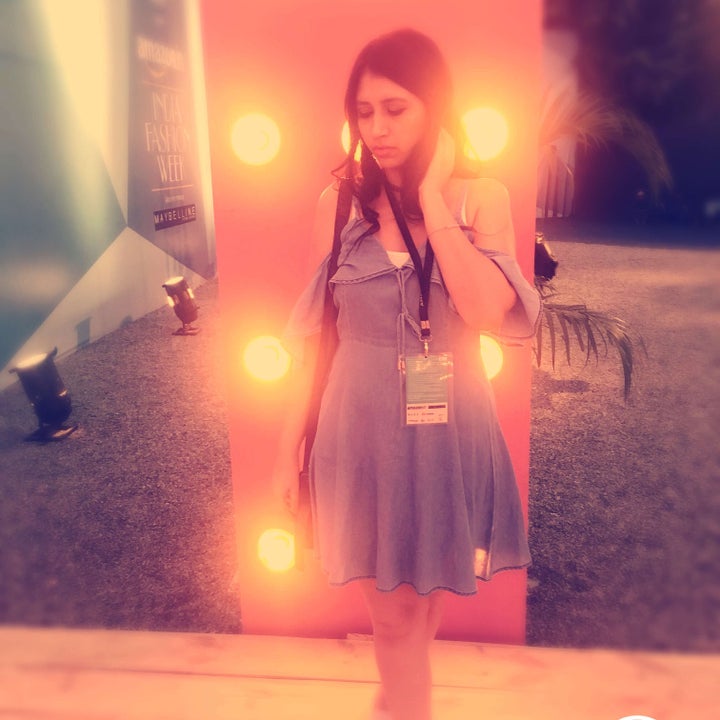 It's very difficult for me to get caught up with the glamour that is associated with the industry.
So much so that I don't remember looking at—an actor, activist or a writer—and losing it.
I wasn't always like this. When I was 20, I was starry eyed about the journalists' whose work I'd been following for years. Then I joined the industry—and the bubble burst. All I was left with was sugarless gum I had to chew till I could. I saw actors, singers and musicians—and was left unphased.
I need to remind most people that I am a writer first. That I've been in this industry for a decade now and that blogging is only 2 years of me. During my media days, I was so busy running around I never really enjoyed Fashion Week. They were just those 5 hectic days I couldn't go back home on time.
This time, it was a little different.
This year I attended AIFW as a blogger.
After getting my accreditation which granted me access to all shows and lounges, I was trying to figure how many days I could attend—keeping in mind the fact that I actually have to write for a living. Most bloggers attend all days, so I decided to attend at least two days.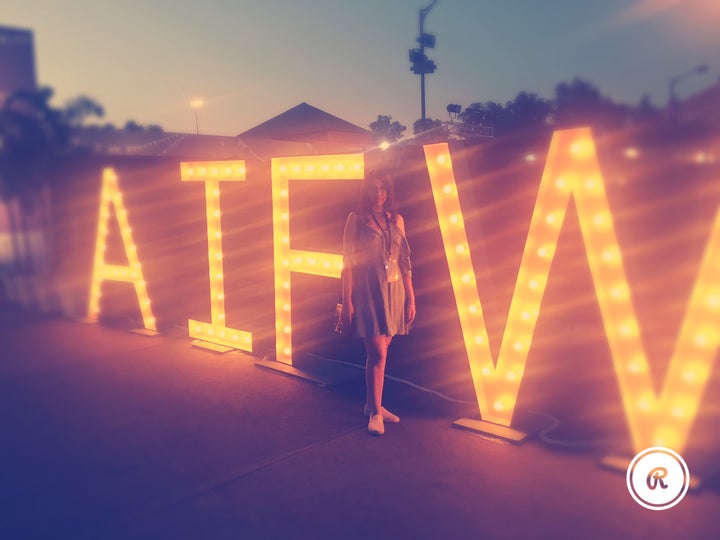 I mean I don't really relate to the 20-year olds who seem to multiply at every bloggers' meet—but to each his own.
I have often been complimented for my dressing sense—but doesn't that happen to everyone?
And if you're normal, you're not really a trendsetter. Besides, I never really wrote about designers until the story, or my freelance editor asked me to do one. And unlike many popular bloggers, I wouldn't ask any designer for a dress.
A few days prior to the show, the phone rang. A PR consultant told me a brand was interested in doing a makeup and hair collaboration. With one less thing to worry about, comes the outfit.
As I mentally tried to think of what I'd wear on Day 2 of AIFW, the phone rang. A designer who was showcasing at AIFW wanted me to wear one of their pieces on the day of their show—a common practice most popular bloggers are usually seen doing. But I had never worn her outfits before. I hadn't even been to her store.
Instead of being hypocritical, I decided to be real. I decided to look "plain" in something I'd wear the rest of the year too.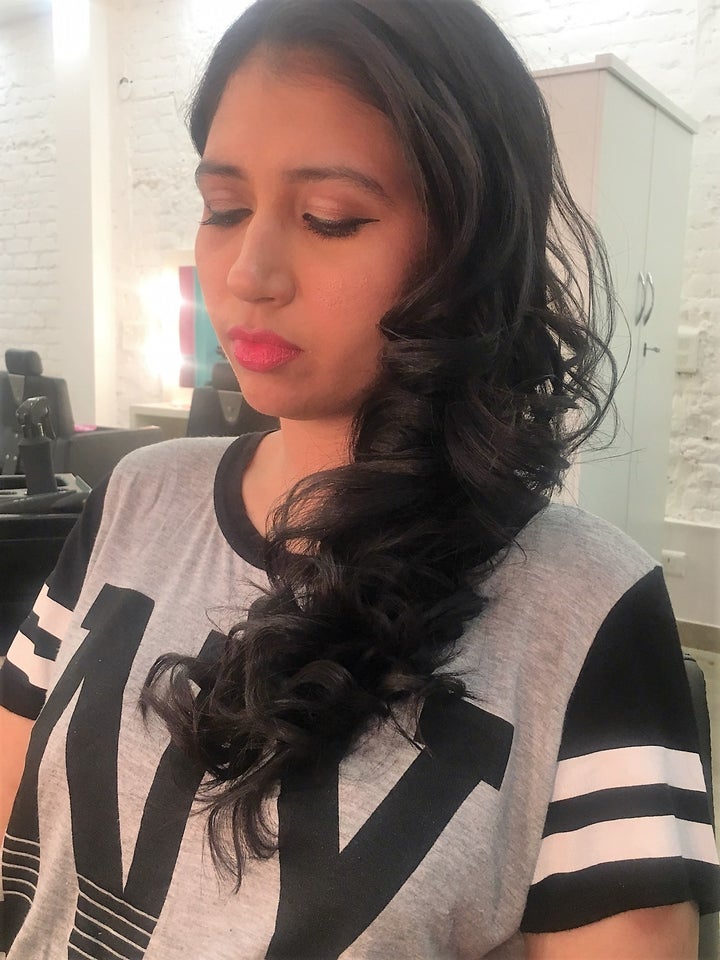 What's the big deal, dude?
That's the first reaction my mom had when I told her I was going to doll up. You can do makeup at home, you do it every day! I drown her out as I head out for my makeup to South Delhi—getting stuck in yet another Delhi jam. What is it about Delhi traffic that wants to suck the life out of you?
I arrive 45 minutes late for my 1.30 pm appointment. Thankfully, my skin is clear and the makeup artist is a pro. She even teaches me a sandwich trick with mascara that I'm going to use every day. My hair smells of one part styling mousse, two parts hairspray and one part i-am-so-late. It takes 35 minutes to make them into look like natural, loose curls. Ha!
It is now 3.30 pm and I've already missed the first show of the day. My friend, who's also a photographer, Abhimanyu, is already on his way from the other side of town. And I haven't even made it home to change.
He reaches the venue while I am in my bedroom. I have not only missed the second show, but there's a problem at the registration desk: they can't find his details and he is too cool to ask them to look at their list again.
Meanwhile, I am 30 years of age and I'm standing in front of the mirror—doubting my outfit. I almost take out my plain white shirt and jeans when I get a third call. I have to leave.
A mere 6 kilometers from my house takes me 25 minutes and I start doing anulom vilom to keep calm. I reach NSIC grounds and my friend is no longer mad at me. One down.
I reach the media desk and say:
"Hi, my name is Manavi, I am here to pick up my card." I tell 3 people who are 23, frazzled and seem to be dehydrated.
"Weren't you here yesterday? It was Day 1." Of course, only a girl can talk like this to me.
"Yes I know. I was working. " That won't sit well with them, I think to myself. They go through the same list with 50 blogger names to find both badges.
We walk another 500 meters into the venue, avoiding battery operated cars. I say bye to cuties from slums who are the real owners of the venue, and are probably wondering what the fuss is about.
As we walk, I can smell something perverse. It's a strong smell of desperation mixed with Miss Dior. We have arrived.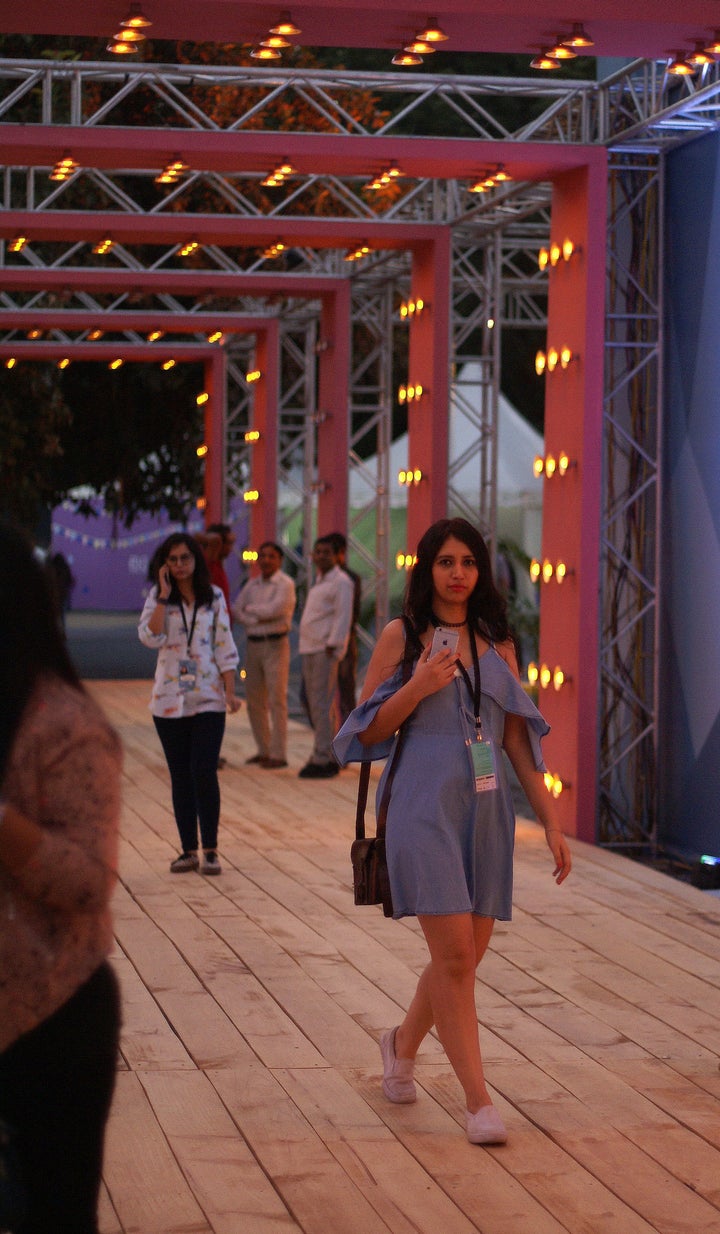 AIFW: You can't not take a picture
The setup is a gaga land for anybody who likes to be clicked. The amount of bulbs that were used to make walls and ceilings glamorous was, inspiring. For me, the illuminated columns that resembled my future dresser were an ideal for a photo-op.
Did you just say Paparazzi Zone?
Apparently, the production teams have had it with us. They know the amount of selfies that are gonna come in the next 5 days which is why they have built a paparazzi zone. Bright lights, beautiful canopies and ideal backdrops—smile.
For some, the selfie drama happened while leaning on swings—trying not to drop their Michael Kors bags. For me, the swings served as a grim reminder that Karwa Chauth is around the corner.
Like a new guy, the setup is exciting for the first thirty minutes.
Two stages, two lounges, a couple of freebies and a bunch of people. We say hi to old colleagues: PR peeps, fashion writers, stylists, that guy I met at that shoot.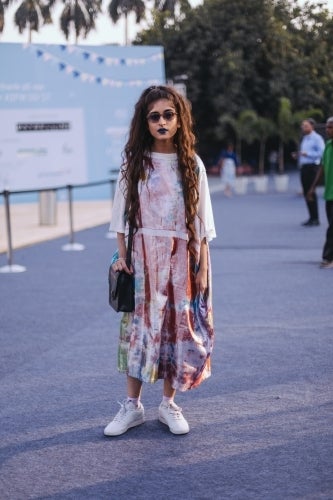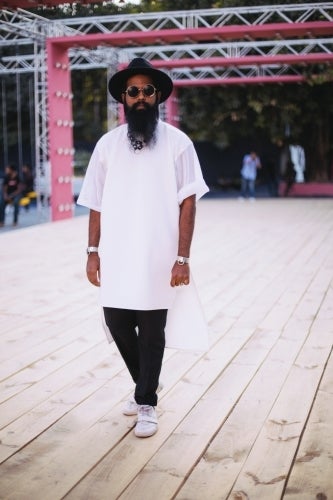 Should we watch the show?
Aren't we already watching one?
Dressing up for AIFW is no joke. There is a lot of pressure and I'm not the only one feeling it. Crop topped with saris, Himachali caps, quirky bags and innumerable nose piercings—everybody was trying. Even the guys. Sure, some were predictable and only had a beard to support their cooldom, others wore lehengas, dabbed some concealer and even perfected a winged liner.
It seemed that couture and Sarojini Nagar had finally met.
And the photographers couldn't get enough.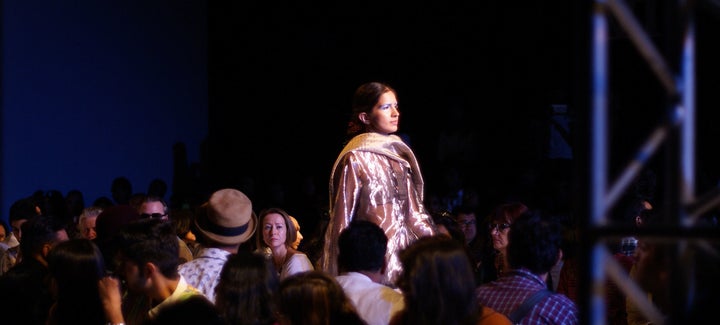 Let's go inside and do what we came to do.
It's 5.20 pm and we stand outside MSA 1 for the next show. The videographers look straight out of a news channel. I can say that. I used to work there. They are aggressive and some carry cameras from the 1990s that should only be auctioned.
While they are allowed to go in first, we get bitchy glances for being next in line. Which is what I would have done had I not been a blogger.
Yeh jaante nahi hai mein kaun hu?
But they do know who I am. And as most seats get taken, people with passes have to stand and watch the show. By the time the lights are dim, I am in another world.
I love anything with a production value: plays, dance, theatre, concerts—fashion shows. The runway was inspired from international fashion weeks (passing right through the audience) and except the bass, the shows were pretty good.
We attended a few shows till Delhi's crisp air took over.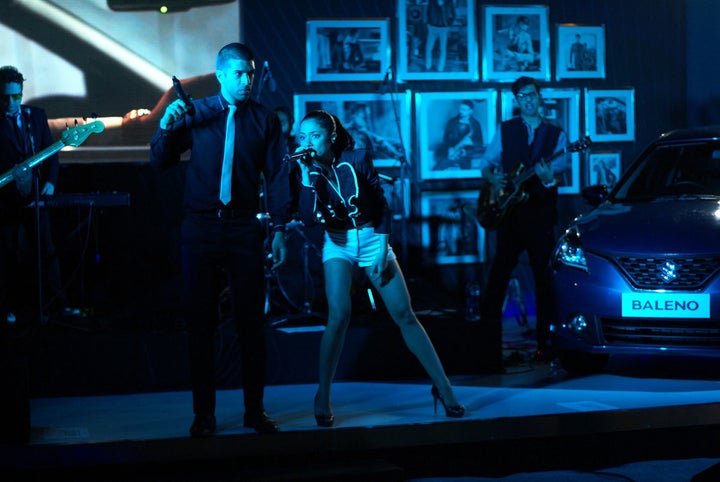 German beer, blended scotch, Indian wine—and hundreds of people, ready to let their hair down. Well, metaphorically. A few drinks in one of the VIP lounges—we stepped out to the main area where a jazz band was playing. The crowd was changing. People's partners', colleagues, friends, and friends of friends were all joining in for what was going to be a big party.
There's always going to cliques
If you come alone, or only come here to watch fashion shows, you're like me. You're on the periphery. You'd be bored soon.
There are models, fashion designers, stylists, PR pros, NIFT students, media and socialites. And they all have cliques of their own. And the conversations vary from their latest shoot to watching Narcos on Netflix.
Wait, why am I not home? In pyjamas? Watching Narcos on Netflix?
I sip on my wine as we go back to the VIP lounge—making other Delhites doubt their exclusivity or lack of it. We groove to jazz till the last show comes to an end.
There's a private party starting, you wanna stay? I look up. This is coming from the guy I spoke to two minutes ago.
Words like Private and VIP are supposed to panty droppers. He is waiting for a yes, or a smile, or a movement in my pants but nothing happens.
But I have had enough of it for a night: the glamour, the lights, the fashionistas and the zero sized models.
Just like any party—this one's come to an end.
Popular in the Community