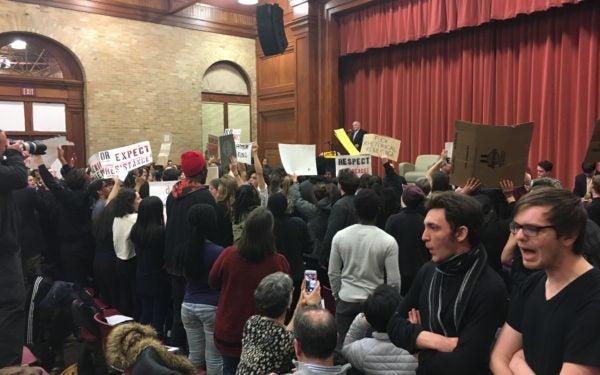 One of the advantages of being an editor of a student newspaper at a small college like Middlebury is that instead of six degrees separating me from every student on campus, it's more like one, or none. It not only makes my job as a reporter easier, but it allows me to better capture the thoughts and feelings of those about whom I'm writing.
However, on Thursday, March 2, as I covered and live-streamed a protest organized by my peers that prevented a controversial speaker from delivering a lecture, this was not the case. The speaker was Dr. Charles Murray, a scholar at the conservative think-tank, the American Enterprise Institute, whose work has led the Southern Poverty Law Center to label him a "white nationalist." Murray had been invited to speak by a student club affiliated with AEI.
The controversy on campus began around the time that we at The Middlebury Campus published an op-ed written by members of the AEI Club urging students to attend the lecture and "argue" with Murray, who planned to speak about his latest book "Coming Apart," about the role of the white underclass in American politics. Middlebury political science professor, Allison Stanger, would then engage in a dialogue with Murray.
The announcement that Murray would be speaking, and that Middlebury President Laurie L. Patton would be introducing him, elicited a large and swift response from the Middlebury community. It sparked on campus debates about the nature of free speech and what constitutes hate speech. The student body began to discuss the values of Middlebury, and whether or not the institution should provide a platform to a speaker whose beliefs and work had been accused of empowering damaging policies and hateful rhetoric.
Over 640 students signed a letter to Patton condemning the event, and more than 450 alumni signed a letter calling Murray's appearance at the college "unacceptable and unethical," and over 55 faculty members penned a letter that questioned Murray's standing as an academic.
In the week leading up to the lecture, hundreds of students began to organize. They held meetings, formed a Facebook group, and developed a plan to protest the lecture and prevent Murray from speaking.
After introductory remarks were made by President Patton and two AEI Club members, Murray took to the stage. As he finished his first sentence, protesters rose from their chairs, turned their backs to him, and began to chant in unison: "Charles Murray go away. Racist, Sexist, Anti-Gay." ; "Who is the enemy? White Supremacy." They held signs that read "F*ck Eugenics" ; "Respect Existence or Expect Resistance" ; "Resist" ; and "F*ck White Supremacy."
As I walked around the room, streaming the event, I captured the faces of many of my friends and peers. Many were there to protest Murray's work—work that, as their signs said, threatened their existence and right to be at a school like Middlebury. Some were there as allies, standing alongside their friends and fellow students, refusing to provide Murray with a platform to disseminate his ideas. Yet others were there because they wanted to hear what Murray had to say, to evaluate his arguments on their own and engage in a dialogue.
Those who protested did so with an impassioned energy that never wavered. And those who were there to listen to Murray's lecture sat and watched with looks on their faces that varied from genuine interest to annoyance and bewilderment. Murray stood behind the podium throughout the entire protest, expressionless.
After about twenty minutes, the college canceled the live event and decided to live stream a private conversation between Murray and Stanger from an undisclosed location. As the conversation was broadcast into the auditorium, the protests continued, as a separate protest, comprised of both students and non-student activists, took place outside the student center where the auditorium is located.
Later, when the conversation between Murray and Stanger was over, and the two of them were leaving the building, a violent confrontation with protesters occurred. According to a report in the Addison County Independent, a protestor pulled Stanger's hair and twisted her neck as she walked with Murray to a car. It is unclear who escalated the protest, sending Stanger to the hospital, where she was eventually diagnosed with a concussion.
It has been over a week since the protests occurred, and nearly every major media outlet has written about Middlebury. The video that I posted has been viewed over 100,000 times, and has been shared and featured by dozens of news outlets. As I wrote in the New York Times, it is an interesting experience watching your name appear next to Tucker Carlson's face.
In the wake of all this coverage, new conversations have begun to take place on campus. Were the protests successful? How can the majority of nonviolent protesters avoid being associated with the few who were violent? What are our values as an institution? How do we continue to have these conversations? The answers to these questions vary depending on who you ask. But for many, they remain unanswered.
As a young journalist, the national coverage in the days following the protests have been eye-opening. It has shown me that no story can come close to covering every angle, not every view can be reported.
The video that I posted, and the coverage by most news outlets, does not capture the conversations and the soul-searching at Middlebury. They do not capture the intense debates that happen in our dining halls, dorms, and classrooms. They are presenting a big picture, one that does not even come close to capturing the nuanced views of our student body.
Calling all HuffPost superfans!
Sign up for membership to become a founding member and help shape HuffPost's next chapter
This post was published on the now-closed HuffPost Contributor platform. Contributors control their own work and posted freely to our site. If you need to flag this entry as abusive,
send us an email
.