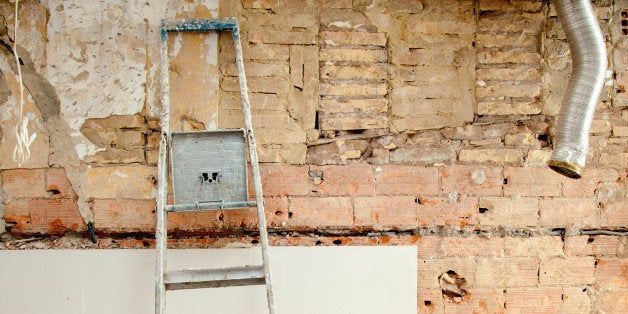 In 2013, at the age of 26, I bought my first home. Long time readers of my blog, L Bee and the Money Tree, will know the successes and failures of this financial move, but the skinny is that I leveraged down payment assistance to get a great deal... the only downside was that it needed a lot of work.
Renovating my first home was a difficult process: I had a falling out with my contractor; I discussed my mistakes and home renovation money-related blunders in this post and this one, but I haven't discussed where all of the money to completely renovate a home came from.
I've been meaning to do a post on the ins and outs of using a 203k renovation loan for years now, and home ownership month seemed the perfect time! This post covers not only what the 203k renovation loan product is, but my own experiences with it and my advice for other first time home buyers who are considering it.
What is a 203k Home Renovation Loan?
Basically, It's a home loan product where you
can borrow money for home renovations at the same time you borrow money for a mortgage
and it lumps the funds all together as one mortgage loan.
Using my own example, when I first applied for a mortgage, I was qualified for up to $130,000 as a single woman making $40,000 annually. (Read my latest income report-- I've come a long way since then!)
I could either do a traditional mortgage and buy a home for $130k, but if I wanted to buy a fixer-upper, and borrow bank money to do it, I'd need to buy a home for less and factor in the amount I'd need to borrow while keeping in mind that $130k max.
So for me, I bought a home for $65k and borrowed $58,000 to renovate for a total of $123,000.
Each month I make my mortgage payment and it's paying off this amount. There's no discernible difference in my account between mortgage and renovation loan money, it was all just one lump sump.
So, How Does It Work?
With lots and lots of paperwork and oversight, I can tell you that much.
First, there are two different types of 203k renovation loan products. This website walks through the ins and outs of them far better than I could and I highly recommend you check it out if you're seriously interested in the 203k loan product, but
The Standard 203k - For loans over $35,000 with more extensive projects like total remodels, structural work, etc.
The Streamlined 203k - For more cosmetic-type projects (countertops, flooring, paint) and renovation work totaling less than $35,000.
I found out about the 203k loan product via my mortgage broker, who suggested it at the same time he suggested the downpayment assistance programs. He knew that a lot of the homes in the zip codes eligible for assistance needed a ton of work, and looking at my financials, he knew I didn't have the cash on hand.
At least, not the amount of cash you need to completely freaking renovate a home.
Once I had a home I thought would work, the contractor (who had to be approved by my loan provider, Wells Fargo) came out and bid how much he thought it would take for all the work and submitted it for underwriting to the bank.
I did the Standard (or Full) 203k loan because I needed more than $35,000 to make the home liveable.
Requirements for this product meant I had to pay (using my own money) for a FHA consultant, or someone to oversee and make sure the work on the home was getting done, but neither he nor I had access to the money, the way you do if you're using a Home Equity Line of Credit. Here's more:
The money for the renovations (upon closing) was delivered into an escrow account, and I had my own specialist at Wells Fargo overseeing it and communicating with me about it.
We had four pre-determined check-in and payout dates where my contractor was supposed to have certain projects finished by each date.
The 203k consultant would come out and inspect to make sure work was done, send a form to Wells Fargo, and then my specialist would verify with me via email and if all was good, cut a check for 1/4 the amount of the whole project and make it out just to my contractor.
The check would get overnighted to me to sign and give to contractor, but I never had control of the money or access to it directly, which I actually liked. There are checks and balances in place to make sure funds do not get misused.
That's not to say it's a flawless system, but more on that later.
A note about the Streamlined 203k -- this product is just like it sounds -- streamlined. I'm not sure how it works, and I'm not sure if you have to use just one contractor, the way I did, but I do know you don't have to hire a consultant as a middle man for the funds and you don't have to do as much paperwork.

Benefits of a using 203k Home Renovation Loan
There are a lot of homes out there that need love.
And a lot of millennials have a hard time swinging a down payment, much less thousands of dollars for a renovation job. So the 203k loan makes this possible.
I also liked being able to have the home exactly the way I liked it.
There's also stipulations and timeliness built into the loan -- if the contractor wants the money, work has to start within 30 days of the loan closing, and be completed within six months of work start date.
Also- because the renovation loan is lumped together with the mortgage, it is some of the lowest interest rate money you can get for home repairs.
The Dark Side of a 203k Loan
Because of all the paperwork and communication about payment and inspection dates involved, you have to start and end the project with the same contractor. If you disagree with your contractor or don't like his work (which is what happened to me), this can create multiple issues.
Also, because the project amount is set in advance and you don't have access to change the payment amounts, it is to the contractor's benefit to do cheap work so they can pocket larger margins. (Also what happened to me.)
And in doing my research back then when things did go south on project, when using this loan/product there are very few resources or avenues of recourse if something does go wrong.
It's either stop the work and halt progress on your project while you fight it out between, your contractor, the consultant and the bank, or keep it moving and try to get your money back later.
Using a 203k loan can also make it hard to find quality contractors to work with.
But because for the first part of the project the contractor is working "on credit" - meaning they don't get any money up front to start work or pay for supplies, many contractors don't like to work with homeowners doing 203k loans, especially since it can be a hassle on their end to get paid.
I also think having access to such a large amount of money leads people to borrow more than they can afford in their attempts to make the home of their choice perfect.
Be sure when accounting for mortgage + renovation loan to still get a loan at a price point your monthly budget can comfortably afford.
My Advice for Those Who'd Like to Use a 203k Renovation Loan
Do the streamlined 203k and not the full. As a first time buyer you have no business buying a home that needs that much work. If I had to do it all over again, I'd probably go this route, or have chosen a different home altogether.
I wasn't prepared for it and neither are you.
I also recommend that if a home only needs a small amount of work, just try and make do and tackle projects here and there.
I understand some homes may not be livable, but it's definitely cheaper to save and pay as you go than borrow money and pay for it with interest.
Related