 Bill Siemering has been a key figure in the modern development of public broadcasting. What he calls his life-long love affair with radio began when he was in the first grade, in a two-room country school near Madison, listening to the two daily 20-minute programs of the Wisconsin School of the Air on WHA. As a student at the University of Wisconsin, he worked his way through school as an announcer and newscaster at WHA. Compared to his previous summer jobs -- baling hay, harvesting grain, working in a hotel laundry, and cleaning lavatories -- WHA was a great improvement: "It was air conditioned and the job required no heavy lifting." His experience at WHA led to a job supervising a student radio station, WBFO, in Buffalo. He spoke of these early experiences in Part I of this interview. Bill's success in Buffalo then led to his becoming a central figure in the creation and early operation of NPR. This second part of the interview treats his time at NPR.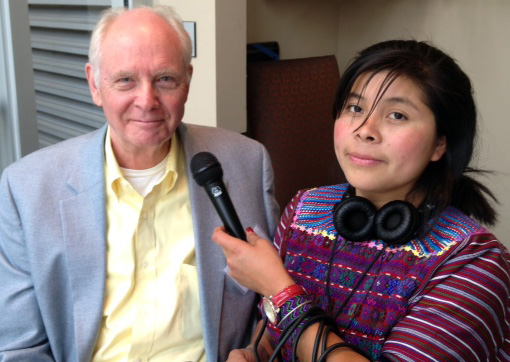 Bill Siemering at a Smithsonian conference on Indigenous Radio, August 2012.
Q: As a member of the founding board of directors of National Public Radio, you wrote the original mission statement for NPR. You were then hired as the first director of programming to implement these goals. What did you want All Things Considered to do?
A: In describing my vision for what became All Things Considered, I wrote in the same document:
It would not substitute superficial blandness for genuine diversity of regions, values, and cultural and ethnic minorities, which comprise American society; it would speak with many voices and many dialects. The editorial attitude would be that of inquiry, curiosity, concern for the quality of life, critical, problem-solving, and life loving. The listener should come to rely upon it as a source of information of consequence; that having listened has made a difference in his attitude toward his environment and himself. ("National Public Radio Purposes: 1970")
Educational radio preceded public radio and programs were distributed by tape to stations. I wanted to set NPR and All Things Considered (ATC) apart from both educational, often staid radio, and commercial radio, which was often superficial. The news at that time was presented by a white male as the voice of authority. I wanted to capture the vitality of the times, to get out of the studio, and use natural sound to help tell the story and make it more engaging, conversational. I wanted to include the arts and culture as equal to news of the government; and to reflect the diversity of America, and let the country hear itself. I wanted to demystify the news-gathering process and we created a feature with the editor talking with the reporters. I ceded nothing to commercial broadcasting. Starting at 5:00 p.m. ET, I wanted ATC to be the first broadcast record of the day's events. I thought that by a more engaging presentation and a flexible magazine format, we could attract a significant audience.
This was the first time that "educational radio" had a live interconnected network. Some station managers and NPR executives thought we were going to sound like the big guys now, like CBS and NBC. And we didn't because we needed our own distinctive voice and there was no need to duplicate. As the result of this false expectation, there were initial disappointments.
Q: You wrote to me that during your time at NPR, "The way I worked as an experimentalist was at variance to the expectations of my colleagues." How did your vision for NPR, and your management style, differ from what was expected?
A: While being an experimentalist served me well at SUNY-Buffalo, it caused problems at NPR. An outsider's view can explain this best. Ralph Engelman, wrote in Public Radio and Television, a Political History:
Siemering believed that a flexible magazine format would permit a montage of hard news, short documentaries on issues and people tangential to the news, and cultural reportage linked by hosts in informal setting. Siemering envisioned less reading of the news and more talking about the news with a wide spectrum of officials and citizens. Time allotments would be based on the requirements of individual stories, not on uniform time slots...

[Susan] Stamberg recalled the original sessions conducted by Siemering analyzing tapes sitting on the floor in makeshift offices. "He taught us to listen, so we could speak." Jack Mitchell, ATC's first producer, helped craft the program's format. The heterogeneous staff ranged from the New York Times and CBS radio to veterans of WBFO/Buffalo and other nonmainstream media and included significant representation of women. The early days of ATC were characterized by a great degree of personal creative freedom with the framework of a collective enterprise...

Tension developed over what NPR's top official considered Siemering's eagerness to put ATC on the air and the lack of clarity about the program's structure. Ira Flatow, who moved with Siemering from WBFO to NPR, recalled that Siemering "encouraged you to develop ideas and work out problems yourself, which allowed you to make mistakes but also to find your voice and grow." NPR President [Don] Quayle, responding to questions from CPB, the NPR board and member stations, pressed Siemering for details about the show's format. An unhappy exchange of memoranda revealed that Quayle and his lieutenants found Siemering's written responses to be vague and frustrating. Siemering did not provide ATC with a fixed formula but with a conceptual framework within which a creative staff would function and the program could develop and grow. (Engelman, Ralph, Public Radio and Television in America: A Political History (1996), Sage Publications, pp. 94, 96.)
My positive experience with the inner city studio and work with creative students in Buffalo was now viewed as a liability. Jack Mitchell, the first producer of ATC, wrote in his history of NPR:
Quayle's pals were sure he had made a major mistake in hiring Siemering and ridiculed the organization's program director more than they supported him. Their disdain increased as Siemering began to assemble his programming staff. Accustomed to working with idealistic, energetic, but green, college students at Buffalo, Siemering surrounded himself at NPR with young people right out of college or just a few years beyond...

Long before affirmative action became the law of the land, Siemering set out to assemble a staff representative of the nation. That meant white, black, Hispanic, Asian, and as many women as men. Many he hired had little or no broadcast experience. Their lack of experience did not bother Siemering. His work with college students and ghetto residents had convinced him that anyone could easily learn radio techniques. Siemering cared more about a job candidate's authenticity and sense of purpose. (Mitchell, Jack, Listener Supported: The Culture and History of Public Radio, (2005), Greenwood Publishing Group, p. 61.)
One of the secrets about radio is that it's very easy to learn. You can teach people to edit sound and how to record and how to interview. You can't teach curiosity. And so it made people uncomfortable that I had that attitude. I had a few people who hadn't done radio but who had great ideas. They weren't necessarily on-the-air. They were creative people. Kati Marton was one of these hired as a production assistant, who went on to have a successful career as a foreign correspondent for ABC-TV. She is also the author of eight books including Wallenberg: Missing Hero, Enemy of the People: My family's Journey to America, and just this year, Paris; A Love Story about her marriage to the late Ambassador Richard Holbrooke.
I hired mainly very experienced people: Cleve Mathews, a former Washington editor of the New York Times, as the news director; Robert Conley, the first host, also had experience at the Times and NBC; Jim Russell, hired first as a reporter had been a reporter for UPI in Vietnam; Susan Stamberg was an experienced producer at WAMU in Washington; Linda Wertheimer had worked at CBS, to name a few. Jack himself was a seasoned producer at WHA. I cared very much about the air sound of NPR.
At NPR I had carried with me the self-perception of an effective manager from my eight years at SUNY-Buffalo so it came as a surprise that I was fired in December 1972. While I recognize management shortcomings at NPR, I was determined to prove I could be an effective manager later during my tenure as vice president for radio at WHYY-FM in Philadelphia.
Nonetheless, All Things Considered won a Peabody award within 18 months and in 1979 Time referred to ATC as "surely the most literate, trenchant and entertaining news program on radio." (Time, August 27, 1979, p. 70.)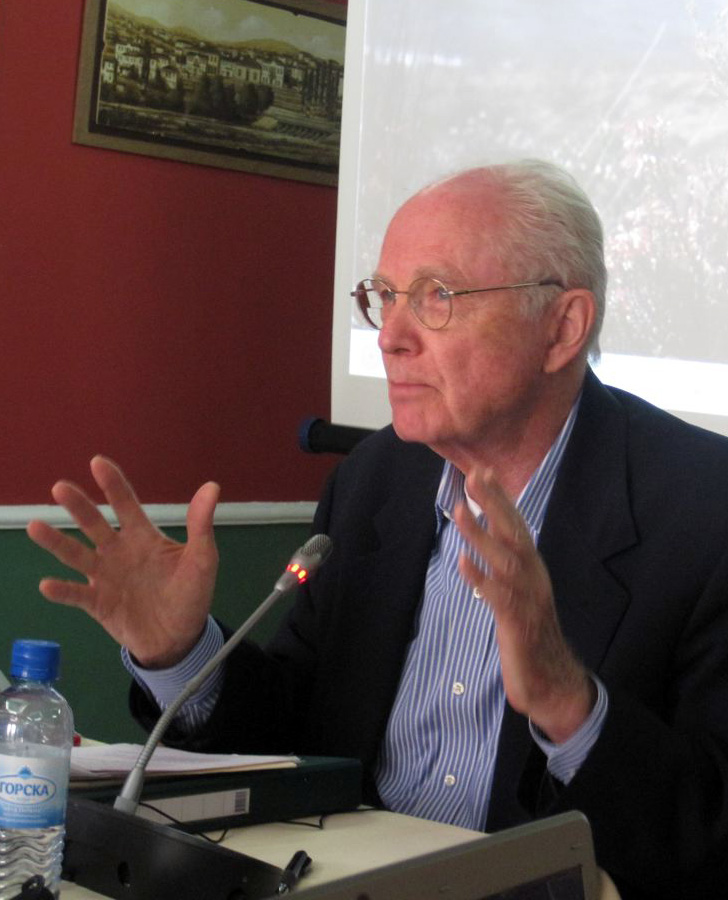 Bill Siemering at Delcevo, Macedonia, in April 2012.
Q: How did the development of NPR over time reflect your original goals?
A: From the start, there was a tension between news and the more experiential, sound-rich pieces. I always viewed this as a false dichotomy: the programs can embrace both to give a variety of textures, colors and intensity of listening. But it also has come to reflect different visions for NPR that can be characterized as being the New York Times of the air record the day's events or the populist voices of the people, the country hearing itself. The personal storytelling is less common within the news magazine programs. This American Life and Radio Lab excel at storytelling.
In the very first All Things Considered, the first voice for the "teaser" in the program was a nurse, who had been a drug addict, talking about when "Harry" comes knocking on your door. "Harry" being heroin. The point I was making was: we don't want only an expert talking about drug addiction. We want to hear people who are living through that, a primary source. These kinds of personal stories are not there anymore.
All photos courtesy of Bill Siemering.
Calling all HuffPost superfans!
Sign up for membership to become a founding member and help shape HuffPost's next chapter