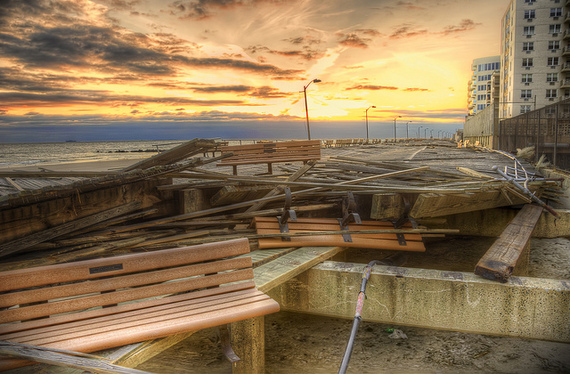 Boardwalk in Long Beach after Sandy; Flickr photo by Ron Coleman
This fall, we at Environment America, along with researchers from the Frontier Group, have been crunching the numbers and gathering stories from across the country to find out the impact of storms, floods, drought, wildfires, and other weather-related disasters on average Americans. The results - revealed in an online, interactive map -- are staggering.
Ninety-six percent of Americans live in counties hit by at least one weather-related disaster in the last five years. Since September 2010, weather-related disasters were declared in all 50 states and in Washington, D.C. And 40 million people live in counties recently affected by five or more disasters.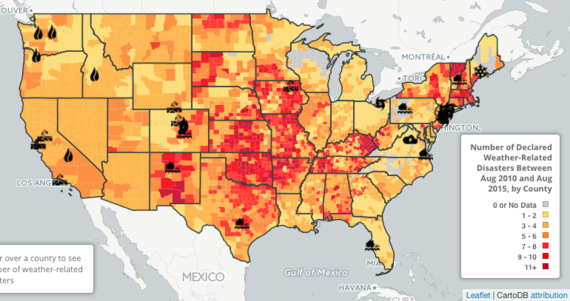 Perhaps more moving than the numbers we found were the stories we collected from families like mine impacted by extreme weather.
Scott wrote to us about the deadly floods that hit his home of Wimberley, Texas last spring, killing a dozen and destroying 70 homes and businesses:
"The 2015 Memorial Day Weekend flood of the Blanco River was an unprecedented, historic, catastrophic event.. I speak for many in saying that we've lost many personal possessions that cannot be replaced; family photos, baby books, family heirlooms, furniture, a lot of our family history...gone forever."
Julia, from a community north of Berkeley, shared her experience of California's drought, the worst in more than a millennium.
"The drought in California has hit every single resident hard. Living in Northern California, my family is one of those families struggling to reduce water from being wasted..I now also track the path of wildfires...hoping they can be stopped. Yet I watch them creep ever closer to my home and family. It's hard to watch the state I love go through all of this at once."
And many submitted stories about the wildfires raging across western states this year, which have burned more than 9 million acres. In more than 50 years of record keeping, only three other years had more acres burn, all of them in the last decade. Marco from Leavenworth, Washington, told us:
"As a firefighter in Central Washington the climate change picture is crystal clear. Drought and higher average summer temperatures make the wild land fire season in the Pacific Northwest frighteningly reliable."
We used to think of climate change as a problem that would happen someday, somewhere. But our extreme weather map shows in factual and personal terms that global warming is happening now, and it's already hitting close to home.
To avoid these devastating climate impacts, we need our leaders to aggressively slash carbon pollution and move us toward 100 percent clean renewable energy. Such bold actions will only come if the public demands them. We're headed in the right direction: Americans are solidly convinced that global warming is happening, and growing numbers think it will harm people in the U.S. as well as abroad.
Help us build on the momentum for climate action by visiting our map, and sharing your story of how global warming is already impacting American families. Then take action for the policies that will help stave off the most extreme impacts of global warming, and help ensure a safer climate for the next generation.
REAL LIFE. REAL NEWS. REAL VOICES.
Help us tell more of the stories that matter from voices that too often remain unheard.