My father, John Alexander Eperjesi, entered the Korean War in the summer of 1952 as a member of US Marine Corps. On September 5, at the age of nineteen, he was hit by a missile and received wounds to his thigh, buttocks, Achilles tendon, scalp, and face. He lost one of his testicles, but gained a Purple Heart.
Based on my reading of the 2nd Battalion, 1st Marines Command Diary and histories of the Marines in western Korea at the time, I think my father was probably wounded during one of the many battles over Bunker Hill (Hill 122), in which US and Chinese forces fought to control the highest point in the area, a deadly game of king of the hill. According to the Command Diary, on September 5, thirteen Marines were killed in action, while eighty-nine were wounded. The Command Diary did not list how many testicles were lost on that particular day.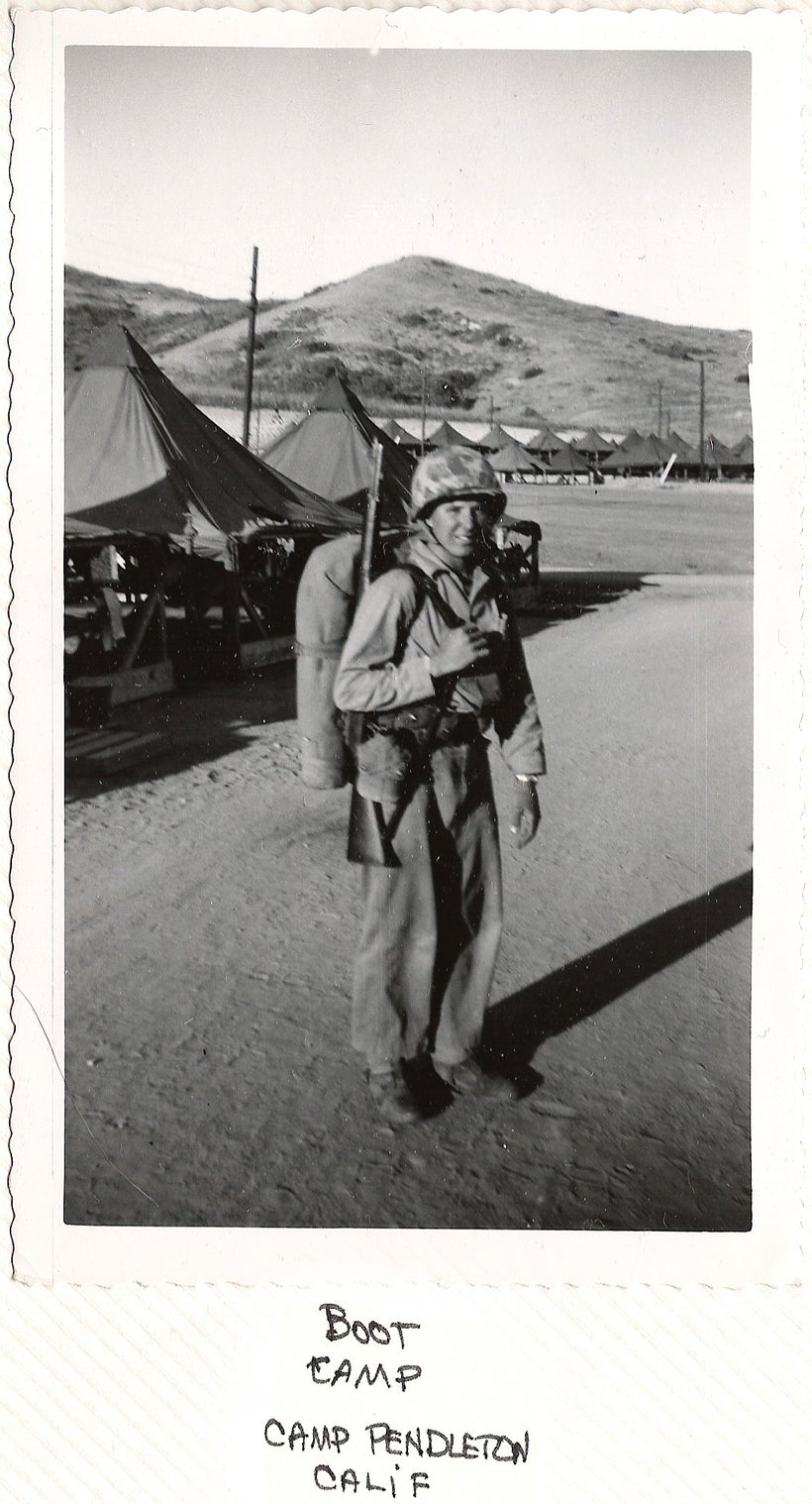 My father passed away in 1976, but if he were alive today, I like to imagine that he would join those Korean War veterans who are urging the United States to engage in dialogue and diplomacy with North Korea in order to ease tensions which appear to be spiraling out of control. I have been living in Seoul for over ten years now, and this is first time that the unthinkable, a return to all-out war, has become thinkable.
Because he died when I was young, I never had the chance to talk to my father about the war, as I was too busy playing with my army men and GI Joe. I recently asked my mother if he ever talked about his combat experience. The main thing she remembers him saying is that on his way over to Korea, he knew he wasn't coming back.
I can't imagine how painful it would have been for my father's family if instead of WIA, his personnel records listed MIA. According to the POW/MIA Accounting Agency, more than 7,800 US soldiers are unaccounted-for from the Korean War. North Korea has recently offered to return the remains of some 120 soldiers to the US, but the Trump administration, like the two previous administrations, refuses to engage in official diplomatic relations with North Korea.
This past September, Rick Downes, president of the Coalition of Families of Korean and Cold War POW/MIAs, met in Pyongyang with North Korea's vice minister of foreign affairs and former New Mexico Gov. Bill Richardson, who has served as an unofficial US intermediary with North Korea. Under the proposal, North Korea requested a letter from the US government permitting Richardson and his Center for Global Engagement to coordinate the transfer of the remains on humanitarian grounds. Richardson believes that the transfer
could be a pathway to breaking the ice with North Korea. It could be a breakthrough of soft power and I would urge the Trump administration to consider it.
Richardson pointed out that it was the search for missing American soldiers from the Vietnam War that provided one of the first bridges between the United States and Vietnam that gradually led to normalized relations between the countries.
It is crazy to think about the fact that 64 years after the signing of the ceasefire agreement, the Korean War is still not officially over. In a recent interview with ABC News, retired 4-star general and Korean War veteran Volney Warner pointed out that:
I think the big thing that we have forgotten about the war is that it still exists. In my personal opinion, one of the best things that we can do on a political note would be to go ahead and talk to North Korea on that issue and try to formally end the war with North Korea.
A similar proposal for a peace agreement was circulated several years ago by the three remaining Korean War veterans in Congress, Charles B. Rangel (D-NY), John Conyers Jr. (D-MI), and Sam Johnson (R-TX), who introduced House Resolution 384 "calling for a formal end to the Korean War."
Describing the inspiration for the resolution, former congressman Rangel said:
It has been 65 years since the start of this war, yet there is lingering pain because it has never officially ended. The best thing we can do to honor the sacrifices of the Korean War veterans and the Korean people is to help bring about final closure to this painful chapter in history and help efforts to unite the divided Peninsula.
This past month, Veterans For Peace, an international organization made up of military veterans, military family members, and allies, with 120 chapters both in the US and abroad, began collecting signatures on a People's Peace Treaty with North Korea:
Inspired by the Vietnam-era People's Peace Treaty, we have initiated a People's Peace Treaty with North Korea, to raise awareness about the past U.S. policy toward North Korea, and to send a clear message that we, the people of the U.S., do not want another war with North Korea. This is not an actual treaty, but rather a declaration of peace from the people of the United States.
As a result of his injuries, my father was not able to have children the old-fashioned way, so he and my mother adopted my sister and me. My home is here in South Korea, and when I reflect on my father's combat experience during the Korean War, and the fact that his injuries ended up being a blessing for our family, I often think I was destined to come back to the place where missile fragments tore through his body.
If my father were around today, he would be in his 80s. I can imagine him wanting peace in Korea before he and other veterans pass away. I see him standing with former soldiers from the US, South Korea, and the many other countries that fought under the United Nations Command, nervously smiling, probably fighting back tears, alongside a group of veterans from China and North Korea. They shake hands and perhaps exchange a few awkward hugs with the former enemy as a peace agreement to end the war is signed.
With North and South Korea conducting official talks next week, and with the 2018 PyeongChang Olympics around the corner, this is moment of hope in which athletes representing countries that are still technically at war can model a vision of peace and reconciliation as a prelude to finally ending the Korean War.
John R. Eperjesi is the author of, "The Unending Korean War in Film: From The Bridges at Toko-Ri to Welcome to Dongmakgol," Journal of American Studies (May 9, 2017).
REAL LIFE. REAL NEWS. REAL VOICES.
Help us tell more of the stories that matter from voices that too often remain unheard.
This post was published on the now-closed HuffPost Contributor platform. Contributors control their own work and posted freely to our site. If you need to flag this entry as abusive,
send us an email
.