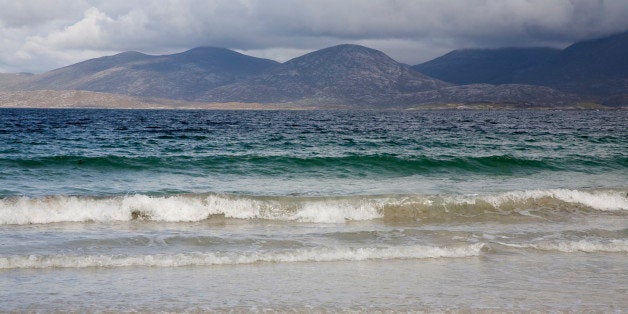 While sleeping badly on a warm night in Doha, Qatar, I saw a tweet from Arianna Huffington about sleep, and what did our family teach us about it...
I usually sleep well but I'm restless these days following the death of my father three months ago and I'm eager to return to Glasgow, Scotland, to visit his grave once more. Thankfully, I will be there next week...
So, to Arianna's question. "What did your family teach you about sleep?"
In 2002 my father suffered a massive stroke, and below is part of how I found out about it. And this is also what he taught me about sleep and the story I often tell my children. I wrote about it recently in my book The First Game with My Father.
"The flat still carried the harsh breath of a Scottish winter and every day we'd been waiting for spring to appear but it seemed to take for ever. My wife, Kathleen, and the children were asleep, and had been for hours, and every now and then I got up to check on them, watching through the darkness as they moved and twisted and gently stretched out across the mattress and quilt. Mahoney and Gabriel had their infant limbs tangled around their mother like the mouths of three rivers meeting. They still smelled of fresh milk.
"They made me smile, even in their sleep. If a child couldn't make you smile, my father always said, you were probably dead already. I rubbed the sleep from my eyes. It was almost the end of January 2002.
"Years ago, he said that the sleep was made from sand that came from Barra, my mother's island home. He brought it back in the van in heavy plastic sacks and it would be sprinkled on our eyes every night to help us sleep. We would dream of fish and mermaids and gulls in their rookeries and all the good things in the sea. He took enough sand from Barra to cover a clutch of sea turtles laying eggs.
"I thought of all the white and silver and gold sand near Tangusdale beach and my grandmother's house, in Castlebay, and the croft going down to the shimmering Atlantic sea and the black beast she said had haunted her from childhood. El, my grandmother, believed in ghosts too. They all did. The ghosts of fishermen and the dead men and women and children of Mingulay, where her father, Neil, was born.
"My grandmother was a MacPhee and the ruins of her father's house still sat in the abandoned village on the abandoned island. They were island people to their bones and they sailed all the boisterous waters around Berneray and Pabbay and Eriskay and Vatersay, the ragged islands of her birth in the Outer Hebrides. Like many Gaels, she had old ways dressed in stories and oratory that were the fuel of her people. When my grandmother spoke it was with words that might shift stones.
"I don't know if the sand helped us sleep, but I liked to think that it did because the sand was fine and it came from a place that had a strong a history as any..."
The telephone would ring a short time after and change my life forever. My father's stories not only taught me how to sleep... but dream as well. And the importance of stories as something in themselves. Which is, I think, a really wonderful lesson.