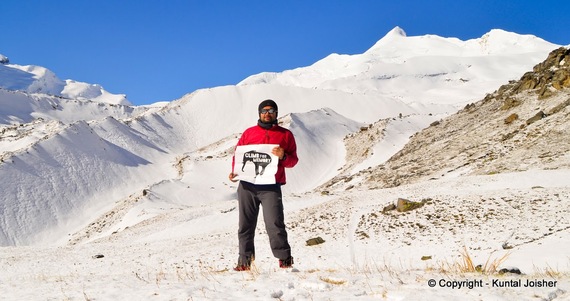 When people talk about mountain climbing, they tend to focus on the actual climb. Discussion usually revolves around training, gear, preparation and diet. But rarely do I come across an article about climbing that addresses the most time consuming part of the journey: being alone with your own thoughts.
For me it's the most important part of summiting a mountain. Each time I climb, I use this time alone as an opportunity to reflect upon my life, introspect, learn from my mistakes and incrementally try to become a better person.
Over the past few years, I've come to accept nature and wilderness as a mentor, and dear friend. A mentor who, without any expectations, offers life changing experiences, and a friend in whom I can entrust my most private thoughts and feelings.
Since my decision to tackle Everest a couple years ago, my father has been in the forefront of my spiritual mind. On my last trip to the tallest mountain in Europe, Mt. Elbrus, I spent considerable time reflecting on the life of my dad, Ajit Joisher, and how my perception of him has changed over the years as I have grown into an adult and now caretaker.
When I was 21 years old, I moved to the United States to pursue my Masters in Computer Science at the University of Southern California. While my friends and family were happy for my opportunity, most of my family thought that I would never come back, including my dad. Up until my move, my relationship with my father was disconnected, like a plug lying just inches away from the outlet.
The day of my farewell to the United States was the first time I saw my dad differently. He had a look in his eyes that expressed extreme sadness, and at the same time, sheer happiness. Sadly, that was also the last time I saw my dad with clarity behind his eyes.
Now that I reflect upon the situation, I believe my dad may have known that something was wrong with him. He had already experienced more than one bout of serious forgetfulness. As in tune with my own body as I am, I have to imagine he felt some kind of intuition that something was happening to him. Today I would give anything to just see him smile and to see that clarity again.
Unfortunately, all I have left of my dad today is memories. Afflicted with Lewy body dementia, he doesn't remember or even recognize me. However, the more he forgets, the more I remember. Small, seemingly inconsequential events that would normally be long buried are constantly resurfacing for me, as I care for my father.
And, since I can't have my father the way I remember him, I try to find pieces of him in myself. I see him the most in my passion for climbing. I still remember driving with him to the local mountains almost every single weekend when I was growing up. Like me, he was fond of the Himalayas, and spent a significant time in the "abode of snow."
He loved the mountains, nature and wilderness. That gene has been passed onto me. Even though my father enjoyed driving, and I prefer to climb, our love for the majestic Himalayas is the common spiritual bond that connects us.
As Alan Arnette, a famous mountaineer and Alzheimer's awareness advocate, once said, "Memories are everything." In my case, it's very true. Even though my dad is alive today, he doesn't recognize me or even remember my name. He doesn't have the ability to make new memories. He doesn't understand my dream to climb Everest, or that it's all for him.
So, as I train for Everest, as I climb new mountains and face new challenges, I'll use every spare moment of my alone time to reflect on my father. I will focus on using the mountains to grow our relationship, by making the memories my father is unable to make. Until I reach the top, and after I return home, I will commit myself to spreading awareness of his disease and for caretakers all over the world through channels like Alzheimer's Association and Callfire's FUEL program.
My father gave me the mountains, and I will repay him by climbing them in his honor.
Related
Popular in the Community