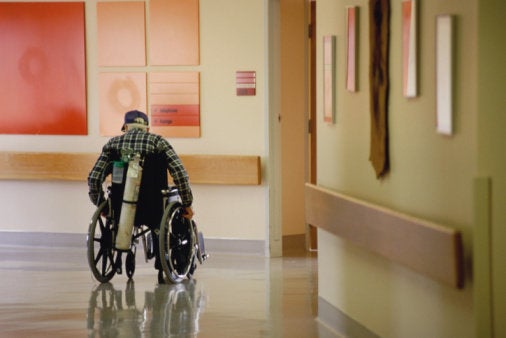 My father was diagnosed with malignant bladder cancer in 2003, and pursued an aggressive treatment program. After many hours of surgery and two organs removed, he underwent chemotherapy, and eventually went into remission.
I went with him once to a chemo appointment, and enjoyed watching his usual antics. The room was filled with solemn-looking people who did not know each other, each hooked up to an IV apparatus. My dad, always the one to put others at ease, started cracking jokes, flirting with the nurses and asking strangers what they had in their IV bags. "I've got Jack Daniels and Viagra. What did they give you?" Within minutes, they were smiling, chatting and enjoying his company. In his seventies, my Dad became known at his local cancer center as the "old guy" who beat the odds. He proudly wore a button which read, "I beat cancer" and passed out others to family members which read, "Someone I love beat cancer." To my dad, every day alive meant a day cancer didn't win.
Despite his upbeat attitude, strong desire to fight and ability to count his blessings under the worst circumstances, fighting cancer took a lot out of him. "I did this for your mother, and for all of you kids," he told me many times. "If it comes back, I'm not going to do it again. It is too much." We thanked him and agreed. "We won't make you do it again, Dad. We love you."
I didn't realize then how important, and difficult, that promise would be to keep.
A new hip, thousands of hours of yard work and seven years later, my dad's health started declining again. I talked to him on the phone and his voice was very different than every other time. "I just want you to know I love you, Nancy" he said. "No matter what happens to me." My Dad rarely spoke on the telephone because he was completely deaf and read lips to communicate. This was HUGE.
I knew in his voice his cancer was back and he was not telling my mother. He was a tough man and probably had a great deal of pain before letting anyone know. We had made a pact, and this was his way of telling me he was near death. I called my sisters and brother who live near my parents and asked if one of them would go with them to the next doctor's appointment. "Dad thinks he's going to die soon. I can feel it." A week later, it was confirmed. The cancer was growing very rapidly. Medical tests revealed cancer all over inside his abdomen, and tumors started popping up almost daily on his back and chest. The doctors were willing to do whatever he wanted them to do, but made it clear aggressive treatment might add only weeks to his life, not months or years.
No one can understand how much anguish end-of-life decisions can cause, unless they have been through it with a loved one. Every impulse we have during our lifetime centers around caring for ourselves and other people -- feeding them, keeping them safe and keeping them alive. At the end of life, the very things we have always done automatically as a reflection of our love are in question. Logic is turned upside down. Feeding people who are dying, or giving medications to lengthen a life, can be cruel to a person who is suffering. Allowing someone you love to die naturally and with dignity is the hardest thing there is to do, and yet, it is also an opportunity for a final act of love.
My dad had given us clear instructions on what he wanted at the end of his life. He told us which songs to play at his funeral (Amazing Grace, Old Rugged Cross, Auld Lang Syne, and That Old Gang of Mine), how he wanted to be eulogized (with humor!), who should be responsible for making financial decisions if my mother could not (two of my sisters), and which lessons he was leaving behind (family is important and forgiveness is paramount to any relationship). Had he not spelled all of this out for us in advance, each decision would have caused hours of discussion, arguing and possibly, anguish. I thank G-d everyday my father spared us so much pain.
Every time I had visited my Dad those last seven years, he went over the details with me. "I'm counting on you to make sure I don't have to suffer in the end, you understand?" I understood. He chose me, one of his most stubborn children, one who always advocates for the rights of the underdog, and "doesn't take shit" from anyone, to guard his dignity as he died. "I won't let you suffer, Dad. I won't let anyone keep you alive artificially when it is your time to go. I will fight any fight necessary to make sure you have all the pain meds you need, even if it means you might die sooner than if you weren't medicated enough. You have my word -- whatever it takes. No suffering. I promise. I love you."
Despite the fact my mother was not ready to lose my dad and asked him to undergo chemotherapy again, and we all wanted to believe he could beat cancer one more time, one of my sisters had a gut feeling for just how sick my Dad was. "Let's celebrate his birthday a week early" she said, "Just in case." Each of my father's nine children, their spouses and the children and grandchildren were asked to write a love letter to my Dad to go into a book, as his gift. (I had already written my letter the day I found out his cancer was back, so I loved the idea.)
A week before his birthday, my father sat in the yard he had tended with my mother for more than 50 years, surrounded by his children, grandchildren and great-grandchildren. The few who were not able to make it from other states were on the telephone. We handed him his book filled with love letters, and through tears, he told us, "I'm the luckiest man in the world. I love you all so much." Little did we know, four days later, he would be in the hospital, and two weeks later, we would gather again at his funeral.
Making the decision for hospice was easy for some members of our huge family, but harder for others. Some just needed a little more time. Choosing hospice meant acknowledging there was no magic cure, and that we had to let go of our own (selfish?) reasons to want him alive. No one wanted to lose him -- words do not do justice to describe how painful that realization was for each of us. Everyone was dealing with his rapid decline in their own way, for their own reasons, and we were all on different places on the continuum of acceptance. When my mother heard there would be more resources for all of us through hospice (chaplain services, social work services, freedom to come and go all hours of the day, a larger room, more comfort care, etc.), she agreed.
Dad had always said he wanted to die at home, not in the hospital. After a meeting of our large family, we decided Dad being at home would be too much for my mother emotionally. During their 58 year marriage, Dad often expressed his wants and desires, but often deferred to my mom, when possible. "Ask your mother," he would say. We knew Dad would want her to feel comfortable and supported, in the long run. As a family, we also felt we needed the around-the-clock support of the nursing staff. Once we took a tour of the hospice unit and were told we could bring anything we wanted to make his room look like "home," we decided it was the perfect compromise. It wasn't long before the room was filled with photos, art, balloons, flowers, cards and more.
The staff on the regular hospital floor was always great to us, but moving to hospice was like going from black and white to color in the Wizard of Oz. The IVs were removed, the tubes were gone, the annoying beeps and bright lights were no more. My Dad looked like my Dad again, rather than a helpless victim.
For a minute, our minds played tricks on us. "He looks so good; are we sure he's really very sick?" The doctors and nurses lovingly reminded us of the many tests that indicated he was near the end of his life.
Unlike the regular hospital unit, Dad was allowed to have as much pain medication as he needed to stay comfortable. Until hospice, we were told he could not have "too much" because it would slow his vital signs. Hospitals are in the business of keeping people alive first, keeping people pain-free second. In hospice, the reverse is true. The nurses taught us to read facial and body expressions that indicate when a sleeping or unconscious person was in pain. It was apparent Dad was often in pain, and when he was, all we had to do was request more medication. My job as my Dad's pain-soldier was much easier in hospice; I felt the staff was on our side all the time. I could finally relax a little and just "be" with my Dad, holding his hand and telling him how much I loved him. I thanked him for being my father, and for being a wonderful grandfather to my children.
Dad was keenly aware he was dying as he went in and out of consciousness. During the last week, he was only awake a few minutes each day. We were always happy to see his eyes open, and eager to hear what he would say. He told us over and over he loved us, and spoke of the journey he was on toward death. Some of his words indicated what we would normally call hallucinations (he told us he was with his deceased relatives and they were happy to see him, or that he and his brother were building casinos in heaven -- presumably for my mother, who loves to gamble. Leave it to my dad to prepare a home in the afterlife for all of us when we someday join him.)
"Where am I going?" he would ask.
You are dying, Dad.

"How do I get there?"
You'll know the way.

"Don't I need to get dressed for the trip? I can't go like this! I need pants. Get me a gown so I won't be cold."
You don't need clothes where you are going.
"Will someone come with me?"
You won't be alone, Daddy.
"How will I know what to do? Will someone show me?"
"Are my shoes okay? This is a long walk. I will need good shoes."
"Your shoes are fine, Dad."
"Will your mother come with me?"
No, she can't. You must go first, and we will all be together again later.
One time, my father woke up as a man walked in the room to visit. The visitor was our former neighbor, whom, as a little boy, my Dad used to tease him with an affectionate nickname. My Dad had not seen him in years, and when he figured out who he was, Dad looked at my mother in a playful way and said, "Is that Shawn? Damn Who-You!" We all nearly wet our pants laughing.
Another time, my dad opened his eyes, saw my brother looking sad and worried, and said, "Dennis, if you are going to look so serious, get the hell out of my room."
Dad left little pearls like that to each one of us who stood by him at different times that last week. One very touching and poignant moment for me was when my Dad woke up, looked at me and said softly, "Nancy, you wouldn't believe all of the people here. There are so many."
The room was empty except for me and him, since the other family members went downstairs for a meal. "My brothers and sisters -- everyone -- they are all here," he said. "They're all with me, helping me. You just wouldn't believe it unless you saw it for yourself."
I cried and said, "Give Grandma Cronk a hug for me. I never got to meet her." With that, I held his hand, and he fell back to sleep.
Throughout our stay, numerous human "angels" offered us comfort and support. Chaplains came in daily and prayed with our family, which was a huge support to everyone -- "believers" and non-believers alike, especially for my mother. A social worker told my mother to call her anytime. Volunteers knocked on the door and asked if we needed someone to talk to, and we always said yes. They sat and listened as we cried, and laughed, and shared stories of my wonderful father and the things we used to do as a family. A special moment was when they placed a crocheted blanket on my Dad that was made by volunteers, which made us all burst into grateful tears.
The love of strangers for our family was as beautiful and nurturing, as the depth of our grief. There was nothing my Dad and our family lacked -- we had peace and quiet when we needed it, company when we desired it, honest education when we asked for it, and loving support 24 hours each day. I can honestly say I have never experienced anything more profound, more beautiful, more loving and more deeply touching than our week in hospice with my father.
My father's funeral was officiated by the hospital chaplain who spent hours with my mother before my father died. He connected with her in a way that few people ever have, and the service was beautiful. Chaplain Dave weaved our love letters to my dad into his sermon, as well as the stories we shared with him during hospice. My dad would have loved it.
There have been a few times in my life when I have felt completely vulnerable, completely raw and completely at the mercy of the kindness of strangers -- when I was giving birth to my children, when one of my children was in an emergency room with asthma or croup, when I dropped off my babies for the first time at preschool and when we turned to hospice to help us with my dad's final journey. In those moments, I felt as if I saw a glimpse of G-d in the faces of the people who selflessly served others. And to all of those people, I am eternally grateful.
A few days after my father died, a dear family friend of mine also passed, although her death was sudden and unexpected -- the result of a horrible, random accident. Judy was the mother of one of my best friends since childhood. I cried for her family who lost their mother, sister, wife and grandmother. I cried for her husband who was there when it happened -- a man who loved her, shared his life with her, and was married to her for more than 50 years. I cried because I could relate to their deep loss, the kind of loss I had just experienced myself. I also cried that they were unable to say goodbye and watch her on her journey to another phase of existence, as we had one just days earlier with my dad.
I lie in bed at night and wonder which is worse: watching someone die from cancer and the immense pain and suffering that can go along with it, or losing someone you love suddenly and unexpectedly. Both are horrific. No one should see someone they love suffer, and no one should have to die in pain. No one should ever have to lose someone without an opportunity to say good-bye either, robbing them of that last chance to directly express how much that person means to them.
I am not a religious person in a traditional sense, but I thank the Universe/Creative Spirit my dad knew how much I loved him when he died, and he forgave me for not living closer, not calling him enough, and anything else I neglected to do. (I realize now that forgiveness was a gift for me, not for him. He loved me unconditionally.) Our family was able to fulfill his dying wishes, and for that, I could not be more proud of all of us.
I am also certain Judy knew how much she was loved. Their family had always been affectionate and demonstrative -- one of the few families I know who always hugged each other and said, "I love you." In fact, it was because of their family that I first learned, way back in the seventies when I first met them, how important it was to do the same. When I tried it with my own family, they responded well. It was because of Judy I could tell my own family, "I love you." Judy's legacy reached way beyond her own family, into ours, and into the lives of many other people she met.
Two families, two losses. Two completely different experiences. Two ways to die. And yet, one thing was the same -- love. Both parents left this earth knowing they were loved, and loving others unconditionally. And that, I believe, is all that really matters.
***********************************************************************************
Author's Note: After posting this, I noticed a number of comments from people who are currently going through an illness or end-of-life situation with their own loved ones. Please know my family and I extend our loving wishes and prayers to you and your families, as well. Thank you for blessing us with your posts at this very sensitive time. ~ Nancy Cronk