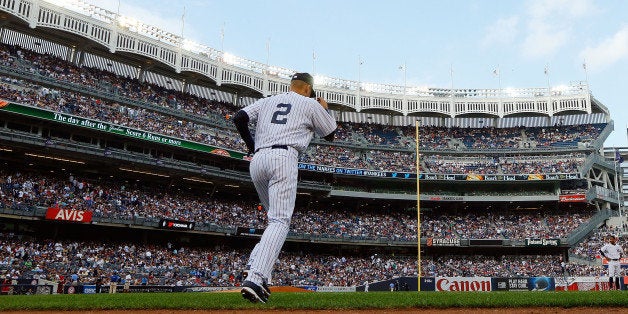 I've broken up with baseball three times in my life.
Once when I found out I was not Puerto Rican enough (at all) to be Bernie Williams cousin, despite my father telling me I was when I was five years old. (I was 11 upon making this discovery). Baseball was not allowed in my house (or in the family room, anyway) for months.
Once, when I was 21 and my boyfriend at the time was released from the Yankees organization and made the decision to hang 'em up as his teammates like Phil Hughes, Phil Coke and Tyler Clippard were making their debuts in the bigs. I missed an entire season of Yankees baseball because my heart was so broken. I wanted so badly to be a part of all of that.
And this year, for two reasons. One, being the loss of a good friendship with a guy who plays on a West Coast team, and two, the impending loss of Derek Jeter.
While I can blame my current aversion to baseball on my own stubbornness and refusal to allow myself to know or care about West Coast guy's ERA or his call ups and options (even though I stubbornly still do), I know in my heart the impending retirement of a man who was as meaningful in my childhood and young-adult life as my own father, is the real reason. It seems to be no coincidence that my long-lost western league friend gave me the only gift in my life I ever wish I could have shared with my dad: On field batting practice tickets at Yankee Stadium. It was perhaps the first and only time in 12 years since my dad passed away that I found myself saying, "God, I wish Bob was here to see this." It's funny how much of my life connects back to a 25-man team in pinstripes.
You'd think being an avid Yankees fan -- a diehard that will claim game 7 of the 2003 ALCS as the greatest live event she's ever witnessed, who impressed a Showtime Network exec with her recitation of Clete Boyer's career RBI total and knowledge of Bernie Williams's post season career batting average -- I'd watch every game of Jeter's last season religiously. On the contrary, I could barely bring myself to look. With every game, with every at bat, I knew I was getting closer to having to say goodbye to a part of my life I really can't remember ever living without.
When I told someone at work today that writing about Jeter's retirement was reminding me of writing my father's eulogy, they scoffed. How could a short piece about a man I've never actually met in person be anywhere akin to speaking about my dad's life in front of every family member and friend he ever had? It seems silly to most, but to me, the parallels are clear and palpable. With every word I type here, I pause to wipe away a tear. My father and Derek Jeter --two men so incredibly unalike -- are forever intertwined in my life.
My father wasn't the best father in the world. He routinely spelled my name wrong on notes to my teachers. He once forgot my birthday while playing lotto when my actual birthday came in. We fought constantly, and he did me no favors in helping prepare me financially for a world in which he no longer was present. By all accounts, he was not a man who should have ever had a child (let alone four daughters). But the love of baseball (and perhaps, some would say, the love of the players) is something ingrained in me because of him. And in Jeter's retirement, a piece of my father -- the last remaining piece of a baseball team he taught me to love and learn -- is stepping down. The last vestige of a team my father and I enjoyed together -- one of the few things -- is gone from the game. To say my heart is broken is an understatement.
I could sit and write about all the amazing things I've seen Jeter do, all the amazing games I've witnessed, the heartbreaking losses, the unforgettable wins. The clutch hits, the remarkable catches, that tilt of the helmet and that patient, watching stare as a ball bloops into shallow center. I'm lucky to have witnessed one of the greatest men to not only have ever worn pinstripes, but play the game. And much like the recitation of my father's achievements in the eulogy I wrote -- the numerous memories I held of him that made him worth remembering, that make up for the father he never was -- stating all these memories, these golden moments I cherish of the last 20 years of Yankees baseball, does not change the fact that they are gone now. That part of me is gone, too. That much like when my father died, a childhood innocence that I cleaved to for so long has come to an end. And while the world (and baseball) will go on, it will never be the same for me. I will always be a Yankees fan. I will always hate the Redsox. I will always willingly pay a ridiculous amount for a beer and a hotdog and love the look of a guy hanging over the dugout wall. But it will never again be the love shared between my father and I for a team we knew together. And for me, that is profound a loss as any.
I could sit here and give accolades to a man who needs neither my nor anyone's praises. Talk about stats, about first round Hall of Fame ballots. About an unquestionable respect across all walks of baseball and sporting life. About an attitude and agenda that Jeter possesses that defined baseball for me in so many ways, despite the countless jerks I fell in love with who played along the way.
Instead, I simply say thank you to Derek Jeter -- whether he ever reads it or not -- for giving me 12 extra years to feel the limited warmth and love for my father I thought I lost when he died in 2002. For giving me memories my father never could, and for carrying the torch that fed the flames of my love affair with baseball long after the man who lit them passed away.