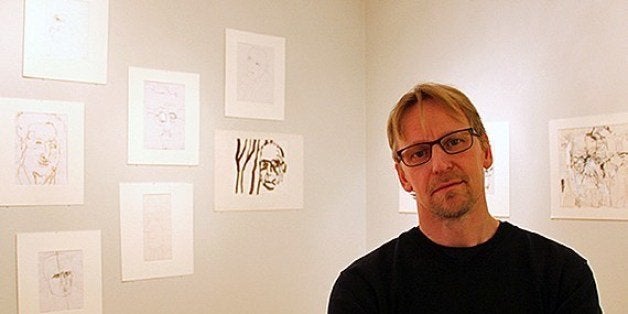 I started working with my father's, Swedish visual artist Carl Köhler's (1919-2006), art
about six month after he passed away in that beautiful Swedish summer of 2006.
He was born here in Sweden in 1919, and after a couple of years at law school, he quit and joined the Royal Swedish Academy of Fine Arts, where he remained from 1945-51.
My father got several big scholarships so he could travel to France, Spain and other places to get inspired by a diverse array of artists and authors. He painted many French author portraits, like this one of Marguerite Duras. He also painted many live female models, especially in Paris.

At first, I was shocked about the lack of interest in my father's name; he was established and his work displayed true originality. Then again, my father did not cope well with the commercial side of the art world, marketing himself and things like that. He would have needed a good agent that really saw his talent.
My father's father was a professor in Chemistry and an amateur painter, and his mother was a concert hall singer. This heritage from his parents was quite fantastic; he got so many talents from them. You could sense his feeling for dance/ballet/music in his other paintings and drawings.
When I did not get the answers I wanted from the traditional established art institutions and galleries regarding my father's work, I looked at alternative venues, and that resulted in two major exhibitions in Stockholm, Sweden back in 2008. First, we exhibited my fathers dance/composer paintings at the Stockholm Concert Hall, and after that, I landed a four-month author portrait exhibition at the August Strindberg Museum (named after the famous Swedish author and playwright).
During (and before) this Strindberg museum exhibit, I looked at the other side of the Atlantic ocean and New York. In January of 2009, the curator from Brooklyn's Public Central Library
flew to Stockholm and took a large suitcase of my father's author portraits back to New York with her.
The first U.S. exhibition ran from Feb-April 2009 and after that, the author portraits landed in Washington, DC and the Martin Luther King Memorial Central Library for a summer exhibition.
Since these exhibitions, my father's portraits of famous authors has been on display in Toronto, Vancouver, Chicago, Dallas and at major Libraries/Universities. Their next stop will be the Houston Public Central Library (July-Sep 2014).
Recently, I donated three of my father's author portraits to the literary center Richard Hugo House in Seattle. I did these portrait-donations to this Literary Center because the venue is a perfect match for the authors, and also a good way to spread my father's name and awareness of his art.
My ambition is to get a permanent author portrait-exhibition either in Sweden
or in the U.S., where I can donate many portraits so they can be seen by future generations. In his early 90s, my father wrote, "Today we decorate a gallery, its an exhibition itself. The traditional focus on just the paintings and art are history."
My dad did not see his art take this journey around the world. I wish with all my heart that he could see what's happening now and all of the things yet to come.
Calling all HuffPost superfans!
Sign up for membership to become a founding member and help shape HuffPost's next chapter