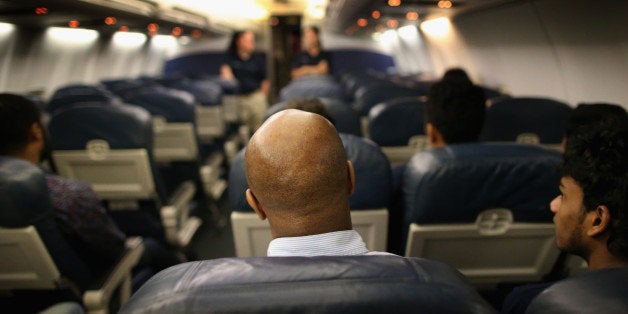 On November 14, 2010, my father, Francisco Equihua, drove from southern California to Las Vegas to see me and my sister, Lili, the way he had every Sunday for the last nine years. Our parents divorced when we were little, and we lived in Las Vegas with our mother. My sister was 19, I was 21, and we treasured our time with him. He would leave home at 4 a.m. to get to Vegas by 8, and then leave late in the afternoon so he could get back in time to be at work early Monday morning. That Sunday, we went to church as usual, and then he took us shopping for clothes and supplies we needed for school. We had such a good time. It was painful to see him leave.
I did not know then that it was our last family Sunday with him.
That night, as he drove back home, police stopped him for a broken taillight. My dad, a former green card holder, had been deported years earlier after a conviction. He had come back, desperate to be with us, and had not gotten in any trouble since. But he was immediately detained and deported to Mexico.
Soon after, he tried to come back. As he told me later, "My job is to be here for you guys." For weeks, I didn't know where he was, if he had died trying to cross into the US. In December, I finally heard from him--he was in a detention center in Florence, Arizona. He would eventually be convicted of illegal reentry, and he would serve a two-year sentence before being released and deported again.
The US Senate is planning to vote on a proposal to impose a five-year mandatory minimum sentence on people convicted of illegal reentry. When they think about imprisoning a non-citizen in a privately run federal prison for five years, they may be thinking about the man who killed a young woman in San Francisco this summer after being deported repeatedly.
They're probably not thinking about people like my father, who returned to be with his daughters. But they should. Illegal reentry is the most prosecuted federal crime in the US. Immigration prosecutions, the vast majority of which involve illegal reentry, made up almost 40 percent of all federal criminal cases in 2014. Immigration offenders make up approximately 30 percent of people entering the overcrowded and expensive federal prison system.
Many people charged with illegal reentry are like my father -- people who have lived in the US for years and who are desperate to return to the US to be with their families. One judge, who has sentenced over 11,000 people for illegal reentry, estimated that 30 to 40 percent of the people he has sentenced have family members who are US citizens.
Many, like my father, also have a prior conviction, but have proven by their actions since then that they are not a threat to public safety. My father was arrested in 1997. He told me because of his financial struggles to support us, he made a terrible mistake--he let his garage be used as a meth lab. In addition to serving four years in prison, he is being punished for the rest of his life, since he can never live in the US with his family again. And my sister and I are being punished with him. We know he will never be at our graduations, our weddings, the many special events still to come in our lives.
Congress should not pass new mandatory minimums to imprison people like my dad, who are trying to take care of their families. That's the problem with mandatory minimums -- a judge isn't able to take into account the reasons someone commits a crime. Congress should instead fix a system in which so many who want only to be with their families end up with a criminal conviction.
Cecilia Equihua is a third-year law student at Loyola Law School in Los Angeles, California. She plans to be a public defender.
Popular in the Community