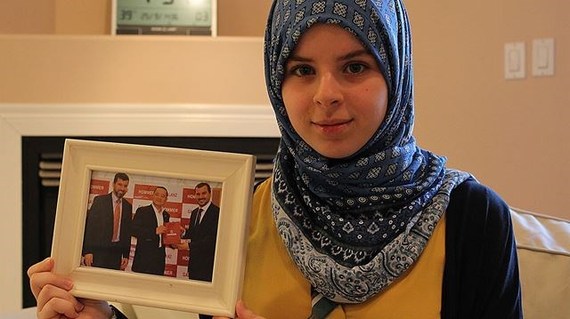 I have been campaigning for my father's freedom for over 600 days. For over 600 days our family, human rights groups and the United Nations have been stressing that Salim Alaradi is innocent, a political prisoner, and a victim of regional politics. Today it could not be more obvious and the world is convinced and awaiting his freedom on May 30th.
My family and I vowed to win my father's justice after realizing that waiting around for the UAE government wasn't going to cut it. My initial focus was singular: to get my father out of the UAE prison and back home. But it didn't take long for us to see that my father's case had much wider implications, particularly for the global fight against human rights violations in the UAE. At first, I reached out to human rights experts like Amnesty International's Alex Neve for advice on how to get started. With help from him and many others, our campaign to free my father, Salim Alaradi, has garnered world-wide support and attention.
We've worked tirelessly to document my father's case. The effect of this work eventually started to snowball and international advocacy groups like Human Rights Watch have taken very strong stances to support our cause. The UN's working Group on Arbitrary Detention also investigated my father's case along with 51 other cases, out of 1500 submitted last year, to produce a highly detailed report on the issue. Many experts have spoken out on the legal and political implications of the UAE State Security Agency's (SSA) tactics. Even the US State Department's latest 2015 Country Report on Human Rights Practices leverages the documentation of my father's plight by referring to the conclusions in the UN and HRW reports on the case in their UAE section.
Still, even though we've succeeded in generating a significant amount of international attention for my father and the larger issue of human rights violations in the UAE, getting the attention of the UAE government itself has always proven to be difficult. So it was to our surprise when we realized recently that, for the first time in a long time, the UAE's civil society was beginning to become active on the issue. A prominent UAE figure who is believed to be a close advisor to the Crown Prince, Abdulkhaleq Abdulla, tweeted that the evidence in the case of my father and the two Americans is weak. This surprised a lot of experts who'd long written off the country's highly regulated civil sphere. Their involvement means that my father's case hasn't just brought international attention to important human rights issues, but that it also has the potential to spark actual systemic reforms in the UAE itself, which is badly needed.
Since my father's last hearing in March, we noticed that the UAE press, along with media from the wider Gulf region, began printing stories about the case. To our delight, they didn't refer to him as a "terrorist," but as a "hero" who actively supported the people of Libya through philanthropy during the Arab Spring days. The media asked out loud why the UAE's Security Service remains so stubborn even after Libyan officials themselves have said that my father never committed a crime.
It's obvious to the world by now that the UAE's case against my father is a political one; the country's SSA doesn't want to lose face. These facts have now made it into the UAE's public sphere, and prominent Emirati academics have shown their support for us, many by tweeting about my campaign. This momentum of support precedes my father's next court date on May 30th, where he, along with the rest of us, will be awaiting his freedom and his return home soon after - if justice is served.
We're hopeful, but not deluded. The Emirati SSA is known for getting its way. Nonetheless, the UAE is also a country that cares a lot about its global reputation and relationships. My father's case has become an outlet for frustrated voices both inside and outside of the country. Criticisms of the SSA are being amplified, and there's no doubt that the country's highest level of governance is trying to figure out how to respond. For decades the UAE has been introducing judicial, political, and economic reforms; maybe my family's tragedy, our 600-day campaign and my father's freedom will be a catalyst for human rights reforms, SSA reforms and for the UAE government to do the right thing.
But until then I will not stop fighting until my father #freesalimalaradi comes home.
Calling all HuffPost superfans!
Sign up for membership to become a founding member and help shape HuffPost's next chapter