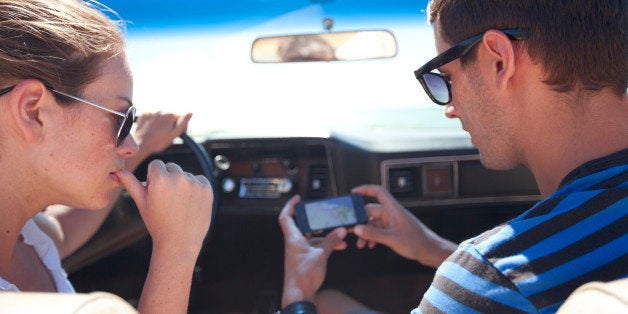 My assignments involve a great deal of travel -- usually every few weeks, often international. Several years into an increasingly busy travel and lifestyles writing career, I've managed to still avoid getting an international plan on my phone or paying roaming charges. I've survived with copious amounts of research and some pretty awesome apps. As many of you are looking outside your snow-glazed windows and planning your 2014 escapes, I figured it was high time I shared a bit about what I knew.
Whether you are traveling solo or with friends, a frequent miles-collector or a novice, it's always great to have gadget and app companions. Here are some of my favorites!
The situation for me is a pretty complicated one. I may be traveling to some pretty spectacular locations, but it's almost always work-related. Also, no matter what I am doing or where I am, I probably am juggling a few deadlines at home. I use Viber to make calls for free, text and even share fun food porn shots no matter where in the world I am. Find Wi-Fi to make it work, anywhere and everywhere. (There's also Viber for desktop!)
We all have known about Skype for years, but it remains a great standby. I had a last-minute issue that came up with a story that I was writing while traveling to Brazil last year. Because of Skype, I was able to deal with it while huddled in the cafe of a convention center. Use Skype, also via Wi-Fi, to make video calls, voice calls or IM your friends you miss back home.
A few months ago, I was in Montreal and my flight home was cancelled. I wasn't able to get on another flight until the next morning, and found myself all alone in an airport late at night. I had to find a cab back to the hotel I had been staying at, but the cab driver couldn't accept my credit card because his reader only can accept those cards with micro chips, a technology American-created cards still don't facilitate.
As I had thought I was leaving the country, I had only U.S. dollars on me at that point. It was quite the challenge! Avoid my life stress with my new discovery, the free ATM Hunter app. You can use it to find ATMs worldwide.
It doesn't matter what country you are in, every so often you'll find yourself in a café or restaurant and not be able to read the menu. Chances are that same restaurant will have a waiter who won't be able to help you decipher, either. Word Lens lets you snap a picture of the menu and the app will give you a translation, you don't even need to have Wi-Fi.
Because no matter where you are, at some point you will need a ride. This is a real-time mobile taxi app, available in 60 U.S. cities and offers immediate pickups, including fare estimates or reservations for later rides. What I like is that it lets you track your taxi. Who wants to stand outside on a dark, deserted street? You store and pay via credit card, so this a great opportunity if you happen not to have any cash with you.
Things come up on the road, and it's often when you have no idea where you are, or what's around you. Whether you are in desperate need of a bathroom, gas for your car, coffee or even a hospital, the free AroundMe app has helped me countless times. It's available in English, German, French, Spanish, Italian, Japanese and Chinese.
On a similar note, MyCityWay is an impressive collection of city guides and maps that include categories like dining, public transit, pharmacies, weather and local news.
This is an obvious one, but if you are traveling in unknown territories, you just may not know the language. If you can't speak to people, you can't tell them what you need -- and you can't understand their response, either. Google Translate can help by translating text between more than 70 languages. You can directly translate speech and handwriting. The free app is available in the iTunes store and for Android devices.
It's bad enough to not have the right currency, it's another problem altogether to not know what the currency you do have is worth. How on earth are you supposed to buy anything? Access exchange rates for every world currency and even precious metals through the free XE Currency app. Rates are refreshed every minute and you can quickly calculate prices with the currency converter. It's even useful offline by storing the last updated rates and converting prices when there's no Wi-Fi.
If you are on a road trip, you may get caught in bad weather and have to stop somewhere unplanned. You may have an unscheduled trip and have to find a hotel the same night -- and you don't want to be price gauged. Add in foreign travel and you just may spend too much on a hotel you didn't even plan to be at. The free Hotel Tonight app gives you quick access to last-minute hotel deals.
Along the same lines, Hipmunk is another flight and hotel aggregation search app, but also lets you keep your options open by including non-traditional lodging, such as listings from Airbnb and HomeAway.