I've had encounters with New York ever since I can remember -- in books, TV shows, movies. Despite this, nothing quite prepared me for the experience of actually being in the city.
When I arrived last month, I simply wasn't expecting it to be so intense. What made it so overwhelming? The towering concrete and steel crowding out the light; the hordes of people; the relentless noise; and a near absence of raw, rugged nature. Perhaps as a result of living in Cape Town, a city in which mountain and sea intrudes from practically every side, it was this -- nature, proper nature -- that I missed the most. There seemed to be scant respite from linear urbanity -- the oppressive geometry of the gridded streets and rectangular towers. There was, of course, Central Park -- which was lovely but contrived (and quite far away from where I was staying); there was the water, too, slapping against the sides of Manhattan, but it had been tamed, held at bay by concrete banks.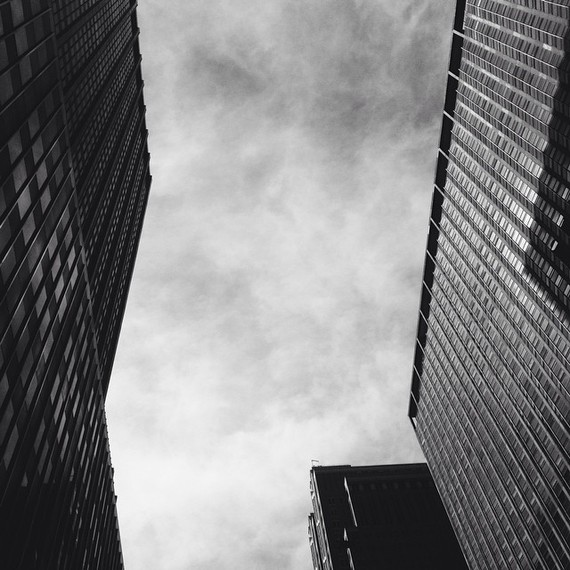 I had flown into JFK from London. With its parks and higgledy-piggledy streets, the British capital suddenly seemed cosy and bucolic by comparison. I had lived there once before and could do so again; but to live in New York? Even in Brooklyn, with its stubbier skyline and younger vibe, it would be a struggle.
Of course, not everyone needs nature quite like I do, and I can certainly see New York's allure. There is nowhere else like it: the concentration, urgency, activity, variety and novelty is intoxicating, enthralling, magical -- almost narcotically so. This tsunami of stimulation is undoubtedly addictive for some. But living there takes its toll. Friends -- and friends-of-friends who quickly became friends (you know who you are) -- were wonderfully generous and welcoming and fun. But strangers? They were near-universally harried, hostile, unflinchingly serious and self-absorbed. Where was the warmth, the sense of humour, the willingness to engage?
In the brash din, I felt profoundly foreign: quiet, diffident -- every inch the British-South African hybrid that I am. But I still loved it. I loved that this was a city built on ideas and ambition, and furnished with cultural riches -- a trove of art and literature that I barely had time, in eight days, to pick at.
As an arts writer and the editor of a literary magazine, I loved the independent bookstores, the galleries. I loved that you could work in the grand hush of the New York Public Library, or the sunlit silence of Poets House (yes, a building dedicated to poetry!). I loved the food. I ate and drank like a king: truffled grilled cheese from a food truck; boozy Mexican brunches and dinners; speakeasy cocktails; rooftop beers; artisanal ice cream. And more. So much more.
I bought a guidebook, but (as much as I love paper), barely used it. Friends, first and foremost, offered the best tips; then there were up-to-date crowd-sourced recommendations (Yelp, TripAdvisor) -- by no means definitive but certainly handy when on-the-go.
The Subway system -- dirty, crowded, endlessly fascinating -- was incomprehensible. I never really managed to figure it out, but then I didn't have to -- Citymapper, the routing app (a million times better than Google Maps , download it), told me which line to take, in which direction, and which station to get off at.
A smartphone with internet makes travel significantly easier; you don't need to plan and prepare in advance nearly as much. It can easily end up detaching you from your environment, though -- you can be so busily glued to your phone (just like everyone else on New York's sidewalks -- who on earth are they talking to?!), that the details, the sharpness of your surroundings can become blurred. My morning runs provided something of an antidote to this -- I would feel my way north-westwards from the East Village, through Greenwich towards the Hudson river, soaking up the shock of new blossoms, the glowing brownstones and admiring the dogs -- because every New Yorker, it seems, owns a dog.
Leaving the city spawned a curious blend of emotions. In some ways it was a relief: I felt like I was coming up for air. In other ways, I felt almost bereft, like I was losing something, leaving something vital and fizzing and rich behind. I still don't want to move there. But I do want to return -- again, and again, and again.
Walking (everywhere) but especially the High Line, the Williamsburg Bridge, and, at dusk, the former Beat hangout, Tompkins Square.
Browsing the brilliantly edited selection of books and magazines at St Mark's and McNally Jackson -- two of many wonderful bookstores. Also: Argosy smelt really nice.
Interviewing, for AERODROME, the authors Colm Tóibín (Nora Webster, Brooklyn) and Edmund White (A Boy's Own Story, Inside a Pearl), as well as the founder of Hello Mr, Ryan Fitzgibbon; keep an eye out on the site for the articles.
A cappuccino in the courtyard at Saturdays surf shop, tea from next-door Miansai and a flat white from Happy Bones.
Breakfast burritos and a michelada at Nights and Weekends, the world's best guacamole from Mission Cantina, and pretty awesome tacos at La Superior.
chocolate chip pancakes at Katz's and a lox, eggs and onions mix at the impossibly wondrous Russ & Daughters.
an IPA overlooking the Manhattan skyline from the Wythe Hotel's rooftop bar, Ides. I dunno what it was called because the surly barman was incomprehensible.
OK, I'll stop now. (It's no wonder my flatmate is accusing me of having got "travel fat.")