For the last week, I've intentionally done everything I can to ignore one of my favorite people in the world. Sounds terrible, I know, but it was for good reason. Seven days ago, I was invited to be a part of a surprise proposal between said friend and his boyfriend who I also love very much. Being awful at keeping secrets I knew I had to steer clear which meant skipping three workouts and avoiding my phone anytime I saw his name pop-up.
As plans were being made for the big event, I was asked to provide champagne to celebrate with because basically, I'm the town drunk. While I was buying the booze, I also shopped for a congratulatory card. I was hugely disappointed to learn that it is nearly impossible to find a "Congrats on your engagement" card for a gay male couple. I'm not one to give cards with poetic sentiment so the generic, "here's to a life-long celebration of true love" engagement card wasn't going to work either. I opted for a blank card with hot pink unicorns wearing crowns of glitter and wrote a joke about the "enGAYgement" because that's what these two would expect of me. 
Still having a hard time keeping my mouth closed, I was worried when I made my way to the proposal knowing that I'd have to see my friend for the first time in a week. I arrived at SoulCycle Pasadena, where he and another instructor were "team-teaching" a 90-minute "Live DJ" ride that would ultimately end in him being asked for his hand in marriage. That's how proposals happen in Los Angeles, obviously. Just kidding. These two met at SoulCycle and fell in love at the studio, so it was a sentiment to their beautiful love story.
I sat in the corner and pretended to be on my phone looking busy until about one minute before the class started. At that point, I asked him if he wanted to record a snapchat video to talk about what we were about to do. He agreed and we recorded this video.
As I set up my bike, Chris (my sweet friend and the instructor about to be proposed to) kissed my forehead and said, "I am so glad you're here" which sent me into the first set of tears for the night. The class began with "Will You Be There" by Michael Jackson and the room, filled with friends of Chris and Brad (the boyfriend) erupted in cheer.
For the next, like, 82 minutes, everyone lived their lives on those bikes eagerly awaiting the end of class proposal. There is a part of every SoulCycle class that is dubbed the "soulful" moment. It is during the second to last song, which the instructor carefully picks and narrates. The narration is a beautiful mantra of their choice. It can be about forgiveness or about health or about kindness or about strength – it's really up to who is teaching the class. During this class, not knowing what was about to happen, Chris' mantra was about love. He eloquently reminded us that the room we were in was a place that many people sought solace and fell in love. Whether it be with another person, with the bike, with the studio or with themselves it was a healing place to open your heart. This sent me into hysterical tears. I made eye contact with the other instructor teaching, who of course also knew what was about to happen, and we both lost it. Chris had no idea that what he was saying transcended into what was about to happen for him.
When the last song of the 90-minute challenge started playing, it was a beautiful song by NeedToBreathe and Chris said to the class, "This is mine and Brads song" still not knowing what was about to happen. The song is six minutes and about halfway through, the door opened and we saw Brad, followed by about 50 other people, walk into the studio.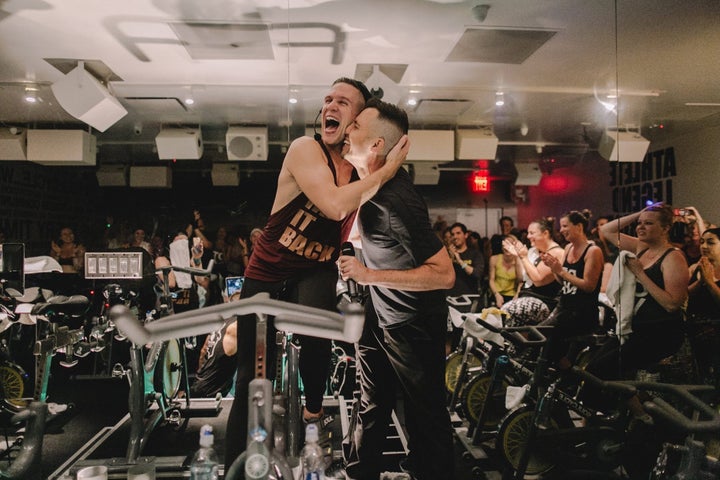 The 50 other people were SoulCycle instructors, friends of the couple, riders and supporters of this relationship. All of us watched as Brad made his way to the podium to greet Chris.
Chris looked around and asked, "What the fuck?" before Brad shared the story of their courtship.
Through tears, Brad asked Chris to marry him and Chris excitedly agreed while the entire room cried and cheered along. After their "engagement kiss" we all wiped the tears from our faces and congratulated the happy couple. Chris was heard asking, "You knew about this?!?" to everyone there. We all did. I don't know how it was kept a secret, but I'm patting myself on the back.
We made our way to the lobby for photos, cake and champagne before heading out to the bar to celebrate. At the bar, I asked them if the wedding was like next week, so I could find a date in time. It's not, but I don't have much time either way, to find a date. We all went home and Chris and Brad headed on a well-deserved vacation to celebrate.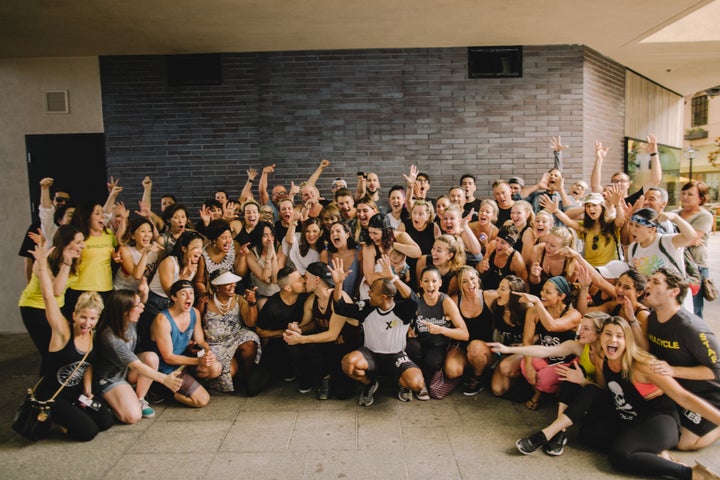 Somehow I was able to keep a secret from a wonderful friend for an entire week. It was worth it, because he's now engaged to the love of his life. And I don't have to avoid him anymore.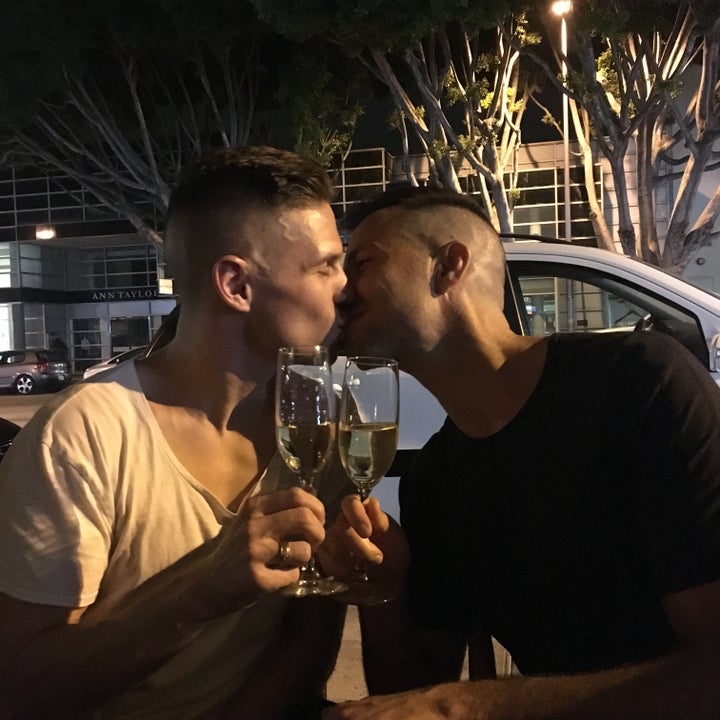 REAL LIFE. REAL NEWS. REAL VOICES.
Help us tell more of the stories that matter from voices that too often remain unheard.