Ever since I started competing in endurance sports back in 2007, I've really enjoyed the training, dedication, and overall challenge of this style of racing. After crossing the finish line in my first Ironman triathlon, I knew that I wanted to race in many more endurance events. Over the years I've competed in five Ironman triathlons, seven Ironman70.3's, sixteen marathons, and two ultramarathons and have loved every second of it.
Throughout these races, I've had such an incredible amount of support from my wife, my parents, and my family, and my friends. My greatest supporter since I started participating in athletics at a young age has always been my grandfather, Joe Lineberger. He would always encourage and motivate me to dream big and to be determined to achieve anything I set my mind and heart too. He would always tell me to turn life's challenges into opportunities to grow from and become stronger. He has always been my role model and hero, and after every one of my athletic events, I would look forward to talking to him about the race and watching his face light up with pride and excitement as we celebrated the achievement.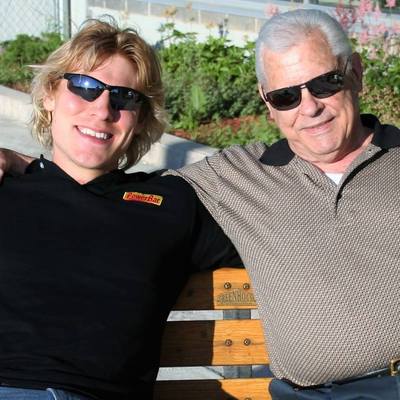 With my grandfather before the Newfoundland 70.3 Half Ironman triathlon in 2008
This past April, after a long struggle with many accumulating health issues, he passed away. It was devastating because we did not expect his body to decline so rapidly because he always had such good health.
A few months have gone by and our family is still at the point where we will be in conversation, and all of a sudden realize that he is no longer with us. I think about him every day, and this past weekend, I thought about him a lot because I competed in my first athletic event since his passing.
The event was the Spartan Race in the Washington D.C. area, which was not only my first obstacle course racing event, but also the last event that I told my grandfather that I would be training for earlier in the year. With his extensive military background (six decades combined for both military and civilian service), he was very intrigued by the obstacles, trail running, climbing, crawling, and the many challenges that were involved because they reminded him of when he went to boot camp, being in great shape during his military career, and also his years of participating in athletics.
I thought about him as each minute went by in the race. I really enjoyed the experience of tuning into the mind, body, and spirit aspect of the obstacle course racing format, as well as the teamwork that existed on the course among the participants. I would get to each obstacle and notice that everyone was cheering for each other to complete the task, which was very motivational. It was also very meaningful to me because my wife raced alongside me along the course, which was her very first endurance event outside of a 5K. We trained the past year for this course, and all her hard work paid off because she had a smile on her face throughout the 4.7 miles, up and down the jagged terrain, and during each obstacle. It meant a lot to me to be able to cross the finish line next to her, and we're looking forward to more races in the future.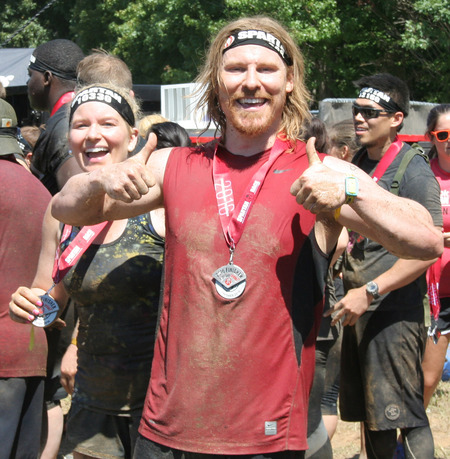 From start to finish, the Spartan Race was a lot of fun and the volunteers and spectators were great. I really enjoyed the overall experience of it, especially not knowing what was around the next corner, what the next obstacle would be, and how my body would hold up throughout each phase of the race. It was definitely a challenge, but as my grandfather always said, it was an opportunity to grow from and become stronger. I know he would be proud.
Popular in the Community