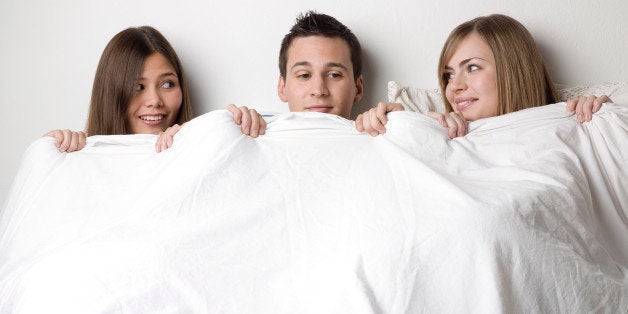 "Threesomes are Actually a Terrible Idea" reads the headline of a piece posted not so long ago to The Daily Beast by Aurora Snow, a writer and former adult film actress. Snow's point: If you're not a seasoned porn professional, having sex with two people at the same time can not only prove exhausting, but it may also destroy your relationship. The takeaway? Threesomes are better kept on the brain and out of the bedroom.
I'd prefer to argue that non-porn-performing folks can still have a great time having a threesome.
In my case, my first threesome was with a couple I met while vacationing at Hedonism II in Jamaica. Yes, that's the famed resort dedicated to nudism and swingers. I suppose if you're going to have a threesome anywhere, you might as well have it at Hedonism II.
Why? Because you can be assured that the folks you meet there won't be sexual novices. In other words, it's a good bet they'll already have a couple of ménage à trois under their belts. That means they will have gotten their group sex issues worked out by the time you arrive on the scene.
At least this was the case with Greg and Jess, the couple I hooked up with at Hedonism II. They were certainly sexual adventurers, which was a good thing, because at the time I was going through my own phase of sexual experimentation. I guess you could say that's how I ended up at Hedonism II in the first place.
It's also important to add that Greg and Jess were already involved in an alternative sexual lifestyle, which meant their sexual boundaries were more open than your typical "vanilla" couple. Greg and Jess had a master-slave relationship, Jess being Greg's slave.
But if Greg was Jess's master, he certainly didn't exercise an excessive amount of control over her. The first time I laid eyes on Jess, she was dancing on the floor of the resort disco, sandwiched in between two Jamaican men.
I mean, how many guys would be cool with their girlfriend getting dry-humped by two other dudes?
I can fully understand why these men were attracted to Jess. She was easy on the eyes. At close to six feet tall, Jess was four inches taller than myself. She was thin and blonde and had the face of a model: high-cheekbones and cat-like blue eyes. She wore a red latex dress with a long slit up the leg. Her skin was porcelain white. She certainly hadn't been spending much time on the beach. I don't think getting a tan was why Greg and Jess had traveled to Hedonism II, anyway.
It was Jess who made the first move. While she danced with the two Jamaicans, her head was thrown back, her eyes closed. When she opened her eyes, she and I made eye contact. Soon, she was waltzing over to where I was standing.
She asked me if I wanted to dance. I did. Greg hung back while Jess and I got close. It was Jess who ultimately invited me back to their room. Perhaps I never would have accepted the offer had it not come from Jess.
According to Snow, "The threesome, you see, is something rarely (openly) desired by women."
This obviously wasn't the case with Jess.
I also appreciated that Greg was letting his girl take the lead. It gave me confidence that he wouldn't be overly aggressive in the bedroom.
That's another point Snow makes in her article, lecturing her male readers: "For a threesome to really succeed... you should let your mate pick."
That way, a girl will know the threesome's about her too, not just about her guy trying to use it as an excuse to pick up another lady.
All the rooms at Hedonism II have mirrors over the bed, and Jess and Greg's room was no exception. Once we got to their room, we fell to the bed, kissing, our three tongues entwined. It was an amazing sensation: naughty and gratifying at the same time.
We undressed, then Greg spent some time pleasuring me with his fingers while I explored Jess with my tongue. She was pierced everywhere: nipples, tongue and clit.
Before long, Greg left the bed to sit in a chair just to watch Jess and me together. Greg seemed to intrinsically understand what Snow states in her article: "Guys, did it ever cross your mind that this threesome might not be about you?"
Our threesome definitely wasn't. I was really into Jess.
It wasn't until Jess and I had been together for some time that Greg went to the bathroom, closing the door behind him. Jess whispered in my ear, "Can Greg have sex with you?"
I also appreciated that she asked my permission first. I'd say that's a good rule if you're going to have a threesome: make sure all participants are on the same page in terms of sexual boundaries. Fingers and oral are the limit for some girls; outright penetration is something else.
I said yes, and as if on cue Greg re-emerged from the bathroom. Little sneak. He had just gone there so Jess could make her query.
Afterward, I left Jess and Greg alone and went back to my own room. I'm not sure what happened once I left, but I doubt that Jess and Greg broke into a jealous argument about the fact he'd finished up with me. I'd also like to imagine that Greg then spent some private time with Jess. Ironically, the whole time Greg and I were together, Jess was telling him, "Baby, I love you."
That also reassured me that I wasn't playing a role in hurting their relationship in any way.
I ran into Jess and Greg again the next evening at dinner. It wasn't awkward when we did. We shared a drink and talked a little, but no one made plans to meet again. We were tired from the night before. Besides, early the next morning, Greg and Jess were flying back to their home in the States.
I can understand why Snow might argue that threesomes can too often get weighted down by petty bickering and bruised egos. Luckily that wasn't my experience. I found two people to have a threesome with who weren't insecure with their relationship.
Snow warns those who want to try threesomes: "The reality is some fantasies are better in your head than in practice."
In my case it was better in practice.
Popular in the Community