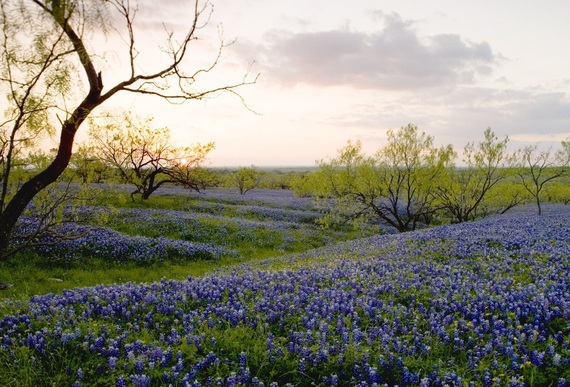 Although I have known Jack -- Jack W. Robinson -- for more than 10 years, I have known him really well only for the last four years or so. The fact that I grew so fond of him in such a short period of time speaks volumes of Jack.
For a good part of those years, Jack has been struggling with the kind of serious medical problems which would have brought most people down a long time ago.
But Jack was a fighter. We lovingly referred to him as the cat with more than nine lives.
Just in the last two months we almost lost him twice or thrice. But Jack said he wasn't quite ready yet.
He wasn't quite ready yet, in part -- I believe -- because the Texas bluebonnet and other wildflower seeds -- Indian paintbrushes, black-eyed Susans, Texas buttercups, prairie winecups, primroses, etc. -- I had scattered last fall in a beautiful open area behind Jack's home, following Jack's exact instructions, had not come out yet.
You see, Jack loved the Texas outdoors and especially the wonderful assortment and beauty of Texas wildflowers. And what a better position to both enjoy and promote the preservation, growth and spread of native wildflowers, plants and landscapes in his beloved Austin than as Director of the Austin Park and Recreation Department.
And what a better partner to do this with than Lady Bird Johnson, with whom Jack worked to found the Lady Bird Johnson Wildflower Center and on the beautification of the Austin Town Lake (now the Lady Bird Lake) Hike and Bike Trail, both of which Jack considered to be the highlights of his professional career.
As Jack's condition worsened and as the temperatures finally warmed up in Texas and the sun shone brighter after a dismal winter, some of Jack's bluebonnets popped their heads in his backyard. But, perhaps sensing the fragile condition of the man who had overseen their planting -- Jack was in-between two very close calls -- they were not as full and bright as Jack had hoped for.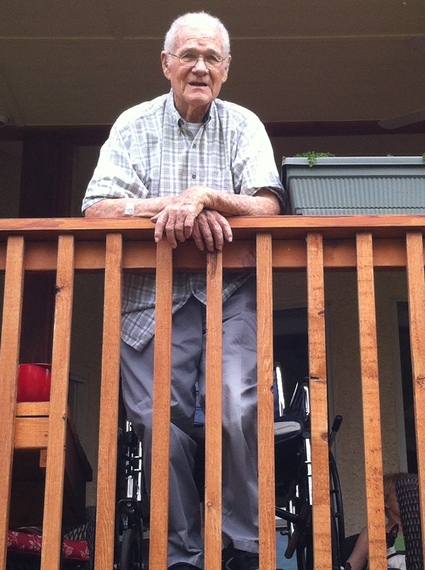 Jack, on one of his good days, looking at his wildflowers (Photo courtesy Robinson family)
No problem. The bluebonnets, Indian paintbrushes and other wildflowers were in full, glorious bloom along our highways and byways in the Austin area. So we carefully placed Jack in my car and off we went to see the wildflowers.
They were dazzling, a true Texas spring miracle of color and renewal. I believe that, for at least a short period, Jack was able to forget the constant pain, endless surgeries and medical procedures and treatments he had been endlessly experiencing and undergoing. He told me that he was enjoying the outing. That is, until I noticed I was almost out of gas and literally rolled into a gas station.
Once at the gas station, with Jack sitting next to me and seriously needing to get home to get the rest and medicine he sorely needed, I looked for my credit card and discovered I had left my wallet home.
Eventually help arrived, we got gas and we did get Jack home not too much worse for wear.
They were anxious and, for me, embarrassing moments. But I believe that Jack has forgiven me and that he may even be looking down at me, chuckling a little bit. I believe so because when I held his hand a few days ago and recalled our "adventure," I swear I felt him squeeze my hand and I swear I saw the hint of a fleeting smile on his face.
It may have all been my imagination, but I do know that Jack will always remember those beautiful fields of Texas wildflowers his forgetful but well-meaning friend took him to see that gorgeous Sunday afternoon, not too long ago. I know that I will always remember.
Just a couple of days before Jack left us, I went to look at his bluebonnets one more time. They were looking even more fragile and their blue color was even more faded than before. But next spring they will be back again, even more beautiful, strong and resilient, just like my good friend always was and always will be.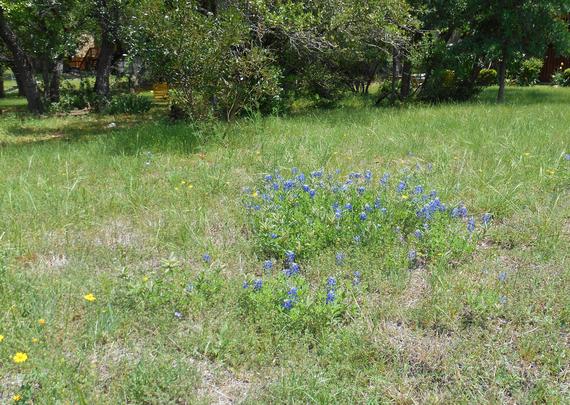 Jack's bluebonnets and other Texas wildflowers during their final days of bloom. (Photo by author)
Jack loved his wildflowers and the Texas outdoors, but, of course, he treasured his family and was one of the most generous and charitable persons I have known.
My good friend Jack is gone now and so are most of those beautiful Texas wildflowers. But they will be back next spring and Jack will have a magnificent bird's-eye view of them -- without the risk of getting stranded, out of gas.

Jack was 82. He leaves behind his loving and caring wife, Jan, his three sons and their families and so many, many friends who will miss him dearly.
(To learn more about Jack and his fascinating background, please click here and go to pages 18 and 22.)
Lead photo, courtesy Texas Parks and Wildlife Department - Chase A. Fountain, © Texas Parks and Wildlife Department

REAL LIFE. REAL NEWS. REAL VOICES.
Help us tell more of the stories that matter from voices that too often remain unheard.