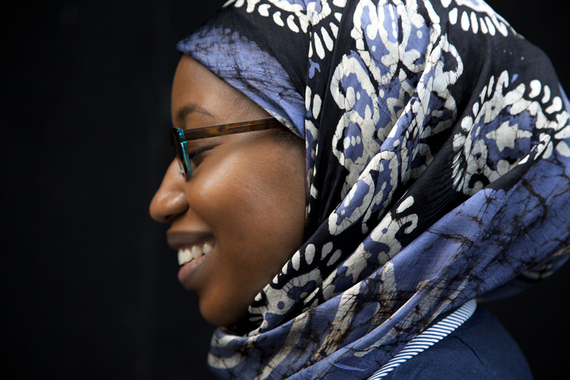 Zana Murdock, photo courtesy of Julie Hassett-Sutton/Frantic Studio via Global Kids
I come from a working-class immigrant family and was raised in Brooklyn. My mom instilled in me an awareness of our social and political circumstances. At Global Kids, I was excited to be around students interested in the world around them. I loved the platform, the venue to discuss global issues, being involved in projects that had an impact.
Global Kids does a great job of channeling the qualities that are inherent in teenagers but often criticized: their energy, their natural rebelliousness, their passion. Teenagers have a sense of fairness and justice. Often, they're rebelling against the status quo, which tends to be unfair or unjust. It makes sense to help young people be a force for good because, let's face it, as you get older, you're more resigned to the status quo.
At Global Kids, the students understood that we were driving the process. Trainers facilitated it, but we led the conversations. We drove the action plans. We were raising awareness.
I remember one incident that characterized my adolescent passion. At a roundtable, we were discussing the Amadou Diallo case. I was very upset and I referred to the killing of Black men by the police as genocide. Michelle Luc, one of the trainers, very tactfully corrected me and defined what genocide actually is, explaining, "I understand your frustration, but this technically doesn't meet the definition." She wasn't trying to deny how I felt, but pointed out that we had a responsibility to understand and be educated about what we were saying.
Global Kids helped us apply international issues to our own lives. For example, we read the Universal Declaration of Human Rights. I focused on the right to education. Having grown up in New York City public schools, my education was abysmal compared to some of my peers. At Global Kids, we could talk about girls in India being denied an education and relate that to how we, for the most part poor Black and Latino students, were being deprived of a quality education. When I became a teacher for Teach for America, I took that with me.
I was able, through Global Kids, to attain a full scholarship to Ramapo College. A number of us received the same scholarship. We were very active on campus. We put together a human rights conference. Michelle Luc came up and helped to train us so that we could put on workshops. I think it enriched the Ramapo community.
Students leave Global Kids carrying a sense of social responsibility. We are global citizens. We have rights and we are obligated to not only observe those in our own lives but also see to it that others have access to the same rights.
Popular in the Community