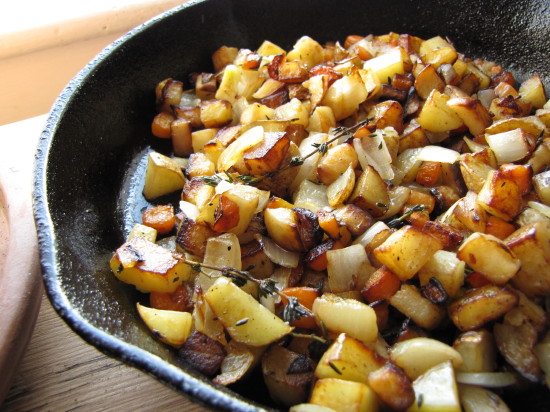 Lately I have been stuck (I mean blessed) with massive amounts of turnips, carrots, potatoes and onions. It's that darned (I mean wonderful) winter CSA share I've got. I've also been on deadline, a little short on time...and surprised when dinner hour arrives sooner than I thought. Yikes, I've got to improvise something with all those rootie-tooties again--something my boyfriend, Mr. Meat and Potatoes, will eat.
To the rescue: My cast iron pan. There's an amazing alchemy that happens to root vegetables (diced up and tossed with happy amounts of good olive oil) when they are very slowly sautéed in a cast iron pan. Cast iron retains and distributes heats so well that you can cook the vegetables over fairly low heat (avoiding the risk of burning before being cooked through), stirring only every once in a while, until they are deeply golden and cooked through. You'd think you'd need to boil or par-cook root vegetables in some way before sautéing them, but the secret to slow-sautéing successfully is to actually overcrowd the pan at the start (not usually good advice for sautéing moister veg), so that the roots steam a bit, too, while they are caramelizing. The end result is so incredibly sweet and intriguingly delicious, that I promise you--anyone will eat these. The added bonus is that once you get these veg in the pan, you can go back to doing other things for the next 35 or 40 minutes, simply stopping by every once in a while to stir and maybe adjust the heat.
For these sautés, I use a combination of vegetables (all cut the same size) that I think will cook at about the same rate. (Choose from turnips, rutabagas, carrots, potatoes, and celery root.) I always dice up some onions or leeks, too (or slice shallots), and add them about halfway through cooking, when they will add moisture and flavor. (Any sooner and they'd burn before the roots are done.) I always throw in some rosemary, thyme, or sage sprigs.
If you want to add these veg to your Week of Eating In strategy, you don't really need a recipe--just some guidelines and proportions:
Slow-Sauteed Turnips, Potatoes & Carrots: For a 10-inch cast-iron pan, dice ½ pound trimmed (but unpeeled) purple-topped turnips, ½ pound unpeeled Yukon Gold potatoes, and ½ pound peeled carrots. Pour 3 tablespoons extra-virgin olive oil into the pan and place it over medium-high heat. Add the veggies, several herb sprigs, and about ½ tsp. kosher salt. Stir well. Reduce the heat to medium. As the vegetables cook, stir and flip them with a metal spatula every so often, and, if necessary, gradually reduce the heat as they brown so that you hear a consistently gentle sizzle from the pan. (Any louder and the veg may be browning too quickly.) After about 20 minutes, add a medium onion, diced, and continue stirring and flipping until the vegetables are caramelized and cooked through, about 15 more minutes. Remove herb sprigs before serving.
If you don't have a cast-iron pan, you can certainly do this kind of sauté in a stainless steel straight-sided skillet. Just keep in mind that you might need to add a bit more oil or watch the temperature a little more carefully. But a cast iron pan is such a versatile thing that I think you won't be sorry if you get one. (Click here for a great video of making cornbread in a cast iron pan.) If you're not in a rush and you like the idea of reusing, chances are you can find a well-seasoned pan at a flea market or in an older relative's kitchen. But these days you can also get a pre-seasoned 10-inch Lodge cast-iron skillet for only about $15. They're great for sear-roasting chicken (browning on the stovetop and then plopping in the oven), and you can even use them on the grill.
Susie Middleton's vegetable cookbook, Fast, Fresh & Green, will be published by Chronicle Books in April. Follow Susie on twitter @sixburnersue.