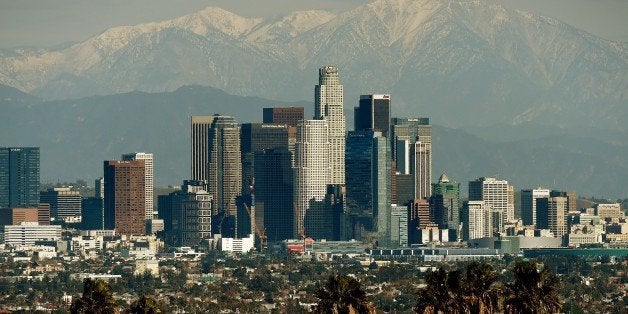 In August 2003, I packed up my Toyota Tercel with all of my belongings and said farewell to my family and friends. I left home in Ohio and embarked on a cross country journey to Los Angeles -- not knowing anyone, or even where I would live -- guided only by the simple motto of "Getting things done." I joined thousands of other people across the country who were making the same sacrifice as I was of dedicating a year of our lives to serve our country in the pursuit of creating a better society.
My narrative and experience as an AmeriCorps member and my year of service is not unique; it's actually very common. I was a young, college-educated adult looking to turn my altruism and idealism into reality. I utilized my year of service to not only help others, but also to help myself. My Jesuit education facilitated my growth and development into a well-balanced person, making me aware of the need to confront social problems and pursue social justice, and AmeriCorps was my opportunity to put my established philosophies and practices to use and find my personal and professional direction in life. I knew that my year of national service with AmeriCorps was going be full of successes and failures, but I didn't know that it was just the beginning of a lifetime commitment to service, civic engagement, and community leadership.
Unfortunately, many Americans do not get the same opportunity to do a year of service like me; to serve their country and community. Even though there have been nearly 1 million AmeriCorps Alums over the past 20 years, only 80,000 Americans get to serve each year. To put that into perspective, that's less than .0003 percent of the U.S. population over the age of 18 years old. However, today's young people want to serve as demonstrated by the upward trend of volunteer service. This fact is demonstrated even more clearly when we review the number of applicants who apply for national service programs but are turned away due to lack of service year positions: "In 2011, AmeriCorps received a whopping 582,000 applications for just 82,000 positions. This is up from 536,000 in 2010 for 85,000 spots. That means that over two years, nearly 1 million applications have been turned away" (Service Nation, 2014).
Here in California and the city of Los Angeles, the need to confront social problems and pursue social justice through national service is just as present today as it was 12 years ago when I served. Poverty is one of the most significant problems facing California. One in seven adults and one in five children live in poverty. Over 30 percent of Californians living in deep poverty are children (California Budget and Policy Center, 2015); Los Angeles ranks 98th out of the top 100 metropolitan area for teen unemployment rates (KPCC, 2014); Los Angeles county has long had the largest concentration of homeless veterans in the country -- 4,343 in the latest count (Los Angeles Times, 2015). There are no easy solutions when dealing with these complex social issues. It is clear that national service not only provides frontline leaders to help address these issues, but also develops essential skills within the service member.
National service is at the core of who I am. My passion to serve is matched by my passion to inspire others to serve alongside me. As a Franklin Project Ambassador, my goals are twofold: education and inspiration. The Franklin Project in collaboration with AmeriCorps Alums Los Angeles will be hosting a Service Solutions Summit in spring 2016 to allow national service members, national service alums, and community partners to participate in unique leadership training and motivation-building experience. The summit aims to educate participants about ways to support and grow the national service movement, inspire a lifetime commitment to service and civic engagement, and train community leaders. The Summit is a first step towards a service revolution wherein we can one day provide opportunities for all Americans to serve our country through domestic service, international service, or military service. The challenges that we face here in Los Angeles and the country can be staggering. Through the Franklin Project Ambassadors program, I intend to highlight the many solutions that national service provides and help others find their road to a lifetime of service and civic engagement.
This post is part of a series produced by The Huffington Post and the Aspen Institute's Franklin Project in conjunction with Giving Tuesday. The series, which will run for the month of November, features pieces written by Franklin Project Ambassadors, local leaders who are working with community stakeholders in 25 states toward the Franklin Project's vision of making a year of national service -- a service year -- a cultural expectation, common opportunity, and civic rite of passage for every young American. For more on service year opportunities and organizations, visit https://serviceyr.org.
REAL LIFE. REAL NEWS. REAL VOICES.
Help us tell more of the stories that matter from voices that too often remain unheard.