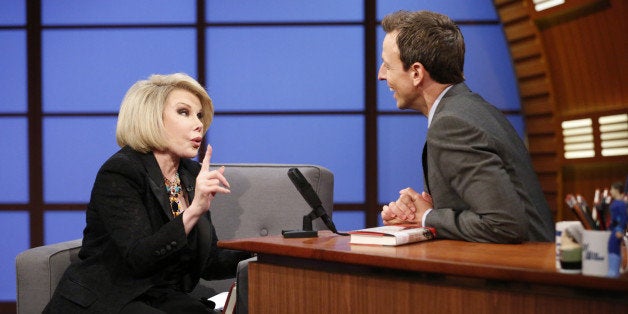 "I enjoy life when things are happening. I don't care if it's good things or bad things. That means you're alive. Things are happening."
Joan Rivers was a notorious comedian who made a mark on the world. I remember the time I met Rivers. My grandma wanted her booked signed by Rivers when she came to town. (I had to be at least 9 or 10 at the time, but I remember her.)
When Rivers walked into the room, everyone lit up. She had a gift of making everyone laugh even inspiring some to pursue a career in comedy.
Her extensive jewelry collection is worn by thousands if not millions of people today. Her outfits were not always the most appropriate, but she became an icon.
Rivers said, "I've had so much plastic surgery, when I die they will donate my body to Tupperware" and "I wish I had a twin, so I could know what I'd look like without plastic surgery."
In 2010, E! announced Fashion Police. The show consisted of calling out celebrities on their outfits whether they were amazing or awful. Watching Fashion Police became a thing in my house when Rivers was announced to host the show along with others. Everyone in my house loved her and her blunt commentary.
Soon after Rivers created her own show with daughter, Melissa, Joan & Melissa: Joan Knows Best. The show followed Melissa and Joan as they would try to balance their lives. The two would butt heads often, but their mother-daughter bond remained stronger than ever. Melissa's son, Cooper, was also featured on the show. He was always smiling when he was around Joan and you could sense the love in their relationship.
Rivers also gave advice to aspiring comedians saying, "Comedy is learning to be funny, and you learn to be funny in small rooms with young audiences."
She helped pave the way for women in the comedy field. Her young spirit and jokes will always be remembered by fans.
Thank you Joan for making us laugh and forever telling us how it is.
I leave you now with one more Joan Rivers quote and I ask that you please keep the Rivers family in your thoughts and prayers during this time.
"Don't follow any advice, no matter how good, until you feel as deeply in your spirit as you think in your mind that the counsel is wise."
You can follow Kaitlyn Kaminski on Twitter @kaitk96 and visit her website at www.notyourtypicaljerseygirl.com
Calling all HuffPost superfans!
Sign up for membership to become a founding member and help shape HuffPost's next chapter