I've found myself discussing kitchens and bathrooms a lot lately: renovations are back on the rise, and creating a sparkling new space adds dramatically to resale value (as well as your own every day decor satisfaction!). An essential to both of the spaces is just the right tile choice -- and with all that tile can do, there is just so much to choose from. To help narrow down the options, here is my guide to all things tile: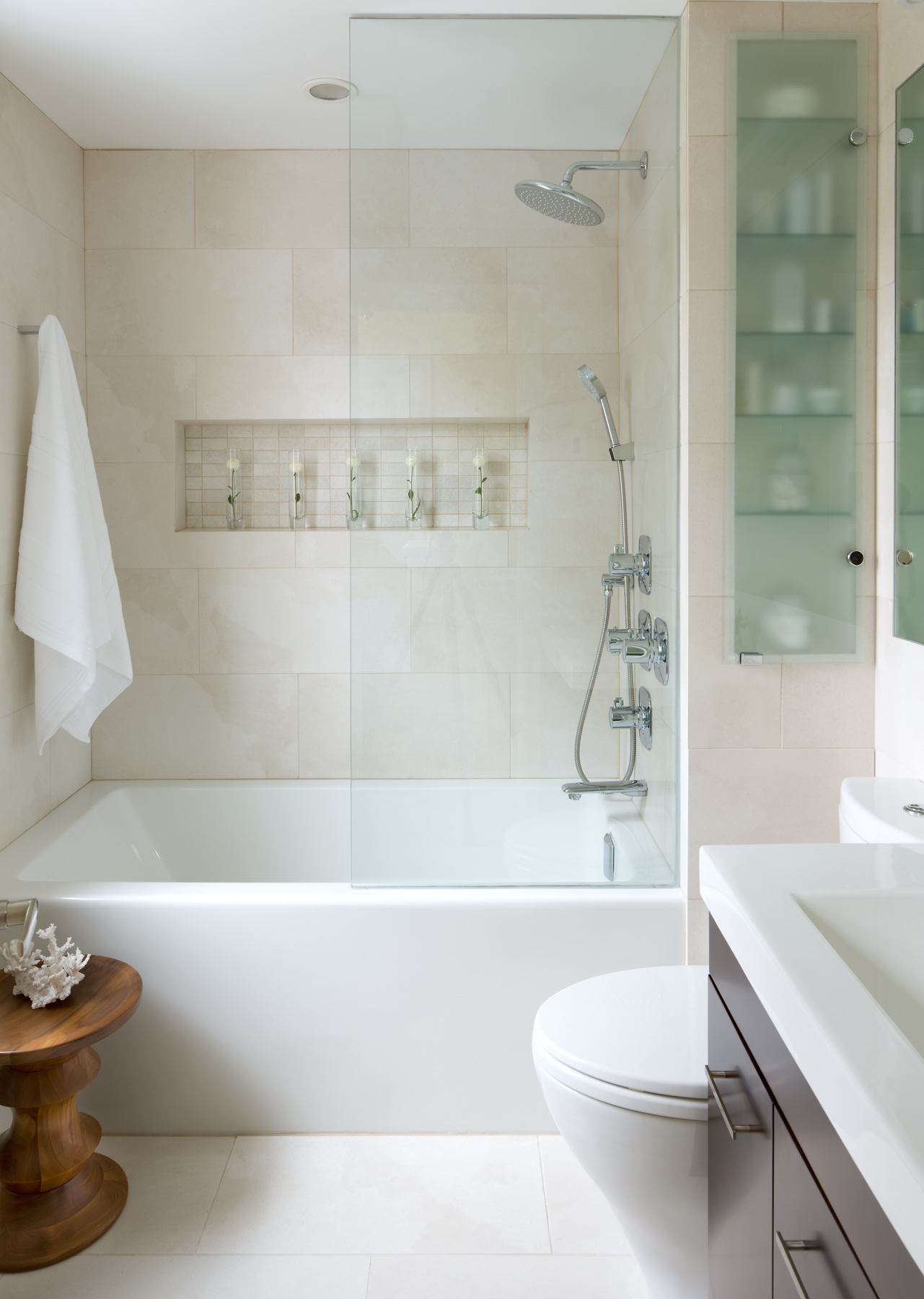 Material:
•Ceramic: Made of clay, or a clay mix. Typically the most inexpensive, but because any colouration is usually applied only to the surface it may show wear and tear much faster. Great for decorative details such as borders and backsplashes.
•Porcelain: An advanced form of ceramic, baked at high temperatures and less porous. The color runs through the entire thickness, so a small chip won't stand out. Works for showers, tub surrounds, floors, and backsplashes as it wears well. More expensive than ceramic, but less than marble -- Porcelain is the most popular tile choice.
•Stone tiles cut from natural materials like slate, sandstone and granite are resilient like porcelain, with a more raw textural surface and unique variations in color. Typically hard-wearing and thus popular for flooring. Travertine is sometime used as a marble substitute, but beware that it can be much softer than other stones.
•Marble is a natural stone prized for centuries for its timeless beauty -- every slab is unique. Very porous, it is susceptible to stains and thus must be sealed properly. If you're concerned, use it sparingly in places where it will see minimal contact with water, oils, or products (such as a powder room).
Tile Terms:
•Honed tile is stone that has had the surface ground to a smooth and matte finish.
•Rectified tile has been cut to size to ensure every tile is identical -- porcelain and ceramics can warp and shrink slightly during baking and thus must be trimmed for an exact match.
•Gauged tile is a natural stone that has been ground to a consistent thickness, also leaving a rough back for easier application.
•Glazed ceramic tile has been coated before firing to produce brighter colours and more durable finish. Can be double glazed for bolder patterning but an actually less strong surface.
•Polished tile will have a slicker, glossier finish than unpolished (matte) tile.


Format:
•Subway Tile is a rectangular style, usually half as tall as it is wide (typically 3"x6", or 2"x4", 4"x8", or wider formats like 2"x8"). A timeless classic that can be laid in various patterns, including stacked, herringbone, crosshatch, or traditional brick offset to create different looks.
•Oversized slab tiles (rectangular 12"x24" or square 12"x12" -- or even larger) are one of my favorite ways to create a luxe look. When laid in a brick pattern with minimal grout they can appear as one continuous surface -- apply them floor to ceiling in a bathroom for a spa feel that expands the space.
•Mosaic tiles, usually less than one inch square (or in more intricate shapes). Usually come in square or rectangular sheets to aid installation. Popular for shower enclosures and backsplashes. Note that small tiles use a large amount of grout and thus can require more maintenance. Makes a great border between slab tiles or subway tiles to add interest, or fill a niche to create a feature.

TIP: If you want the practicality of tile (and the price) but the look of hardwood, check suppliers such as Sarana Tile (with their Wood Line porcelain tiles) for modern faux woods that bring exotic grains and rich tones in high tech materials.