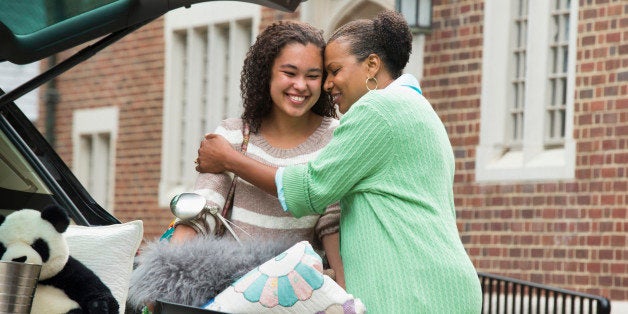 I am having a hard time with the fact that my daughter is leaving very soon for college. She is my first and I feel like my heart is breaking. I can't stand the idea that she is growing up and away.

I still remember days just before my son Ari went off to college. In my mind, I knew that it was time for him to step into his adult life. I was excited for him to begin having new adventures.
And...the whole thing seemed utterly surreal. I couldn't remember life without my son in it.
Here are a few things that helped me as I went through the adjustment of emptying the nest. If you'd like more support, join me on August 18th for a special online get together on Emptying the Nest. Click here for info.
What's real is that your child isn't a child any longer. What's real is that your dream is coming true--your youngster has survived childhood and is about to step into her own adult life. What's real is that you're facing one of the biggest losses of your lives. And what's real is that emotions are likely to be all over the place for both of you, from pure joy to absolute dread.

Talk--and listen. Ask questions about what she's looking forward to and what she's anxious about. Resist the urge to give advice; remember, very soon, she's going to be solving most of her problems without your help. Demonstrate your faith in her ability to resolve tough situations by listening as she confides in you without jumping in to offer fixes.
And while we're talking about keeping it real, don't try to hide your feelings about what's ahead. Even if you think you're doing a great job of masking your sadness, she'll feel it. When our kids see us acknowledge our feelings, it gives them permission to feel sad/ mad/ excited, as well--sometimes all at once! Just be careful not to make them responsible for helping you cope. Reassure her that you have the resources you need to adjust--even though you'll miss her like crazy!
Some parents get so focused on checking things off their To Do list prior to departure that days become increasingly stressful.
Have FUN with your daughter. Tell jokes. Whip up a dessert with her. Challenge her to a game of Monopoly. While it's true that nearly-adult kids may spurn your invitation for something as childish as a board game, you may be surprised. I still remember the time my 6'5" son and I played UNO a week or two before he left for college. Remember, your daughter is teetering between childhood and adulthood, often occupying both phases within the same hour. Take advantage of opportunities to play together.
The weeks leading up to your teen's departure may find both of you on a roller coaster of emotions. Be prepared for fights, tears, slammed doors, and unexpected cuddles. It's crazy-making! One minute she's counting the minutes until she's "out from under your tyranny", and the next she's coming up behind you for a hug. Egads!
One of the easiest ways for a child to break away from parents is to find them intolerable. Think of it as a shortcut to independence; it's less painful to move away from someone you don't like, so fights may happen over the most insignificant things.
Rather than defending yourself with logic, recognize that what may be at the root of your youngster's irritation could simply be his anxiety about the uncertainty ahead. Stress can wreak havoc on our ability to roll with life's punches, and even positive change is stressful. Don't take things personally.
Our entire parenting lives are ultimately about launching our child into his or her own adult life. When we arrive at that moment of letting go, few of us are prepared for the depth of emotion or complexity of feelings surrounding that milestone. But somehow we find our way, and a new version of this precious relationship we have with our son or daughter is given birth.