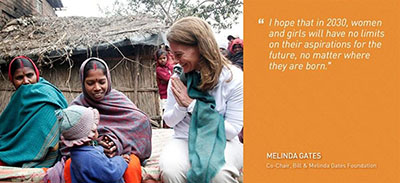 In 2000, the United Nations took bold action to address critical global health and development challenges impacting the world's poorest populations. The results were the Millennium Development Goals. By thinking big and collectively holding ourselves accountable for results, the global community has come together to improve the health and well-being of millions of people.
During that time and particularly this past year, we have seen the importance of investing in women and girls and keeping them at the center of the global health and development agenda. Empowering women and girls - through health services, education, and economic opportunities - to reach their full potential is critical to achieving meaningful and sustainable change. Making these investments will dramatically affect the story we tell 15 years from now.
Today, global leaders are starting to think about what the next set of development goals should look like. The specific process of creating the goals will happen at the UN, but we all have a role to play in determining what the future holds. To help illustrate our collective potential, I thought it would be interesting to share different hopes and visions for women and girls by 2030.
For my part, I hope that in 2030, women and girls will have no limits on their aspirations for the future, no matter where they are born.