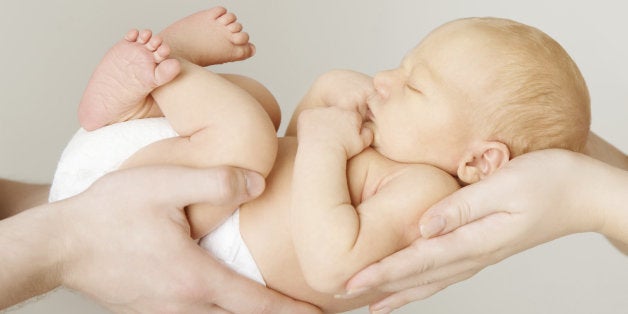 Reader Untrusted Mom writes,
My husband and I have been married for almost three years now. We have a 17-month-old and another one on the way. A little background: I am the oldest of seven kids and I grew up around and taking care of children my whole life. Everyone has always said that I am a pro at it. My husband was the baby for eight years and has never really been around children.

For about the past year I have been having a really tough time. It doesn't seem like my husband respects me at all. And ever since we had our first child, it seems like he cares more about her than me and it hurts. He is willing to hurt my feelings if he thinks it will protect her (he is very over protective of our daughter.) He undermines my parenting all the time because he thinks he is smarter and knows more.

One example is that when we go shopping he will pull her out of the cart or the stroller if she is screaming and he will let her walk around the store and just follow her while I do the shopping. I don't mind doing the shopping, but I want her to learn to sit in the cart and not give into her tantrums. I ask him not to pull her out because it makes it impossible to shop without him, but he does it anyway or gets mad at me if he doesn't get to do it.

Another example is that he tells me I don't watch her well enough, because I'm not constantly following her around like he does. He always asks if I'm watching her. It makes me very upset that he doesn't have trust in me and it is causing me to have a lot of resentment. When he gets home from work, he questions me about what I fed her -- if I feed her mac and cheese or chicken nuggets once in the day or anything else that is easy. He makes comments about how I don't care about having her eat healthy foods.

I have tried talking to him about these things and all he says is, 'What do you want me to do, just let you do things that I don't agree with? I'm just trying to protect our daughter.' He is very stubborn and thinks that he is always right and it frustrates me. I don't know what to do and I'm really worried that he'll be the same with our second baby that is on the way.
Good news! You are focusing on entirely the wrong issue. Your husband is anxious about the baby, likely because his parents were really overprotective toward him, or, less likely, because they let him run wild and he always felt neglected. Your husband is very, very anxious about your child, and this is his own stuff, that has literally nothing to do with you at all, so breathe a sigh of relief. There is no way you could parent that would meet his specifications, because he is operating from a place of fear and anxiety, like this mom. You, on the other hand, are confident about parenting, so you can't understand why he's acting this way.
Now that we know that "good news," here's how you can handle this situation: Tell your husband that you are the mom and you need to be respected. Also, tell him that his anxiety may end up harming both your marriage and your child's mental health. Tell him that you guys need to go to couples counseling to address this issue, because the birth of a second child is the toughest time in a marriage, and if he keeps undermining you, it will destroy your marriage entirely and lead to divorce. This, at the very least, should worry your husband because without his involvement every second, how would he know you wouldn't feed the kids chicken nuggets all week?!
Good luck, and thanks for writing in. Til we meet again, I remain, The Blogapist Who Says, As I Always Say, It's Easier To Fix A Broken Bone Than An Anxiety Disorder.