My husband, Linwood, doesn't like to swim. He'll get in the water, but he looks more like a cat being dunked into a dreaded bath than a man having fun.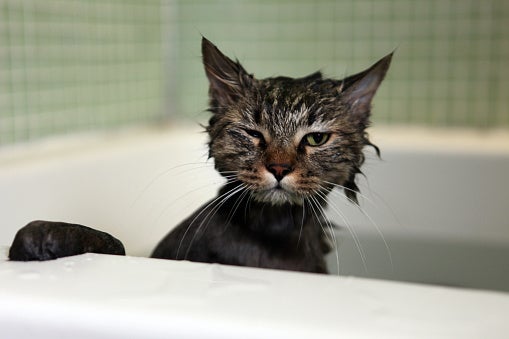 I remember the first time I put our son in the pool. Chase loved it, but Linwood looked like he was going to come unglued. This big, strong (handsome!) tough guy was literally sweating with panic.
Since then, we've talked about this a lot; and he's shared that, growing up, his family never went to the pool. And when they did go to the ocean, he was only allowed to put his toes in the water. When I first heard that, I couldn't believe it! My childhood was filled with memories of beach visits, games of Marco Polo, and my dad tossing me around in the water.
But, then, as I looked around at the pool and the beach, I realized that my husband and son were almost always the only black swimmers there. And then we had some difficult conversations about the ugly history of segregation in the United States and how that legacy still haunts us (and our family!) today.
From Jeff Passan, who summarized this far better than I could have:
The history of black Americans and swimming is a microcosm of the institutional racism that held back the United States for so long and still, sadly, exists in society today. In the first half of the 1900's, pools were built across the United States, but segregation kept black Americans from joining. And, the pools that were built in black communities were often of poor quality and minimal size. Generations of black Americans could have learned to swim just as well as anyone. They were simply denied the proper opportunities to do so. So, the perception that black people can't swim is ignorant. The reality that black people don't swim is closer to the truth — USA Swimming estimates 70 percent of black children don't know how to swim and the CDC says they're 5½ times likelier to drown than white kids — and it's a symptom of the errors of our forebears.
As Janet Wright, the YMCA's Safety Around Water national spokesperson so aptly said, "If your grandparents didn't know how to swim, then they didn't teach your parents, and if your parents didn't swim, then you might not be a swimmer."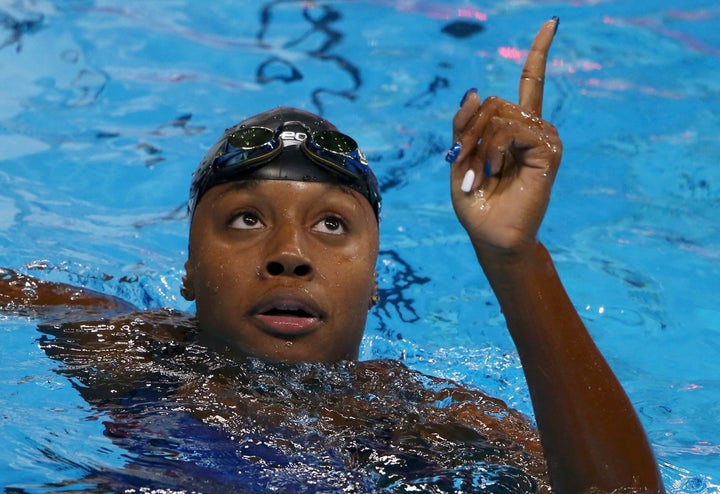 As the mom of a black son, I determined years ago that my son would know how to swim (among many other things best left for other blog posts…).
So, last night, I screamed and hollered, "Go! Go! Go!" at the television and then melted into tears as Simone Manuel battled a deficit in the 100-meter freestyle, set the Olympic record and tied 16-year-old Canadian Penny Oleksiak for a gold medal. (I continued to cry as NBC turned to gymnastics, where African American Simone Biles killed it at every turn and took home more gold!).
Simone Manuel's reaction to winning was priceless and is something I will never, ever forget. Her shocked look of surprise that she'd won; the endless stream of tears and hugs for teammates and coaches, and her tears as she sang the words to the National Anthem after receiving her medal. She proved that, not only can black kids swim, they can be the best in the world. And she "gave proof" to everyone that we can and must break down every barrier that (still) divides us.
Simone Manuel has much to be proud of today. Not only is she a gold medal winner, she's the kind of role model I want my son to know. We'll start by taking a dip in the pool as family.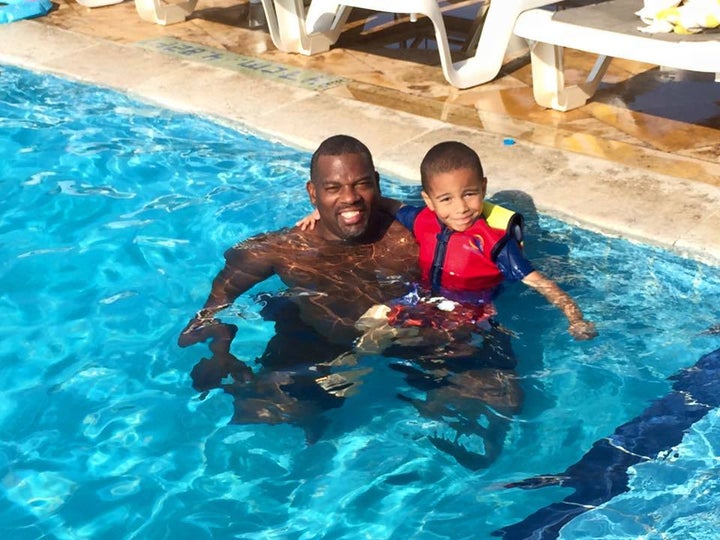 REAL LIFE. REAL NEWS. REAL VOICES.
Help us tell more of the stories that matter from voices that too often remain unheard.
BEFORE YOU GO