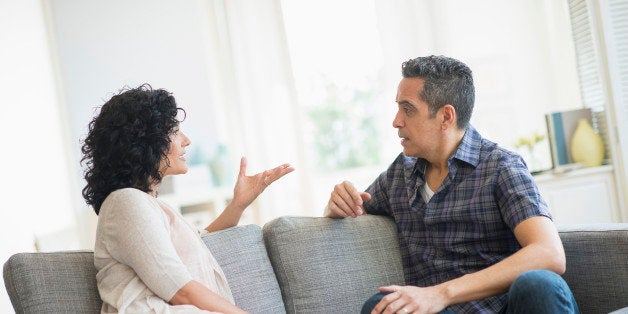 Reader Married to the Slob writes:
My husband thinks I have a chronic problem of trying to do too much and that my expectations of myself and everyone else are too high. I think he needs a kick in the ass because he is SO laid-back. The only reason we haven't killed each other yet is because he is too lazy to follow through and I am too overwhelmed to bother with it.
He grew up in a household where no one cleaned or had a bedtime or anything so my normal standards for what is acceptable seem sky-high to him. His dad is a hoarder, so his standards for clean are very low. He has no idea how gross our house would get if I stopped cleaning up even for a day. I didn't wash clothes for 4 days and he was like "Where are my boxers?!" Uh ... in the overflowing laundry basket in your closet. He is so laid-back and I have trouble just sitting and relaxing. I have always been a busy type person.
I guess I have high standards when it comes to a few things: I shower daily, I keep our kids clean, I go to the gym and try to take care of myself but I am in NO WAY a perfectionist. My husband showers like 2-3 times a week and he never exercises. He's a wonderful man, but things that were okay when we were in our 20's are just gross to me now. He does make me happy and I do love him, so these things just sound nit-picky.
We went to marriage counseling to sort out some of these issues after our first child was born. We now have 3 children ages 6, 3, and 1. I stay home with them. Our oldest is in school most of the day. We do not have a cleaning lady or any extra help; I keep our 2500 square foot house in order, in addition to cooking and laundering 5 people's worth of food and clothes. I do all of the grocery shopping. I am happy that I can stay at home, but it's just a LOT. Meanwhile, he is a huge slob ... there are literally ants living in his car. They've been in there for 8 months. He hasn't done anything about it. This is just one example of what I'm talking about.
In counseling we learned that I am anxiety-prone (duh) and he has adult-ADHD (not surprising). We both took medication for awhile and got on track and have learned coping mechanisms that have carried us up to this point. We are both no longer on medication, but I wonder if:
2. Additional stress of me trying to have a writing "career" or "hobby" has put us in a bad place because I am unable to keep up with everything on my own?
3. I'm going to flip out one day and have a nervous breakdown?
I know this is a common issue but I don't know what steps I should take so resentment doesn't continue to build. I just feel irritated with him all of the time and I hate it! I definitely don't want to be "that" wife.
Well, given the general tone of your letter, it sounds like you're certainly still suffering from anxiety. No shame in that. In fact, over 18 percent of Americans suffer from an anxiety disorder. Why not go back on your meds? It may cut down on some of your feeling of impending nervous collapse. And why does your husband not go back on his ADHD meds? This makes a huge difference in many ADHD marriages, my own included. Honestly, it also sounds like you might have ADHD as well, but hyperactive type. ADHD people often find one another, and have very intense courtships. This may explain how you can never sit still and seem to be a perpetual motion machine. So get evaluated for that as well.
Next, why not resume your marriage counseling? It sounds like it was very helpful and informative. You don't have to go for a year straight, but it sounds like you can use a tune up. Plenty of couples do this in my practice, it's not one and done. You guys had two great support mechanisms in place: meds and counseling, and now you're not using either. Why? Are there lingering issues of shame about needing meds or therapy? Please reconsider. And whether or not your writing is causing stress is something only you can answer, hopefully with a clearer head from going back on your meds and seeing a counselor yourself.
Next, I feel for your husband having grown up with a hoarder parent. Read about this here. It can be traumatizing. It also colored his view of what's "normal," as any type of dysfunctional family does. In our Western society, it is not normative for an adult male to shower two to three times a week. I am just guessing here, but I would imagine that this impacts your intimate life. This would be a great thing to tell him as lovingly as possible, particularly if it would lead to an increase in frequency of sex.
You and your husband need to be able to communicate using more empathy and validation for one another's perspectives. This is something great to work on in counseling. You seem to love one another but the relationship has become fraught with irritation and possibly even contempt on both sides. You owe it to yourselves and your kids to work this out now, through meds, counseling, individual therapy, and whatever else you need to make it work.
Good luck, and keep me updated. Till we meet again, I remain, The Blogapist Who Says, As One to Another, You Do Sound Type A, But That Showering Thing Isn't Helping Anybody.
This post was originally published here on Dr. Psych Mom. Follow Dr. Rodman on Dr. Psych Mom, Facebook, Instagram, Twitter, and Pinterest.
Order 52 Emails to Transform Your Marriage and How to Talk to Your Kids about Your Divorce: Healthy, Effective Communication Techniques for Your Changing Family.
Learn about Dr. Rodman's private practice, including therapy, coaching, and consultation, here. This blog is not intended as diagnosis, assessment, or treatment, and should not replace consultation with your medical provider.