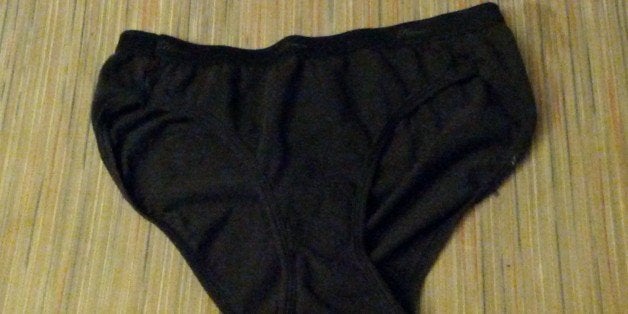 The naked truth of aging comes at you like a freight train, full speed. Unlike many women, most of the aging stuff doesn't bother me so much. I figure I can't fight it, so I might as well just roll with it. Sagging breasts, crow's feet, turkey neck and gray hairs -- whatever. I'm embracing most of it. But for some reason, the loss of my ass has my panties unexpectedly in a knot. When I was a kid, I had no idea what a tremendous ass-et it would be. As it has slowly disappeared, I realize how much attention it brought me in the past. Today's current ass-tastic culture makes it hard to ignore. C'est la vie...
When I was a child, my ass wreaked daily havoc on me. I didn't so much get teased about it outside of the house, but it created some "issues" for me for many years. Underwear was the biggest problem of all. I couldn't find any that didn't instantaneously create a wedgie the minute I started to walk. I searched high and low for ones that had great elastic around the legs so that they wouldn't ride up my crack -- because, quite honestly, there is nothing pretty about watching someone dig a deep wedgie. Ever. I tried just about everything I could except the big balloon cotton granny specials. Anything but those clown pants.
I grew up poor, in a project, so top-of-the-line panties weren't a viable option. We got a lot of basics at Christmastime, and we were happy to get them. One year when I was 12, my mother let us open one gift on Christmas Eve. On this particular evening, my sister's friend was visiting with her boyfriend, Ralph. He was a very handsome, tall, blonde, bearded Norwegian man who was attentive to all of us. We didn't get many of those passing through the project, and the brown girls had a well-deserved and cumulative crush on him.
I perused the gifts under the tree and chose my one present to open. It was about a foot and a half long, eight inches wide and about two inches tall. I excitedly pulled the paper off and smiled when I saw the Filene's logo emblazoned across the top. (Filene's was a department store in my hometown that had lots of nice things we couldn't really afford). I quickly flipped the box open and slowly pulled back the neatly folded tissue paper. Inside, there were three pairs of brightly-colored underwear fanned out on top of each other. Electric blue, black and red. They were completely constructed of an elasticized lace, the entire fabric of the panties, not just at the legs. As I picked up the top pair, it gently unfolded from either side of the waistline. I got a rush when I realized the lace was tight, but sheer enough to allow some light through, making them suddenly seem luxurious beyond my young mind's comprehension.

"Wow, those are fancy pants for a young girl," Ralph said with his sing-song accent.

I thought I would die of embarrassment. He was right. They were fancy, and I was instantly hopeful that my wedgie problem would be rectified, in style, for the first time in my life short life.

Something even more ass-tounding happened in 1996 when I met a man I ultimately lived with for nine years. Early in the relationship, on an unexpected overnight at his place, I got up in the morning and grabbed a clean pair of his briefs from his closet, promising to return them clean at a later date. It was like I had hit the underwear lottery. I found the panties of my dreams, finally, at the ripe old age of 26. And guess what? Twenty-five years later, I'm still wearing the exact same brand and style of underwear. The best thing about men's underwear is that styling stays consistent. Men don't mess much with the basics, and I like that. I can still walk into a Macy's men's department and grab my Jockeys and check out. Women's clothing, on the other hand, changes style from season to season and year to year. Underwear fashion is dumb.
Maybe now that the rest of my ass is quickly disappearing, I'll fit into some nice fancy pants that won't give me a wedgie. That would be nice. Wait... Now that it's gone I'm going to need some fancy pants to dress it up a bit again, so men will take notice.
Truth be told, now that I sit on my ass all day long at the computer, I miss the comfort of the padding. I could care less what it looks like. Talk about being a pain in my own ass!
Ugh. I tell ya. It's always something.
Calling all HuffPost superfans!
Sign up for membership to become a founding member and help shape HuffPost's next chapter