One morning 24 years ago, I stepped out onto the second floor balcony of a flat on Kabir Nagar in Varanasi, India. A woman doing a household chore on the next balcony caught my eye. She said:
She had an easy smile, glossy black hair pulled back in a braid. The way she moved in her sari with a graceful gliding motion made me suddenly rethink my jeans-and-running-shoes style of American womanhood. She repeated her invitation.
I had met her once on the stair landing; I'd just moved in and was having trouble with the door lock. She wrapped my door key in a borrowed dishtowel, and forced open the lock, then floated on down the stairs.
In the three months I spent in Varanasi -- taking notes for a novel to be set there, giving talks on American writers at Banaras Hindu University -- Usha Singh became my friend and, though we never met outside the apartment building, my guide to Varanasi and India.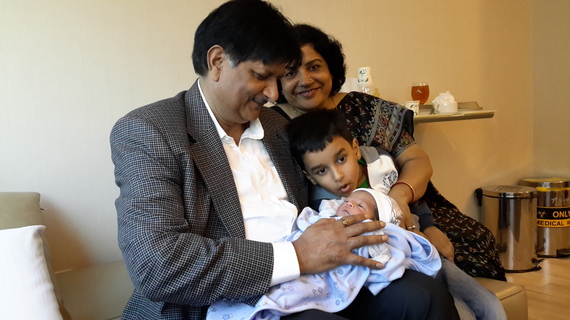 That was in 1991-92. Now almost a quarter of a century later, she and her husband, R.P. Singh, are coming to visit me where I live with my husband in a log house in deep woods near Raleigh, North Carolina. I am excited and I am nervous.
This is an important occasion. On one of our visits back then she told me that I am her American sister, and she is my Indian sister. The thought came to me then that I might call the novel Sister India. And that was its title when it was published ten years later by an imprint of Penguin Putnam and then by Penguin India. The story does grow out of a kind of kinship between India and the American South: the striking religiosity of both cultures, the tradition of Southern river baptisms and the holy water of the Ganges. So the "sister" title was a fit.
Another traveler told me back then that the sentiment "you are my American sister" is often said to visitors. I didn't care whether that was true. Her saying it meant a lot to me.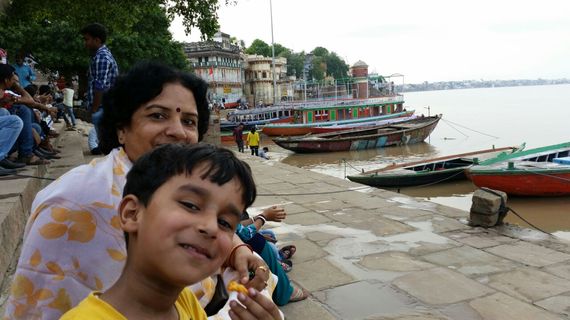 At Usha's flat that first visit, she seemed very warm, eager to get acquainted, hurrying back and forth in a swirl of sari, to bring me sweets that she had made, to offer more tea, to spread out albums of family pictures to show me.
In subsequent visits, I learned that she knits all the sweaters for her family, makes the sweets and the condiments, as well as having a master's degree in literature. At my house, my husband, Bob, does what little cooking we do. I'm in charge of the clean-up. My personal style and hers were different. Once when I was galloping up the apartment stairs, she leaned over from the landing above and, smiling, said:
"Slowly, slowly, very sweet music."
When Varanasi was closed in curfew because of Hindu-Muslim violence for most of two weeks, I relied on her and R.P. even more. It was wonderful to have them just across the hall, to keep me company and help me understand what was happening in the city.
At Diwali, Hindu festival of light triumphing over darkness, Usha invited me to celebrate with her family. I wanted to buy a sari for the occasion. I was interested in trying out that floating sort of walk, just on a temporary basis -- and in celebrating.
When I got home from my shopping, Usha came over to my flat to give me a sari of her own and a blouse and bangles, even helping me get dressed, wrap my sari, a strikingly intimate gesture compared to the usual bowing formality of my social contacts here. The situation is ironic: at home, I'm generally considered reserved, undemonstrative, not touch-y. But here, by comparison, I seem downright affectionate, effusive, and need to hold myself back so as not to offend.
Properly dressed in my sari, I joined Usha and family in her kitchen where we worshiped Laxmi, Hindu goddess of spiritual and material prosperity and embodiment of beauty, and elephant-headed prosperity god Ganesh. We made offerings of food before the images set in their wall niche. Afterwards, the lighting of fireworks on the roof, her youngest child running to me with a huge showering sparkler, saying, "Auntie, take." The whole city was lighted, fireworks all over the sky.
That little boy and his brother are both now husbands and fathers. Probably we've all changed since that Diwali night. I think I've become more decidedly myself: even less cooking and still no knitting.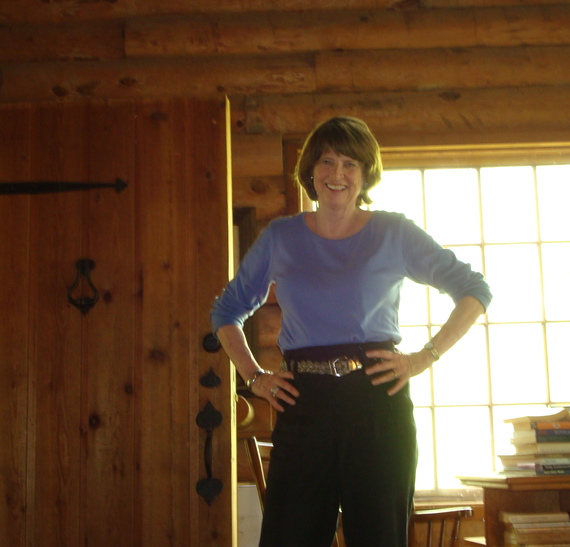 Usha and R.P., also my friend, will arrive in North Carolina for a visit in about three weeks, at the start of their tour of the United States. I'm so flattered that they'll begin at my house. And I hope they will feel comfortable, welcomed, and celebrated even in the face of my sloppy housekeeping.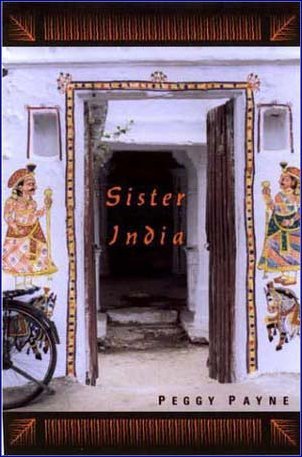 Peggy Payne usually blogs for Huffington Post Religion on the intersection of sex and spirituality. Her novel Sister India was a New York Times Book of the Year.

Family photos courtesy of R.P. Singh
Popular in the Community