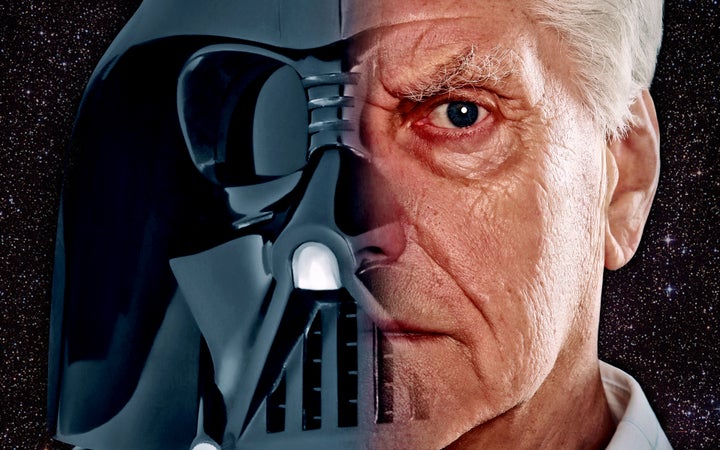 Prowse (Vader): "I have had an amazing career, I consider myself very lucky. But I can't do it forever…"
We all remember the moment, in the 1977 blockbuster Star Wars: A New Hope, when the most iconic villain in cinematic history stepped into the spaceship, and Darth Vader was revealed for the first time. The man behind the mask, is the world-renowned actor David Prowse.
I've recently gotten to know a close friend of Prowse, UK-based rock star Jayce Lewis. Lewis and I talked about his 18 year friendship with Prowse, and their plan of making a music video together for what seem to them: forever. This would be Prowse's final ever onscreen performance — the end to an unforgettable legacy.
After an almost one year long journey of trying to interview Prowse personally, this was my opportunity to speak with him — Darth Vader himself.
"Usually the villain is the best part of the movie," Prowse explained to me. "When Lucas asked if I wanted to play either the role of Chewbacca or Vader, I asked what Chewbacca was and found out it was a big, hairy, gorilla, and then was told that Vader was the villain of the movie, and so I said: Say no more George — I'll take the Villain, thank you," he added.
Back then indie filmmaker George Lucas, now one of the most celebrated creators of all time, set out to film Star Wars at Elstree Studios in England. When Prowse reflected on the experience on-set, he explained the beginning was nothing but a humble one. "None of us took the film seriously at the time, we just thought it was a load of rubbish." But, he admits that they were very wrong. "...40 odd years on, here we are still talking about it!"
Nowadays, there are millions of Star Wars fans worldwide — many attending Sci-Fi conventions, to get a glimpse of their favorite characters from the films. Jayce Lewis was one of them.
When he approached Prowse, he asked him to write 'Number 1 Drummer' on the autograph. "Thats when we spoke about music, and [our friendship] went from there," Jayce told me. "Here's a guy that played the biggest villain of all time, the most famous of all. And yet he is such a gentle, friendly, and humble individual. Its always been inspiring."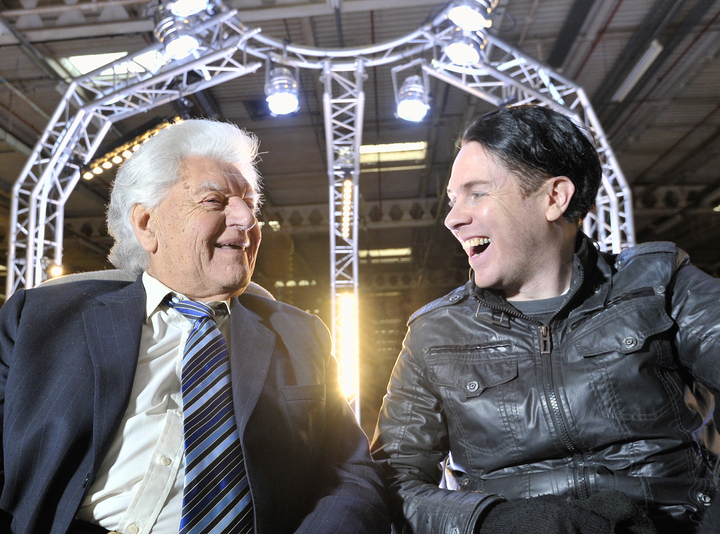 In Lewis' music video, directed by Richard Starkey, Dave explained that it started with Jayce asking him to play a character he knows by heart. "Jayce asked me to fill the role of a boss. I just did what I did with Vader — made everyone subservient to me, answerable to my commands — because to a certain extent, Vader was demanding, and that's what I wanted this role to be. Except this time you can see my face (laughs)!"
Jayce added that the struggles he faced in the music industry gave birth to his song, Shields, and the music video. He described that it "captures the insular experimentation of modern industry".
Making this music video — Dave's last appearance onscreen, or as he called it: "my last picture" — naturally involved emotional moments. "Jayce gave me a big hug at the end and I remember saying: Well that's that," Dave explained. Then Jayce recalled responding: "Job done, legacy made!"
Dave and Jayce continue to be dear friends. Dave is inspired by Jayce, and Jayce is inspired by Dave. "Our friendship means the world to me," Jayce explained. "He has played a vital role throughout my career in entertainment, given me valuable advice and help over the years. The experiences he has had, the ups and downs — they have all been imperative to my journey in and out of music." Dave even added: "[Jayce] reminds me of what I was like in my youth. I am happy to let Jayce carry the torch forward from here."
Today, Prowse lives in Croydon, a town in south London, with his wife, Norma. When I asked him who he — the man behind the mask — was, he cheerfully responded: "(Laughs) Now you're asking! A family man, a father, a husband, a good friend to a select few. But always willing to help, and love meeting the fans." At 82, Prowse still takes orders for signed autographs, and even goes to the gym regularly.
"I have had a very privileged life," Dave told me. "I have had an amazing career, I consider myself very lucky. But I can't do it forever, and I'm 82 years old now you see, so from time to time my mobility gets the better of me, and every now and then my memory does too. I would like for people to remember some of the roles I did, big and small, and that they would be kept for ever more... Especially one in particular (laughs)!"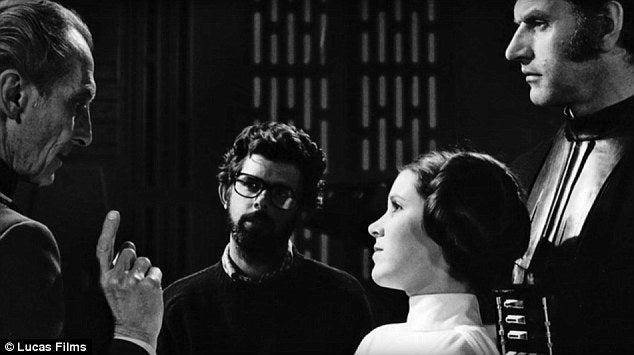 Not only was Prowse Darth Vader, he also trained Christopher Reeves for his role as Superman, played in Clockwork Orange, and was the Green Cross Code man — the mascot of a renowned road safety campaign in England. This earned him a Member of the British Empire medal from Queen Elizabeth II. "I thoroughly enjoyed my time promoting the road safety campaigns as the Green Cross Code man," Dave explained, "Up and down the country visiting schools… But none of the children ever once asked me about road safety. It was always questions about Darth Vader (Laughs)!"
For Jayce, David Prowse is a father figure and friend. To many, he remains the ultimate villain, in a galaxy far, far away — the iconic legend behind the mask of Darth Vader.
Jayce and Dave's music video is now released. It can be viewed below:
Jayce will be performing his new album on a European tour, alongside Gary Numan, from September 30th - October 26th 2017.
Popular in the Community