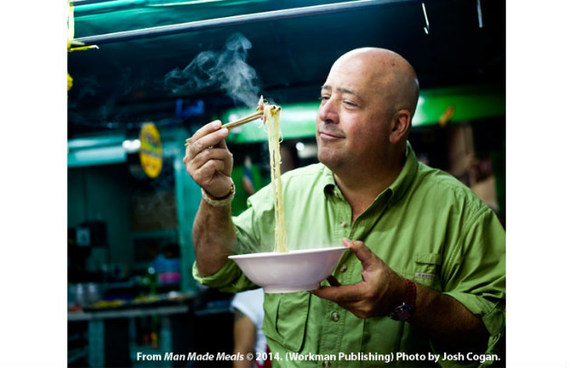 Andrew Zimmern is the guy who eats weird stuff--very weird stuff, like rotten shark in Reykjavik and giant fruit bats in Samoa. You may have watched him on Bizarre Foods or Bizarre Worlds on the Travel Channel, read his column in Delta Sky magazine, or know his singular travelogue: The Bizarre Truth: How I Walked Out the Door Mouth First . . . and Came Back Shaking My Head.
What are the three strangest foods you've ever eaten?
Giant fruit bat from Samoa. It has a six-foot wingspan and tastes extremely gamy. Eat it grilled with ginger juice--an Asian flavor and disinfectant.
Giant porcupine from Botswana. It weighs eighty pounds and takes painstaking hours to pluck off the quills. There's an inch-thick layer of fat just below the skin, which the tribesmen grill over a wood fire with a layer of ash on top. What results tastes like the nugget of fat at the narrow end of a New York strip. Totally amazing.
Palolo. It's a tiny worm that lives in coral beds fifty miles off the coast of Samoa. You scoop it off the water by the hundreds and eat it smeared on bread. Think foie gras crossed with iodine with an exquisitely creamy texture.
Why should a man know how to cook?
As a guy, I'm lousy at expressing my feelings. Cooking is as touchy-feely as I get. There's nothing more honest than cooking, and when I do it, I can show people what's in my heart. It's also my time to Zen out.
Three things every guy should know how to do in the kitchen?
Make bread. There's nothing more spiritual or elemental. It's a rite of passage with my seven-year-old. The first time we made bread together, my son realized that not everything you eat has to come from a supermarket. Note to dads: Bread takes several hours to rise and young boys have short attention spans. You may want to have some dough that's already risen as a swap-out to keep the process moving.
Cook fish. For some reason, every guy who's been to a sushi bar thinks all fish should be served undercooked. The fact is that most fish does not taste best raw or even rare. This is particularly true in my part of the country (Minnesota), where we eat a lot of walleye. Learn to cook fish and learn to cook it through.
Learn how to light and use your grill. You need to know how to drag meat back to your cave and cook it. If you don't know how to grill, you're doing a great disservice to mankind.
SIGN UP for Steven Raichlen's UP IN SMOKE newsletter to learn more about barbecue!
Steven Raichlen is the author of the Barbecue! Bible cookbook series and the host of Primal Grill on PBS. His web site is BarbecueBible.com.