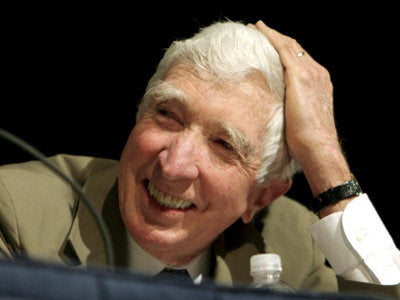 John Updike would have been 79 this Sunday. Widely considered one of our greatest writers, when he died of lung cancer in January 2009 the web lit up with tributes, and as I read them I remembered my own John Updike story.
Updike was one of my heroes when I was a young writer. I read haphazardly, as I did then (and perhaps, still do), through his oeuvre: Marry Me, Trust Me, the Rabbit books, awed by his capacious, lyrical portrayal of the middle class, his middle class, my middle class. But like any hero, he remained rather abstract, the snowy-haired icon (as a Generation X'er, my John Updike was never anything but gray) smiling genially from the back of a book jacket.
Until 1992, when he came to read at George Mason University, where I was studying fiction writing, and became real.
Like any writing program worth its salt then and now, the George Mason MFA program routinely brought in visiting writers to read from their work; the midlist writers usually workshopped our stories as well. It was in this way that I was fortunate to receive the fleeting advice of writers like Lee Smith, Madison Smartt Bell and Faye Moskowitz and it was in this way that my lifelong literary crush on Charles Baxter began. But among all of these writers, John Updike stood out.
He was our headliner that year, the big gun brought in with extra funds from the campus bookstore. As such, he commanded a considerable fee simply to read in the auditorium, smile that genial smile, shake a few hands, and then catch the train back to Massachusetts.
But John Updike wanted to do more. He had asked if he could meet with "some students, some budding writers, perhaps." He liked, our director told us, to meet with young people.
So about a dozen or so of us gathered in a nondescript classroom to sit in uncomfortable molded chairdesks and bask in the glow of this famous American man of letters. To ask him tentative questions and listen to his kind, patrician wisdom, because he had requested it.
Updike himself never sat but rather leaned at the edge of an enormous metal and wood veneer desk at the front of the room. The single remark I remember from his talk is when he spoke wistfully about how difficult it was for writers to make a living solely from their writing anymore, which struck me as unusually empathetic because for the most part, he still did. He went on to reminisce about his early days as a writer when he could "support a wife and family by publishing a handful of stories in the New Yorker every year."
Even then, we knew his request was special. Now, two decades and countless writers' visits later (all gracious people, most of them), I have never known it to happen again. For a writer, of Updike's stature especially, to ask, "Could I meet with some students as well?" when such a meeting was most definitely "not in the contract."
After this gathering, a few of my friends took Updike to the metro station so he could catch the train home. At his request, they stopped at a Dunkin' Donuts for coffee along the way. I know this because the next day they returned to the graduate student bullpen brandishing John Updike's coffee cup, a modest paper cup which they promptly labeled with a black Sharpie and tacked to the wall.
I like to think that it's still there.

REAL LIFE. REAL NEWS. REAL VOICES.
Help us tell more of the stories that matter from voices that too often remain unheard.