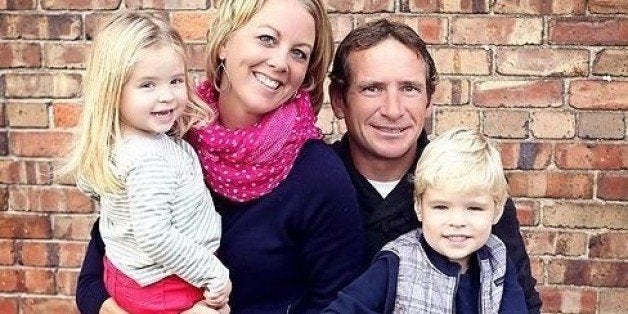 Shortly after Matt died, I overheard someone say, "I just don't understand it. He always had a smile on his face." This comment made me angry. Who were they to talk about a man they clearly knew nothing about. What I have learned about Matt since his passing is that few people had the opportunity to know the "real" Matt. He was the definition of a man's man. He was a dirt bike rider -- his trophies line my garage walls. A respected home-builder that was known to throw around 4'x8' sheets of plywood in 30+mph winds. He was the man that could do it all by himself. But even though he didn't think he needed anyone's help, he wanted our help. He just didn't know how to ask for it. As a suicide widow, I can tell you that asking for help is a sign of courage.
Losing Matt to suicide brought on so many emotions. The most debilitating is the guilt, the 'what ifs.' As hard as I tried, I couldn't silence the questions in my head.
In June of 2014 my kids and I participated in American Foundation for Suicide Prevention's Overnight walk in Seattle. It was in that community that I finally felt like my journey to healing began. I found myself surrounded by people that didn't say 'I understand.' They knew that as a suicide survivor hearing 'I understand' was the equivalent of a doctor saying they understand what it's like to be a farmer.
No one's journey is the same. We can empathize with each other, but to truly understand how I feel is not possible. It was at The Overnight that I finally began to feel like I wasn't alone, and that Matt's death wasn't my fault. My saving grace has always been my kids and faith in my journey. No matter the triumphs or tribulations, the heartache or pure happiness, I always try to remind myself that today I am exactly where I am supposed to be.
REAL LIFE. REAL NEWS. REAL VOICES.
Help us tell more of the stories that matter from voices that too often remain unheard.