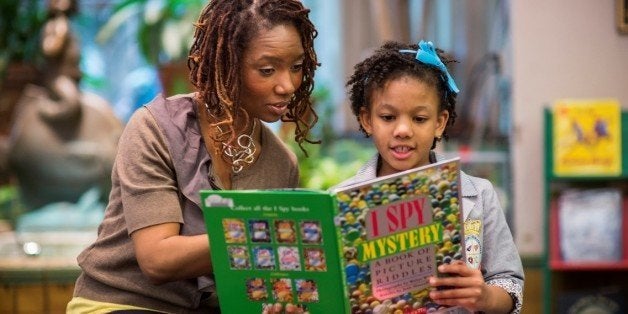 I am a librarian because each child and teen that I serve in Baltimore City is a version of me. Through my years spent in foster care and my early struggles with literacy, I have developed a passion to support teens and educators.
I often share with reluctant readers that I struggled with reading during my formative years in Baltimore City Schools. I was in Special Education classes until the seventh grade. Many look at me with puzzled expressions and say, "How did you become a librarian?" Though I have many answers to that question, I want them to understand that the road to becoming a reader starts with cultivating a love of reading, regardless of what it is you choose to read.
The Enoch Pratt Free Library's motto is "Your journey starts here." For me, this is true. My love of reading started with my journey at the Enoch Pratt Free Library--lovingly known as the Pratt. A true "Pratt Kid", I met my first librarian and library mentor at the Pratt and had my first real job experience at the Pratt. Now, working for the Pratt as a young adult librarian, I am able to engage and inspire young people and educators in the same way that I was inspired in my early years at the library. It is truly a gift to watch toddlers learn to talk and read because of Story Time programs I lead. I watch teens light up when I share a book that opens the door of reading to them.
While I am not sure if I chose librarianship or if it chose me, I know that my journey with reading would not be the same without the Pratt Library. I am now one of many positive voices for youth in Baltimore, and an ally and supporter of educators throughout the state of Maryland.
To get teens and educators involved, I share my journey--from not being able to read to becoming an adult that loves reading and teaches others how to read. I tell my students, "It's true at the Pratt. Your journey starts here."
This post is part of a series produced by The Huffington Post and the #GivingTuesday Team at 92nd Street Y, to celebrate #GivingTuesday. #GivingTuesday is a global giving movement, and the series (which will feature content throughout November) aims to celebrate how people are giving back around the world. For more information about #GivingTuesday, visit here. And to join the conversation on social media, use the hashtag #GivingTuesday.
REAL LIFE. REAL NEWS. REAL VOICES.
Help us tell more of the stories that matter from voices that too often remain unheard.